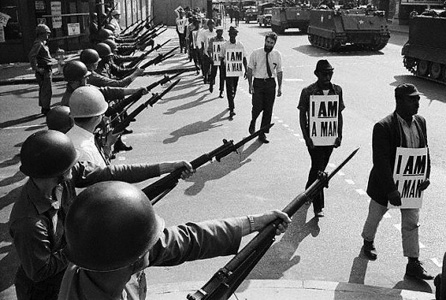 An assassin's bullet felled the Rev. Martin Luther King, Jr. on April 4, 1968. King had come to Memphis to support a strike by the city's sanitation workers.
In 2003 the late Fred Gaboury, who was the labor editor of the People's Weekly World print edition, wrote:
"Jesse Epps, Taylor Rogers and William "Bill" Lucy are veterans of that strike. Each played a different role and remembers it from different vantage points. But all agree: The 64-day strike by 1,300 members of Local 1733 of the American Federation of State, County and Municipal Employees (AFSCME) marked a new level of unity in the struggles of the labor movement and the African American community.
Strikers and their union faced seemingly overwhelming odds: a mayor and city council majority adamantly opposed to a union contract, a court injunction declaring the strike illegal, threats to replace the strikers with scabs, the adoption of legislation by the Tennessee Legislature outlawing strikes by public employees, and the posting of the National Guard to a location near Memphis.
Gaboury's interviews continue here.
One of the greatest stories of all time: The Memphis sanitation workers strike remembered
In 2008, Marilyn Bechtel reviewed Michael K. Honey's book, "Going Down Jericho Road: The Memphis Strike, Martin Luther King's Last Campaign." Read her review here.
Martin Luther King Jr. and the attack on public workers
Also in 2008, Scott Marshall wrote on the continuing attack against public workers. Read the full opinion piece here.
He is gone from you now…reflections on Dr. Martin Luther King Jr.
And here is a poetic remembrance by Sotere Torregian.
The 1,300 sanitation workers from Memphis, Tenn., whose strike for union recognition, respect on the job and a better standard of living led Dr. Martin Luther King to the Mississippi River city, were inducted as a group on April 29, 2011, into the Labor Hall of Fame in Washington. Read Mark Gruenberg's account here.
Photo: This is a photograph of a famous photograph taken on March 29, 1968, in Memphis, Tenn., during the AFSCME sanitation workers strike. Strikers wearing "I AM A MAN" placards march past National Guard troops who had blocked off Beale Street. (kimintn)