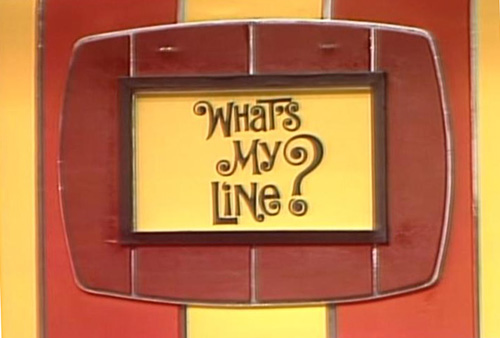 Sixty-five years ago, at 8 pm Eastern time on February 2, 1950, the game show What's My Line? debuted on CBS-TV. Hosted by John Charles Daly, it featured, over its 25-year lifespan with 876 episodes, such panelists as Arlene Francis, Bennett Cerf, Fred Allen, Dorothy Kilgallen, Soupy Sales, Martin Gabel, and Steve Allen.
The challenge to the panel was to identify the line of work pursued by a series of everyday individuals who would appear on the show. Contestants would answer yes or no questions. If they made things, Steve Allen would ask, "Is it bigger than a breadbox?" The phrase entered popular speech, often used in a humorous or suggestive way. One time, the show presented a man who couldn't answer yes or no to the question, because he actually made breadboxes for a living.
Panelists showed off a knowing, urbane banter, and got appreciative reactions from the studio audience with their sophisticated humor. They displayed a mildly affected sense of noblesse oblige toward people who work, some of whom stumped the patrician experts with their obscure, unusual occupations. Often, contestants would disguise their normal voices or wear clothes that sharply contraindicated their professions in order to throw the panelists off.
The 1950s and '60s were the period of greatest union membership density in the history of the United States. Historians, sociologists and politicians cited the U.S. as the most successful middle-class society ever known, and the envy of the world. What's My Line? effectively reinforced the concept of the dignity of all labor by paying weekly homage to the people who performed all manner of work.
Implicitly the message of the show was: Don't judge your fellow by the clothes they wear, or the way they speak. We are all in this unique American project together.
What's My Line? won three Emmy Awards for Best Quiz or Audience Participation Show, and the 1962 Golden Globe for Best TV Show.
Photo: Wikipedia (CC)