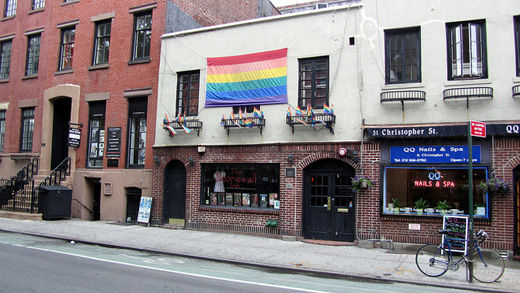 Today the Stonewall Inn, site of the historic rebellion for LGBTQ rights was made a landmark by New York City's Landmarks Preservation Committee. The vote was unanimous.
The rebellion was prompted by a police raid at the Stonewall Inn on June 28th, 1969 in a effort to suppress New York's gay clubs. The Stonewall Inn is located in Greenwich Village.
Patrons at the Stonewall Inn, being subjected to routine anti-homosexual harassment by the New York City police, spontaneously fought back in an incident considered to be the birth of the gay rights movement – although a similar incident had erupted at the Black Cat lounge in Los Angeles two and a half years earlier. Riot veteran and gay rights activist Craig Rodwell said: "A number of incidents were happening simultaneously. There was no one thing that happened or one person, there was just…a flash of group, of mass anger."
A group of drag queens, who had been mourning the death earlier in the week of Judy Garland, mocked the police and threw things at them, and police were forced to retreat as the crowd of supporters grew; disturbances continued for days. The bar is now on the National Register of Historic Places.
The announcement comes in time New York City's Pride march and weekend. Mayor de Blasio's wife, Chirlane McCray noted it was perfect timing for #Pride2015.
Photo: Creative Commons 3.0