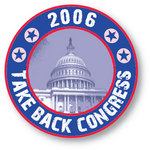 HOUSTON — In the face of spiraling corruption charges, Rep. Tom DeLay (R-Texas), the former House majority leader, announced April 3 he will resign his seat in Congress in May or June, thereby avoiding an uphill re-election bid. At the same time, DeLay and his allies have apparently blocked a special election to fill his seat until Nov. 7.
DeLay, once a Republican powerhouse, is mired in a series of scandals. He and his staff have been closely associated with corporate lobbyist Jack Abramoff, who pleaded guilty to conspiracy, mail fraud and tax evasion charges in January. When Tony C. Rudy, DeLay's former deputy chief of staff, recently pleaded guilty to conspiracy and corruption charges and confessed that a "criminal enterprise" was being run out of DeLay's offices, all eyes turned toward the congressman himself.
DeLay has a history of ethical and legal troubles. He was rebuked by the House Committee on Standards of Official Conduct in 2004 for improperly pressuring Rep. Nick Smith (R-Mich.) to vote for the GOP's Medicare prescription drug "benefit." More recently, he was charged by a Texas grand jury with money laundering and campaign finance violations.
DeLay is notorious for engineering the Texas redistricting plan, which flagrantly gerrymandered congressional districts in Texas to favor Republicans. The constitutionality of DeLay's scheme will be reviewed by the U.S. Supreme Court this summer.
He led the struggle to impeach President Clinton in the 1990s, and earned the nickname "The Hammer" for his relentless efforts to push bills favored by President Bush, his primary ally, through Congress.
Texas Gov. Rick Perry, a GOP stalwart, announced April 6 he would not call a special election to replace DeLay before November. Many political pundits here speculate that the Republicans calculated that if such an election were held soon, former U.S. Rep. Nick Lampson, a Democrat, would likely win the seat. The GOP is apparently buying time to line up a suitable standard bearer without public input.
When Lampson held a press conference calling for a special election, about 30 of DeLay's supporters showed up and waved signs, shouted and blasted air horns to disrupt the event. Police made no attempt to intervene. DeLay campaign manager Chris Homan admitted to organizing the protesters.
Lampson commented, "You ask Tom DeLay's people to do the right thing and this is what their answer is. It's time the people of this district had a real congressman."
Some pundits point out that DeLay's withdrawal from the race makes support for Lampson all that more important. Lampson is regarded as a friend of labor. His election would constitute an important defeat for the right wing that would reverberate across the nation.