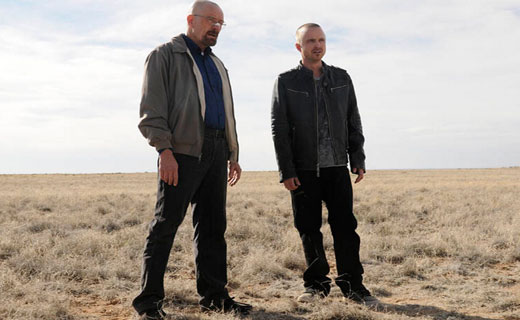 Television series, as of late, have taken risks, made leaps in creative writing, and even moved beyond cable TV, with independent shows debuting on streaming services like Netflix, Hulu, and Amazon. Indeed, the television boom shows no signs of slowing. Here's a look at the ten best programs of 2013.
10. Spartacus: War of the Damned
The final season of Starz' Spartacus ended in April this year. Though lacking certain alumni this time around (like Xena actress Lucy Lawless, who was a fan favorite), the series went out with a bang nonetheless. With its gladiatorial action and thrilling pace, set to a heavy metal-esque score, Spartacus brought the historical Thracian uprising to the small screen like never before.
9. Hemlock Grove
An exclusive Netflix series, Hemlock Grove seemingly came out of nowhere and brought us 13 episodes containing engaging werewolf stories. Set in a town divided by extreme wealth and poverty after the closing of its steel mill, the series has had a surprisingly pro-labor subtext.
8. The Walking Dead
Its fourth season debuted this year, and it's been an uneven one. After dealing with a viral outbreak for a few episodes, it clumsily picked up the Governor storyline from the previous season immediately after. While the seeming imbalance of story arcs has been a bit jarring, the series has shined in nearly every other way – in its acting, its statements about the human condition, and its emotional weight. To date, The Walking Dead remains unrivaled by any other show of its kind.
7. Vikings
One of the History Channel's first original programs, Vikings documents the journey of viking Ragnar Lothbrok and his fellow warriors as they attempt the first daring raids into England. Its stories this year were uncomplicated and to-the-point, but not without their emotional depth and engrossing atmosphere. It also consciously avoided the glamorization of brutality, opting instead for a cultural and character study, which it delivered to its audience with a slowly building momentum.
6. Skins
Sometimes funny, sometimes dramatic, sometimes very dark, British series Skins has become the definitive modern-day teen/young adult drama, and an atypical one at that. In surprisingly realistic coming-of-age stories, Skins documents the lives of its characters. Some old faces returned this year for its three-part, six-episode seventh and final season. The most memorable episodes were the first two, which abandoned the show's previous bright, poppy, angsty environment. Instead, it took viewers into the gritty world of corporate capitalism, depicting a former main character, Effy, becoming a stock trader and becoming embroiled in an insider trading scandal. The final two episodes saw troubled character Cook descend into the criminal underworld, culminating in a desperate struggle through the countryside as he tries to protect his friends from a killer.
5. Game of Thrones
For all the fantasy fans who weren't already drawn into Game of Thrones' medieval warfare and political intrigue, this season threw dragons and sorcery into the mix. Led by a stellar cast, fueled by compelling story arcs, and ever-faithful to its source material (George R. R. Martin's acclaimed A Song of Ice and Fire series), Season 3 of Game of Thrones was spectacular as ever.
4. Arrow
The CW network gave us Season 2 of Arrow, featuring the vigilante archer who fights against one-percenters, drug lords, Russian hitmen, and supervillains alike. If the fact that critics are calling this the definitive superhero television series is not enough of a selling point, then perhaps its left-wing, pro-99 percent stance ought to be. But what really makes this show shine is its diverse, talented supporting cast. And for diehard comic fans, a special appearance this year by Barry Allen, alter ego of The Flash, didn't hurt either.
3. American Horror Story: Coven
This year, Kathy Bates and Angela Bassett joined the cast of the horror anthology series, which once again included the talented Jessica Lange. In keeping with its annually changing story and setting, the theme for 2013 was witches. Set in New Orleans, the series touched on issues of race and gender while still providing outrageously gruesome perversions, episode after episode. Not for the faint of heart or weak of stomach, Coven is the third season of this wildly successful series – and it's still not afraid to say what it wants, or to laugh at its own absurdity. And that's why viewers love it.
2. Supernatural
What began as a story about two brothers hunting demons and monsters has evolved into an all-out cosmic struggle against celestial and hellish forces, with main characters Sam and Dean caught in the middle. On their side is comic-tragic fallen angel Castiel. Supernatural, with its subtle critique of religion, remains as cleverly tongue-in-cheek as ever, but what's truly remarkable about this show is its longevity. Now nine seasons in, the show is as thrilling and moving as it has ever been. Though the writing was a bit lackluster during a few episodes this year, the excellent acting (you just really, really care about these characters) has made Supernatural one of 2013's finest – and as always, underrated – series.
1. Breaking Bad
While I really wanted to put Supernatural at the top of this list, I would be truly remiss if I omitted what was one of the most well-made series of the year – and perhaps of all time. That this was an award-winning show with a phenomenal lead cast should, at this point, go without saying. It ended this year with its fifth and final season. Though most viewers may have thought the prior season could not be topped, Season 5 surely changed their opinions. After starting off at a breakneck pace, this soon gave way to an impressive slow burn, letting fans soak up all of the dark, final moments of protagonist-turned-antagonist Walter White.
Photo: Breaking Bad official AMC site.