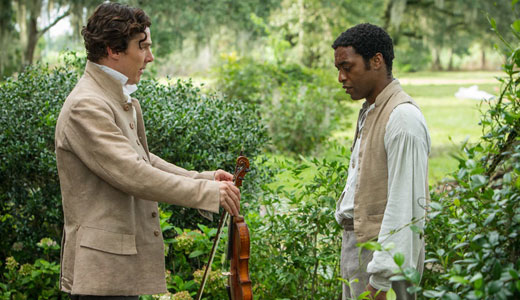 TORONTO – The Toronto International Film Festival kicked off another 10 day-run of amazing cinema Sept 5-15. Long acclaimed the greatest film festival in the Western Hemisphere, second only to Cannes in the world, TIFF offers over 350 films of such breadth and variety that a diehard progressive could easily find dozens of films worthy of attention. Although 93 percent are world premieres from over 70 countries, sadly many will never hit the big screen in the U.S. except at film festivals, but hopefully you'll be able to find them on cable TV or Netflix.
Biopics were abundant this year with an atypical opening night featuring a non-Canadian film, The Fifth Estate by U.S. director Bill Condon (Kinsey, Dreamgirls). Attempting to capitalize on the success of The Social Network, the story covers the beginning days of WikiLeaks and the eventual fallout between Julian Assange and his short-lived co-partner, Daniel Berg. With the script based on Berg's tell-all book, Inside WikiLeaks, it's not surprising who looks good and who is treated as an egotistical dictator, even though well-played by Benedict Cumberbatch, an uncanny look-alike for Assange. The film sides with Berg, and Bradley (now Chelsea) Manning surprisingly, but fails to praise the courageous Assange, who started as a young hacker in Australia and has gone on to become a hero for activists around the world.
This film follows on the heels of another anti-Assange diatribe, Alex Gibney's We Steal Secrets, denounced by WikiLeaks and its founder Julian Assange. A much better film about his early years in Australia, Underground: The Julian Assange Story, was released last year featuring Alex Williams in a wonderful performance as the young hacker. Also, Assange has been hosting a TV series on RT called The World Tomorrow, where you can get an upfront sense of his style and personality as he interviews world leaders – the real personality that does not match the maniacal portrayal in Fifth Estate.
A powerful film that also includes a great performance by British actor Cumberbatch, is Steve McQueen's (Hunger, Shame) brilliant recreation of American slavery, 12 Years a Slave. A free black musician in 1841 New York is kidnapped while on a business trip to Washington and finds himself chained and sold into slavery in Georgia. Based on a true story, the film will easily be compared to the Tarantino's Django Unchained, primarily because there are just too few films dealing with the realities of America's shameful past. But this film is much more accurate and serious, and the unbelievable portrayal of musician/slave Solomon Northrup by sure-to-be Academy Award nominee Chiwetel Ejiofor, is focused and committed. Without blinking an eye, he is determined to return to freedom someday despite some of the most cruel and inhuman treatment ever depicted on screen. It might be that it takes a non-American, in this case a British director, to help shed new light on our own sordid past.
12 Years a Slave won top honors, earning the prestigious People's Choice Award as Best Film of the Festival. This film will be talked about for a long time, and ranks up there with the great TV series Roots.
Also at TIFF and similar in many ways – from the UK and based on a true story about slavery – is the magnificently acted period piece Belle. A young mulatto girl is adopted into a family of class and wealth during the slave trade in the 1700s. Issues of race, class and gender are addressed in the household of the highest judge in the country. It is a powerful story that eventually forced the British to change their laws on slavery.
An epic treatment of the life of the great Latin American hero, Venezuelan General Simon Bolivar, premiered in the Special Presentation section of the Toronto festival. The Liberator is reportedly the most massive and expensive film in Latin American history, with a cast of thousands, and many years in the making.
It covers the period from Bolivar's first marriage to his death in 1830 and features a rising star, the Venezuelan actor Édgar Ramírez, who starred recently in Carlos and Soderbergh's Che. This time he gets to play his country's national hero, and it's unfortunate that the late President Hugo Chavez died before seeing this monumental depiction of the great fighter for Latin American unity that shaped Chavez' entire political career.
Photo: A scene from 12 Years a Slave. Fox Searchlight