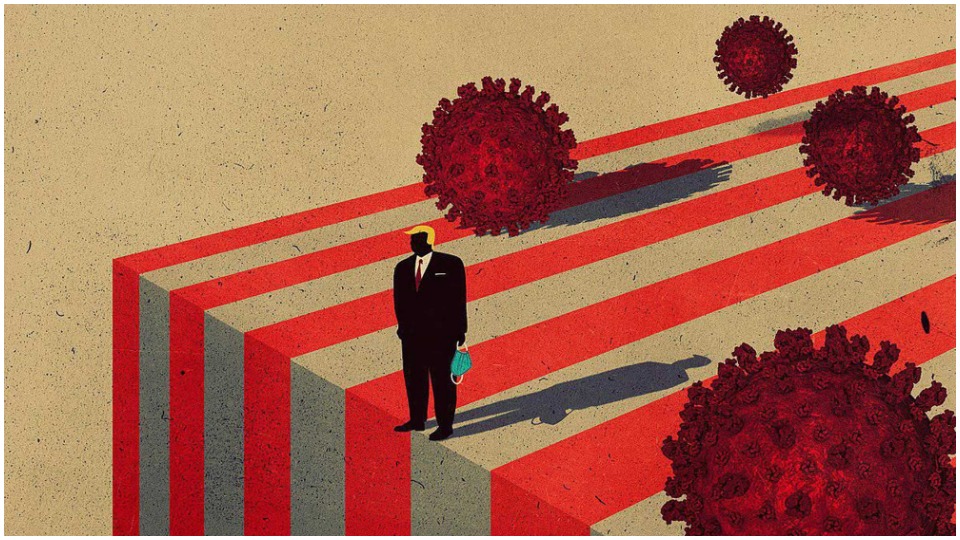 WATCH FOR FREE: From now through Election Day, Nov. 3rd, NEON has made Alex Gibney's Totally Under Control available to stream for free on its website.
The cutting-edge nonfiction film Totally Under Control, co-directed by Oscar-winner Alex Gibney, Ophelia Harutyunyan, and Suzanne Hillinger documents the Trump regime's tragedy of errors and terrors in its catastrophic, reactionary reaction to the coronavirus. Indeed, Control is a veritable cinematic Nuremberg Trial convicting Trump and the psychopath's sycophants of crimes against humanity and mass murder of 215,000-and-counting Americans by systematically undermining science to enable COVID-19 to wreak havoc across the land they were sworn to protect.
Control takes its ironic title from one of Trump's invariably wrong plague pronouncements and predictions. Instead of Nostradamus, the buffoon who keeps prognosticating that the virus will just "go away" when it gets warm—hey, how'd that work out for you this summer?—among many other creative flights of fancy, should be called "Nostra-Dumb-Ass." As this doc shows, Trump is to prophecy what Casanova was to monogamy, Pinocchio to honesty, and Louis XVI to good governance (and hopefully he'll meet a similar fate).
In 123 minutes, the filmmakers paint a vivid picture of the Trump regime's myriad missed opportunities, epic ineptness, and endless incompetence, plus something arguably far worse that Control refers to as a "mystery." The documentary does so largely with interviews of administration insiders (past and present), such as Kathleen Sebelius, Secretary of Health and Human Services from 2009-2014, and most notably, immunologist Rick Bright, director of the Biomedical Advanced Research and Development Authority, a heroic whistleblower who just resigned from the U.S. government. Bright is to the pandemic what Edward Snowden is to mass surveillance. Mark Bowen, executive VP of a mask-making company, is another voice caught on camera while howling in the wilderness.
Also extensively interviewed are chroniclers of the plague such as the Los Angeles Times' South Korea correspondent Victoria Kim and the New York Times' White House correspondent Michael Shear (who, alas, subsequently tested positive for the virus after Trump's supreme super-spreader Amy-da-fe in the Rose Garden—notify the Committee to Protect Journalists!). There are also clips of the truth-teller Dr. Nancy Messonnier, director of the National Center for Immunization and Respiratory Diseases at the Centers for Disease Control and Prevention.
Although the glory-seeking Trump blabbed to the fabled journalist Bob Woodward for hours (this up-to-the-minute doc includes a snippet of those taped interviews), Control notes that members of and mouthpieces for the White House, the CDC, and the Department of Health & Human Services declined to comment (on the record) for this film, which closes with a timely title noting Trump's being infected by the virus. Nevertheless, figures such as Trump, Pence (the wildly unqualified head of the White House Coronavirus Task Force), HHS Secretary Alex Azar (who, the doc notes, is a former pharmaceutical lobbyist and executive), virologist and CDC Director Robert Redfield, et al, do appear in ample news clips.
Nevertheless, the compelling, well put-together, easy to understand film is chock full of facts and evidence regarding the countless, often fatal missteps of the Trump regime vis-à-vis the pandemic. There are far too many to list, but here are two glaringly disastrous ones. While Trump touts his relatively early travel bans, Control points out that nonetheless, thousands of U.S. citizens were permitted to return from infected areas—as if the virus cares what nationality is stamped on your passport.
After letting the virus stampede over our borders, right from the get-go, testing has been one of Trump's signature debacles. Control shows that the early CDC-supplied tests had three components, and they worked—that is, until the final factor called "N3" was added, which made the testing results invalid. The simple solution was just not to add the N3, but government red tape prohibited this. (Months later, after incalculable suffering, the bureaucratic stipulation was finally lifted.)
Meanwhile, the World Health Organization had working tests, but the administration refused to use them (and Trump later announced he was pulling the U.S. out of the Earth's main global health collaborative enterprise). An exasperated Scott Becker, CEO of the Association of Public Health Laboratories, tells the filmmakers: "We've never had a failure like this." Infectious-disease specialist Dr. Taison Bell adds that CDC's testing strategy "was designed to miss community transmission."
I could go on and on (and if your humble scribe were paid by the word, I happily would!). Control is full of information, such as this gem: LA Times' Kim pointing out that while South Korea has been far more successful than the U.S. in fighting COVID (with 51 million people, only 500 died and there was no nationwide shutdown!), one vector for infecting people with the aerosol-spread virus was karaoke singing.
But what accounts for Trump's "America Worst" cataclysmic response, wherein a country with 4% of the world's population leads the planet in corona-related deaths, 20% of the total global death count? Co-producer/co-director Alex Gibney, one of filmdom's most brilliant, protean, prolific documentarians, may provide part of the answer in another nonfiction film, the two-part Agents of Chaos, that premiered Sept. 23 on HBO. Part two details Trump's ties to Russia. A recent New York Times investigative report alleging Trump pays little to no federal income tax and owes $420 million-plus may present another clue for this preternaturally predatory president's head-scratching misbehavior.
Trump—who held a Screen Actors Guild union card—seems baffling, as if he is some sort of "Opposite Man" from an alternate universe who does the exact reverse of what logic, reason, and civility dictate. As the world burns from climate change, he pulls out of the Paris Agreement; as Iran refrains from pursuing nuclear capability, Trump withdraws from a treaty that was successfully keeping the peace; as Americans grapple with a murderous pandemic, he threatens health insurance for millions in the Supreme Court, just as he abandoned WHO; he inflames tensions in Michigan and beyond; as health professionals cry out for more tests he shouts, "I told my people slow the testing down please!"; and flouts other anti-virus guidelines advanced by his own administration, to the point where he turns the White House into a COVID hotspot where he holds maskless, non-physically distanced events that are super-spreaders; and so on. As the narrator (an offscreen Gibney) pointedly observes, it's as if "ignoring expert advice is an act of patriotism."
What accounts for this insanity? Or is there a method to his madness, the "mystery" Control repeatedly alludes to? Is it Trump's genocidal negligent homicide of the American people?
The best and most succinct explanation for Trump's actions and inactions, doings, and misdoings, arguably comes not from documentary filmmakers or investigative reporters or, for that matter, from Robert Mueller special counsels, TV pundits, politicians, or even philosophers. The single best elucidation of Trump's catastrophic course actually comes from comedian Jim Carrey, who in only 60 seconds clearly "makes sense" of Trump's seeming senselessness on Bill Maher's Real Time HBO show in this clip.
Now that you know what makes Don the Con run, viewers totally have to tune in to Totally Under Control, available on demand starting Oct. 13 on Apple TV, iTunes, Amazon, Fandango Now, Google Play, YouTube and available on Hulu Oct. 20. For further information about local theater viewings, see here.