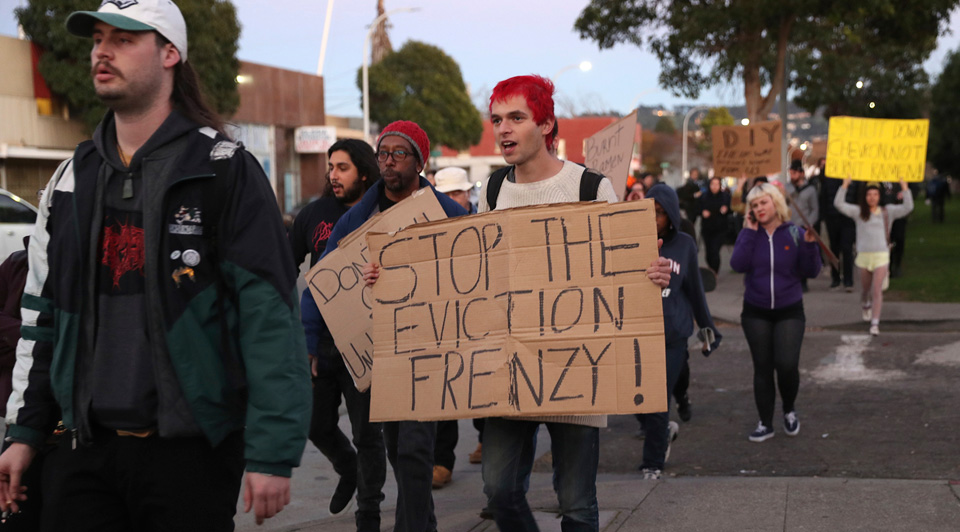 WASHINGTON – In describing how the residents of Richmond, California, took control of their town back from the Chevron Corporation, Larry Cohen, the former president of the Communications Workers of America (CWA) and Steve Early, a writer and CWA organizer, laid out a strategy for taking control of the U.S. back from the Trumpites.
The key, they said, is to organize campaigns that focus on issues, not just on candidates.
Richmond was once dominated by Chevron, which was making huge profits and doing virtually nothing to improve the town's standard of living. This largely nonwhite, working-class city of 100,000 suffered from poverty, pollution, and poorly funded public services. It had one of the highest homicide rates per capita in the country and a jobless rate twice the national average.
But in 2012, when Early moved from New England to Richmond, he discovered a city struggling to remake itself. After 15 years of successful community organizing residents defeated a casino development project, challenged home foreclosures and evictions and won public financing of campaigns, a rent control ordinance, a raise in the city-wide minimum wage, reversal of public service cuts and legislation making Chevron pay its fair share of taxes, which put Richmond on a sound financial footing.
In 2014, the People's World covered the Richmond story in an award-winning article called Inside story on how one little city slew an oil dragon.
Now Early has written Refinery Town, published by Beacon Press, which chronicles in detail organizing in Richmond.
Early and Cohen discussed the book recently at the Politics and Prose bookstore here.
"We want to be on offense, not just on defense," Cohen explained, alluding both to Richmond over the years and to the U.S. today.
Success occurs when a campaign becomes "about issues and not just about candidates," Cohen continued. "You have to turn [campaigns] into a broader narrative. You have to network together and collaborate even without everything worked out in advance.
"It's messy," he said, [and] a lot less conscious and a lot more spontaneous."
In Richmond, many single-issue groups got together and formed the Richmond Political Alliance (RPA).
Early said that because of working to address local issues, RPA successfully fielded candidates for mayor and five of Richmond's seven council seats.
He noted there are similar successes in Vermont. The lieutenant governor there is a member of the Vermont Progressive Party, as are 15 state lawmakers, 11 of whom also had Democratic cross-endorsement.
"Bernie Sanders told me we need more case studies of successful progressive local political movements," Early said. "I told him about the RPA and to check it out. He did."
The secret to RPA's success, Early explained, was to meld a wide range of single-issue groups into one coalition, recognizing it had to be done even before their joint platform was fully finished, and even if not every group agreed with every plank.
"It took quite a bit of effort to get them to set aside their single issues for a big agenda," Early recalled, "And groups had to educate voters to be politically active year-round, not just at election time."
The big RPA agenda also faced big opposition, and not just from Chevron. The Chamber of Commerce, the landlords association, other business interests and several conservative unions opposed the grass-roots mobilizing and the issues RPA pushed.
One proposed ordinance saw Chevron and its allies spend $3 million against it and outspend the RPA and its allies 30-1. But RPA won through its mobilization.
Nevertheless, the progressive groups and individuals themselves "were lonely voices until they formed a political party" with the key step of taking dues from individuals – who thus bought in personally – instead of via corporate campaign contributions.
The other key step, and one Early said other progressive groups should emulate, was "a generational shift." The RPA's founders, after 15 years, gracefully gave way to new leaders who looked like the minorities and poor who make up most of Richmond's residents.
As a result, one RPA winner last fall, 26-year-old African American Melvin Willis, helped unseat the council's longest-serving member, 40-year-veteran Nat Bates, whom Chevron backed. Another, Ben Choi, hails from the city's Asian-American community.
And Richmond's environmental movement, a key part of RPA's coalition, is led by people of color harmed by the Chevron refinery's emissions and accidents, Cohen added.
Early said Richmond is now "a magnet city that has social justice and protects immigrants."
Listening to how RPA succeeded, but also to the fact that the process took 15 years, Cohen, known for his organizing prowess, said that "It's essential to shift the dialogue to workers and the poor" to succeed both locally and nationally. Democratic presidential nominee Hillary Rodham Clinton, who lost the Electoral College majority, but not the popular vote, to Republican Donald Trump last fall, didn't do that, he said.
"What we saw with Clinton was a failure to frame things in terms of work and the working class," said Cohen, a prime Sanders supporter and advisor during the Democratic presidential primaries. "If we don't do that, we have no chance."
Clinton's operatives concentrated on the middle class, and didn't listen to the others, he added. After Clinton won the party nomination over Sanders, "I all but begged" her campaign overseer, John "Podesta to take these things up, along with no TPP," the controversial Trans-Pacific Partnership "free trade" pact that workers, Sanders, unions and their allies opposed.
To order Refinery Town, click here.