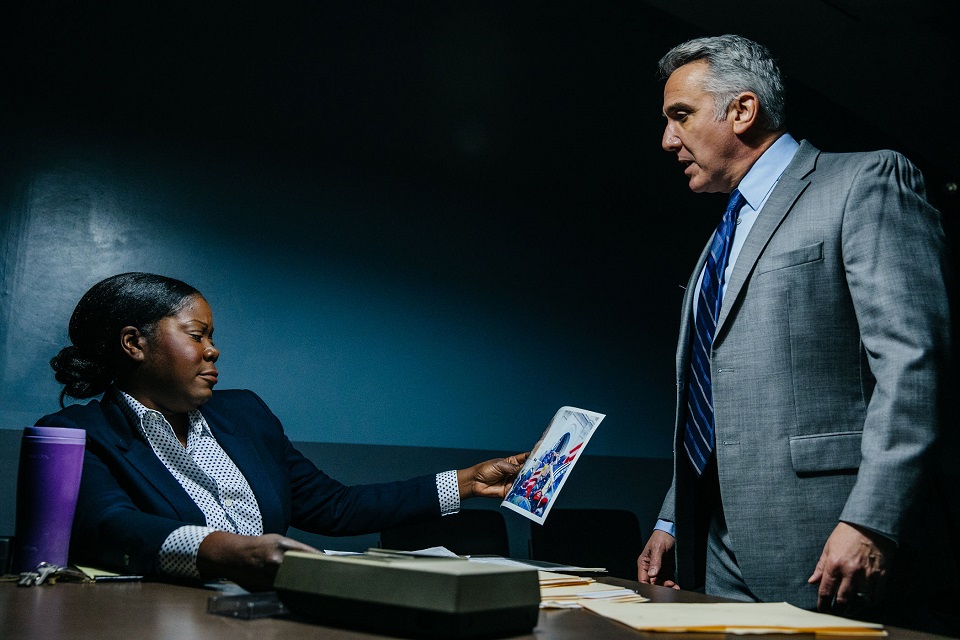 LOS ANGELES — The second I entered the Matrix Theatre on the opening night of June Carryl's Blue, Rogue Machine's new play immediately got me into the mood indigo. Not only was a woman in an LAPD uniform present, but soon she started barking orders to theatergoers assembled in the Matrix's library and proceeded to have us line up and individually march through metal detectors as she searched our bags. Was she an actual police officer or a thespian? Was it live or Memorex? (For good measure, Blue's press kit is also cleverly in the format of a police dossier.)
After passing through the ersatz (or was it?) tachometer, about 30 audience members climbed up a flight of stairs to the inaugural performance to be held in the Henry Murray Stage and sat around a medium-sized room. In the middle were a table with files and an old-fashioned cassette tape recorder atop and a light above it, plus two chairs, from which Caucasian officer Boyd Sully (John Colella) and African-American LaRhonda Parker (Julanne Chidi Hill) face off against one another in an inquiry about a traffic incident with a young Black man that went very, very wrong.
At first, Sully is relieved to find that the Internal Affairs Division investigator assigned to his case is an old acquaintance, in fact, the wife of a former patrol partner. But right away the playwright provides some clues that this "pleasant" surprise is not going to serve Sully well and bestow any favoritism on him by his longtime "friend." Ms. Parker declines to hug Sully when she enters, claiming that it wouldn't look good on the surveillance camera footage recording the session. Soon, out of the blue, in that Phil Ochs "Love Me, Love Me, Love Me, I'm a Liberal" tradition, Sully insists that he "voted for Obama"—a sure tipoff that he's looking to rationalize his behavior. Sully goes on to repeatedly insist, "I'm not a racist." Which is never a good sign, especially if you're wearing a badge.
The meeting quickly devolves from pleasantries to increasing degrees (third and otherwise) of confrontation, as the tête-à-tête simmers and turns into an interrogation and investigation. Without revealing plot spoilers, the well-written Blue becomes a dramatization of the tragic fact that instead of issuing tickets, too many minor traffic infractions in America result in an unanticipated death penalty. In a sense, Blue enacts onstage a story of MAGA versus BLM.
In a highly engaging, entertaining way Blue's plot is about race, racism and excessive use of force by the police (you know, cops being cops, and all). Carryl craftily plants some landmines that I didn't see coming, such as an incriminating photo of Sully (guess where and when?). When the man in Blue is caught red-handed, his main concern, of course, is not how he behaved but how Parker obtained this tidbit of incriminating evidence. This type of behavior is always indicative of guilt.
Hill's character may ironically be named after an earlier, extremely bigoted LAPD chief of police, William H. Parker. And Carryl's choice of Sully's name, too, also likely reveals a sly, wry wit. In addition to being a possible reference to his being "sullen" and to the family name "Sullivan"—and hence the stereotypical notion that many police are of Irish ancestry—to "sully" is to attack someone's good name and to try to ruin his reputation. Blue's tagline is also a bit of cagey wordplay: "Where does the truth lie?"
The acting in this two-hander is top notch, as the conflict and tension increasingly ratchet up. The sparks start flying faster than a speeding bullet that kills a motorist for the heinous crime of driving with expired tags. Both actors have oodles of stage and screen credits, and it shows throughout this well-paced, well-acted one-act play that's slightly longer than one hour.
Julanne Chidi Hill received the 2022 Orange County Theater Guild Outstanding Lead Performance Award for Yellowman, has trod the boards at the Kirk Douglas, the East West Players, etc., and appeared on TV in programs like Blackish and Weeds. I saw John Colella at a gripping production of the classic 12 Angry Men mounted by the Laguna Playhouse. This accomplished actor's big and little screen credits include The Chicago 8 and policiers such as Hawaii Five-O, Criminal Minds and—but of course—NYPD Blue.
Perhaps Carryl, who is a gifted artist, should rename her play LAPD Blue (the wag wrote, tongue firmly in cheek, endlessly amusing himself)? By giving a treatise on police brutality the social realist treatment, Carryl has succeeded in raising what could have been mere diatribe to the level of art with timing and pointed, deft dialogue convincingly delivered. And, as mentioned, the show is entertainingly rendered by a dynamic cast, tautly directed by Michael Matthews, who has helmed countless theatrical productions, including 12 and The Graduate, starring Melanie Griffith as Mrs. Robinson, also at Laguna Playhouse. Matthews's accolades include two NAACP Theatre Awards and two Ovation Awards. The artistic director and one of Blue's producers is stage veteran Guillermo Cienfuegos, whose love for live theater burns like, well, 100 fires.
Blue is a perfect choice, an auspicious beginning for the launch of the Henry Murray Stage, which "will primarily be used for small world premiere productions and new play workshops," according to press (or should I say "dossier"?) notes. When it comes to Lorraine Hansberry's dictum, June Carryl fits the bill, being young, gifted and Black. An actress as well as a bard, with Blue she has put one of America's central pressing problems onstage, with the urgency of a wailing siren with swirling lights and shouts of: "Pull over!" This is one of the many plays Rogue Machine has presented dealing with the thorny issue of race. Blue definitely fulfills the company's mission "to be a theatre of ideas and imagination…which mirrors and examines contemporary culture, a theatre which nurtures contemporary playwrights, and a theatre whose work continually engages the community and creates a dialogue which resonates after the curtain closes."
Indeed, after the opening night reception, on my drive home Blue resonated with me: I made sure to obey all speed limits and to signal whenever I made a turn.
Blue is being performed Mon., Fri. and Sat. at 8:00 p.m. and Sun. at 3:00 p.m. through May 14 at the Henry Murray Stage, upstairs at the Matrix Theatre, 7657 Melrose Ave., Los Angeles  90048. For reservations call ​(855) 585-5185 or go to the company website.