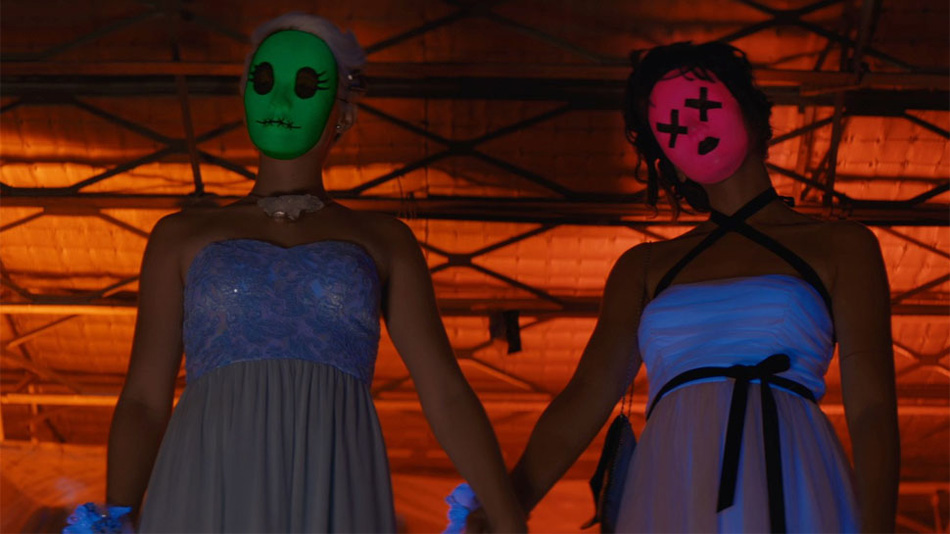 One need look no further than the Twitter timeline of so-called president Donald Trump to witness the toxicity that can occur on the internet. The phenomenon of social media has connected millions of people all over the world. It's created a culture of accessible news and propaganda, both influential and wide-reaching. The info and digital campaigns shared can be inspirational and progressive. Other times they can be downright detrimental to progress. The new film, Tragedy Girls, explores what happens when the desperation for fame and influence drives people to murder for digital acceptance. It's a fun, twisted tale of millennials, serial killers, and social media.
Best friends Sadie and McKayla are high school seniors on a mission to boost their social media fandom as amateur crime reporters. They've been hot on the trail of a local serial killer in their small Midwestern town. Upon capturing the killer, they realize the best way to get exclusive scoops on the next murder is to kill people themselves. Their brand, @TragedyGirls, soon becomes an overnight sensation as the body count grows, with pressure mounting to deal with national stardom and not get caught by the police. The dark comedy takes a refreshing spin on the horror genre as established gender norms we often see in this type of movie are challenged: the two women protagonists are not damsels in distress fearful of a deranged killer, they are the killers themselves.
Having its Screamfest Los Angeles premiere on Oct. 15, Tragedy Girls presents a cast of familiar faces. Alexandra Shipp (X-Men), and Brianna Hildebrand (Deadpool) play the two main characters. Actress Elise Neal (Scream 2, How to be a Player) makes an appears as McKayla's mother. Josh Hutcherson of Hunger Games fame  makes an appearance along with Craig Robinson of FOX's Ghosted. Robinson is also  one of the film's producers.
The film is similar to genre-challenging movies before it, such as Heathers, and Jawbreaker, in that it calls out the at-times-overplayed tropes of horror movies and young-people angst. But don't mistake Tragedy Girls for a copycat of those previous films; it is an addition to their legacy, creating its own style and direction. With quick scenes and lots of action, director Tyler MacIntyre (Patchwork) plays into the culture of short-attention spans by keeping the audience on its feet. What the movie lacks in character depth and elaborate plot, it makes up for with a quick tale of tongue-in-cheek reflection on the current culture of social media obsession.
Many of the characters come off as more caricatures than actual individuals, but it's clear the filmmakers don't want you to care too deeply for the characters. They'd rather you use their extreme fictional story as a reflection of the very real power the internet can have in creating narratives, making heroes into villains, and villains into heroes.
The diversity within the project is a refreshing aspect of the movie.  Members of the cast and crew spoke with People's World about this on the red carpet of the Screamfest premiere.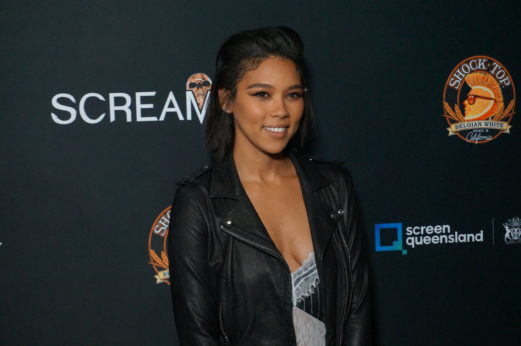 Marycarmen Lopez (Queen Sugar) who plays news reporter Trish in Tragedy Girls said, "We were filming in Kentucky and here I was playing Trish, the reporter, and I'm Mexican. It spoke volumes to seeing diversity in different roles. Tyler [MacIntyre] was about not casting the typical look for certain roles in Hollywood." Lopez said she was attracted to the project when she learned it was about two strong women characters. Also, she added, "The film takes a moment to make fun of our society's obsession with social media. Our children are determining their self-worth based on how many likes they get online."
One of the producers of the film, Kerry Rhodes, a former NFL Jets football player, told People's World, "It was a conscious decision to make it diverse. We wanted the diversity, we wanted women to be leads. We wanted positive and powerful images to make the film special."
Rhodes is correct in that there are powerful images throughout the movie – blood and gore included, and a bold direction the film takes in allowing the young women to behave in ways that are usually reserved for men in the genre. Alexandra Shipp's McKayla performance shines through, as she effortlessly portrays the charismatic sociopath. The film does, however, play into the stereotype that it's millennials (ages 18-34) who are obsessed with social media more than any other previous generation. This stereotype, interestingly enough, has been debunked in recent studies that reveal that actually generation Xers (ages 35-49) spend more time on social media than their younger counterparts.
Overall, Tragedy Girls is a laugh-out-loud, squirm-at-the-blood, fun time at the movies. The quick pace, interesting concept, and fun performances are what carry this movie through the one-hour-and-30-minutes run time. It's always a blast to see strong women protagonists in an often male-dominated field, and if for nothing else, the idea of how deadly social media and the manipulation of news can be is something very relevant to the times we currently live in.
Tragedy Girls has its theatrical release on Oct. 20. Info on areas where the film is playing and how to purchase tickets can be found here.