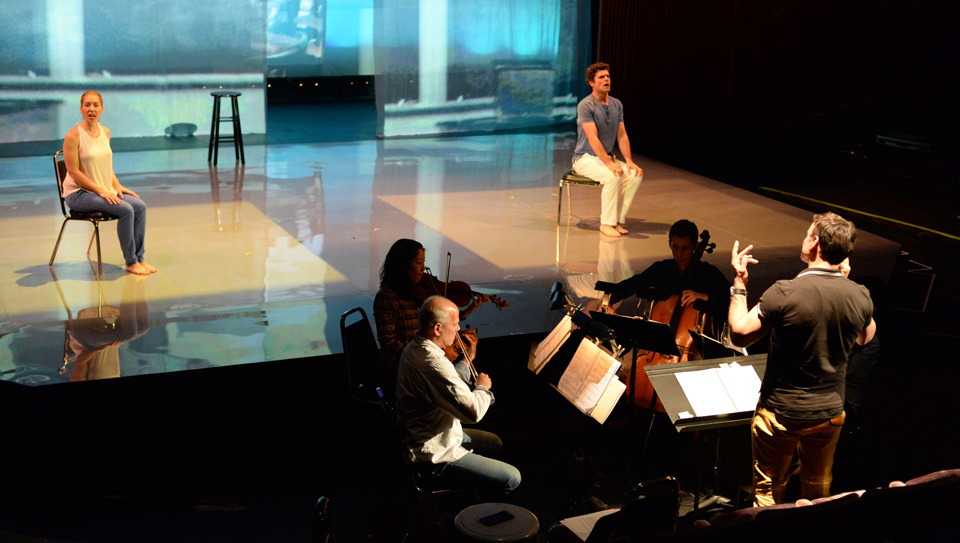 LONG BEACH, Calif.—I do not recall another opera that has to date received nine different productions since it premiered at the Brooklyn Academy of Music in September 2014. Commissioned and developed by American Opera Projects, As One had their persuasive imprimatur. And with only two roles, accompanied by a string quartet, clocking in at 76 intermissionless minutes, it's a more portable property than many operas. (Coming up in November is another production by the San Diego Opera, and rumor has it that Chicago will soon see a production as well.)
The two characters are Hannah Before, sung in the Long Beach Opera production by baritone Lee Gregory, and Hannah After, mezzo soprano Danielle Marcela Bond. Considering that the work treats a gender transition, it's notable that the name Hannah is a palindrome, spelled the same backward and forward. We never learn the main character's original name, although the opera includes a letter home before the transition signed H.
LBO Artistic Director Andreas Mitisek conducted from the front seat of the auditorium. He and the members of the string quartet occasionally added spoken or sung passages.
As One was composed by New York-based Laura Kaminsky, who regularly receives prestigious commissions and grants for her work. She collaborated with librettists Mark Campbell and Kimberly Reed. Campbell's best-known work is his libretto for Kevin Puts' 2012 opera Silent Night; he has written libretti for a number of other operas as well. (Reed is also responsible for the important video component of the production.)
Reed spoke at a pre-opera panel last Saturday in Long Beach. As a transgender person herself, she spoke knowingly about the experiences of transitioning and the gender, racial and class aspects. She cited a statistic indicating that 75 percent of the violence committed against LGBTQ people is directed toward trans people, and two-thirds of those cases involved trans people of color.
The opera itself features a scene in which the transitioning Hannah is attacked. Her assaulter threatens to kill her, demanding to know, "What the fuck are you?" Although posed in the most violent of circumstances, this question is reflective of minds that cannot accept any other than binary definitions of gender. It's the source of the right-wing "bathroom bills" that have cropped up in North Carolina and other states.
Reed pointed to the problem of "people deciding other people's gender for them." "We live on two poles of gender," she continued. "Hopefully we can mess up those lines between them…. I think it's important for trans people to tell their own stories."
In important ways, opera has precedents for these contemporary stories. In the beginning centuries of opera, a promising pre-adolescent male singer was transformed into a castrato so as to preserve the power of the male voice in a female register. The castrati became famous for their stunning portrayals of female figures, as well as of male characters singing in the highest possible range. There seemed to be less of a problem with gender-bending 500 to 300 years ago than we have now. In fact, at the dawn of the recording era the last remaining castrato left a sample of his voice, although he was quite aged by that time. Trained countertenors (with no surgical intervention) also flourished not just in female roles but as kings and generals in operas by Händel and others. The countertenor voice has made a modern comeback, for example in Philip Glass' Akhnaten.
In subsequent years we have a generous sampling of "trouser roles" in opera, wherein female singers (now allowed on the stage, which they not been earlier) portrayed male youths, such as Bellini's Romeo, or randy youngsters such as Cherubino in Mozart's The Marriage of Figaro and the later role of Octavian, the rose-bearer in Richard Strauss's 1911 Der Rosenkavalier, both usually sung by a mezzo soprano. In this later opera the curtain opens on Octavian and his lover, the Marschallin, a soprano, romping about in bed after a lusty night of lovemaking. Such scandalous goings-on are nothing new for opera!
As One goes into the protagonist's childhood, when Hannah Before experiments with making her handwriting less angular and more cursive, and later experiences a sense of gender dysphoria when the boys and girls are sent to separate sex education classes with different teachers. Hannah wanted to be with the girls. She tried so hard to be the perfect young man—athlete, scholar, student leader—to mask the inexplicable feelings buttoned up inside. Those scenes reminded me of Leonard Bernstein's one-act opera Trouble in Tahiti (1952), which also took on prescribed gender roles for males and females and the ways those strictures diminish us as human beings.
The way Kaminsky and her librettists write this story, the male and the female singer are simultaneously aspects of the same evolving person, the yin and yang, if you will, of one individual. They are dressed similarly, with opposite blue and white top and bottom. The Before and After personae are often in dialogue with each other, one looking forward, the other looking back. As stage director David Schweizer conceived the LBO production, the singers Gregory and Bond almost dance their way through these roles in constant movement.
Formally the opera is divided into three parts, each of them into shorter scenes titled according to the "songs" of Hannah's story that they unfold. Each one marks a small passage within the larger transition; for example, the first time someone says to her, "Pardon me, miss." "I have passed," Hannah exults. "Finally I am perceived as I am." The individual set-pieces of these "songs" suggests that As One is as much a two-person oratorio as an opera, the characters telling a story in a manner that does not even necessarily require much staging. From a dramatic point of view, it's not very "operatic."
In a touching coffee-shop scene on Christmas Day, Hannah converses with another holiday exile, an attractive young man, and he either doesn't notice that she's not yet all-woman or doesn't care. Over time, under hormonal treatment, both physical and emotional changes are noted. At a certain point she realizes there is no going back: Whatever uncertainties and difficulties she may have, this is her new life now.
With her opening chords Kaminsky reveals her post-minimalist musical tendencies, and yet the warmth of her melodic gift put strongly in mind the 19th-century Czech composer Antonin Dvorak, particularly his "American" string quartet. I couldn't help thinking this choice underscored the very American subject matter, and yet the transgender experience is more universal than that. The score also contains hints of other traditional musical genres, such as identifiable snatches of (by my count) at least three different Christmas carols.
One of the points brought up in the Long Beach talk was precisely that the opera need not be seen as just about transgender issues, but about anyone who seeks to grow tomorrow into the person they are not today, someone more authentic and compassionate, even to oneself. "This chamber opera is perhaps the most vulnerable and open-spirited piece I have ever worked on," director David Schweizer says, "and I think that everyone around our process has felt it."