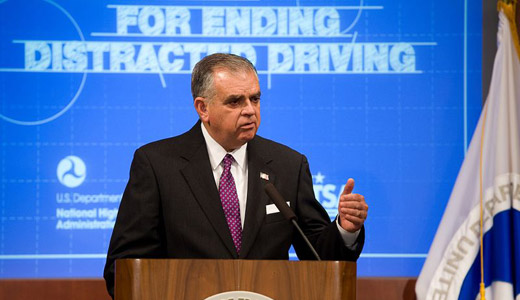 WASHINGTON – The Amalgamated Transit Union is praising the federal government for ordering 26 unsafe bus firms to stop plying the nation's roads, especially up and down the East Coast. But it says the feds have yet to tackle the second key issue that problems with those buses exposed: Driver fatigue.
The fatigue risk causes fatal bus crashes, ATU President Larry Hanley said after an independent panel's June 5 report on a fatal bus crash in the Bronx. Hanley had made the same point on June 1 after Transportation Secretary Ray LaHood's action against the bus companies. The same firms that disobey safety standards push their drivers too hard, Hanley added.
But the drivers also must work the long hours because overtime laws do not cover them, he adds. Hanley demanded Congress pass legislation by Sen. Charles Schumer, D-N.Y., ending that exemption and protecting drivers and passengers.
"We were not all surprised that the National Transportation Safety Board found driver fatigue was the cause of the tragic Bronx crash that devastated 15 families," Hanley added on June 5.
"This is a long-standing problem in this industry, and until the Federal Motor Carrier Safety Administration," — the federal agency that regulates buses — "the American Bus Association, and Congress wake up and address this issue, we are going to continue to see these grisly scenes of bus accidents on our highways."
LaHood and FMCSA ordered nine active bus companies off the road, along with 13 firms that had been ordered to stop service but which were continuing to run anyway, and three firms seeking for bus operating authority and permits.
LaHood's June 1 statement called them all "imminent hazards" to public safety.
"These aggressive enforcement actions against unsafe bus companies send a clear signal: If you put passengers' safety at risk, we will shut you down," he said
He also ordered 10 bus company owners, managers, and employees "to cease all passenger transportation operations, which includes selling bus tickets to passengers." The firms transported over 1,800 passengers daily along I-95 from New York to Florida.
The bus firms repeatedly broke safety laws, LaHood said. They used drivers who lacked valid commercial drivers licenses, did not test drivers for drugs and alcohol, and operated uninspected and unsafe buses. All the firms are non-union. ATU is campaigning in Congress for legislation to crack down on such bus safety violators.
"While the DOT's more rigorous regulatory stings continue to take unscrupulous operators off the road, any serious proposal to clean up the discount bus industry unequivocally has to include an effective solution for driver fatigue. If we don't, we'll continue to put passengers and drivers at risk," sand Hanley, whose union represents drivers of regulated and frequently inspected intercity buses, such as Greyhound.
Last year, ATU released its own investigative report on fatal intercity bus crashes. Citing NTSB, ATU reported crashes due to driver fatigue led to 36 percent of deaths. "Hundreds of intercity bus companies get away with paying their bus drivers criminally low wages, forcing drivers to work 100 hours a week or more, often balancing two or three jobs, just to make a living. Unsuspecting customers get on these buses and disaster can strike," Hanley said.
NTSB identified "driver fatigue as a contributing factor to fatal motorcoach accidents," the union said. NTSB said eliminating fatigue is among its most-wanted bus safety improvements.
Photo: Transportation Secretary LaHood, via U.S. Department of Transportation.