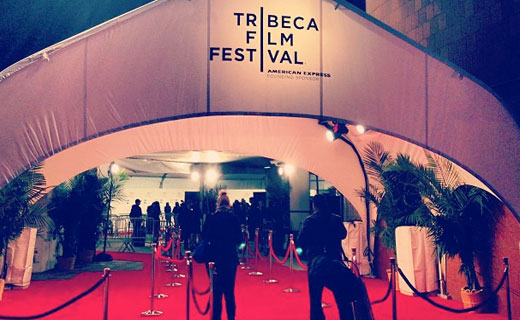 NEW YORK – Now in its 12th year, the Tribeca Film Festival in lower Manhattan has grown to world prominence and offers a wide array of international cinema and world premieres, with several titles of interest to progressive viewers. This year's just completed festival offered several great documentaries focusing on the African American experience, including a loving and informative study of the life of athlete extraordinaire Muhammad Ali (The Trials of Muhammad Ali) , Whoopie Goldberg's tribute to the pioneer comedian Moms Mabley (I Got Somethin' to Tell You), an in-depth study of famed self-destructive comedian Richard Pryor (Richard Pryor, Omit the Logic), and an electrifying reminder of the 1985 attack on the African American MOVE organization in Philadelphia (Let the Fire Burn).
Other documentaries focused on greed and the excesses of Wall Street, with an investigative study of billionaire criminal Bernie Madoff (In God We Trust) and Texas oil barons finding ways to make super-profits from the natural oil reserves of Ghana and Nigeria (Big Men). Activists were honored in Alias Ruby Blade: A Story of Love and Revolution, about the struggle for democracy in East Timor; Gasland Part II, carrying on the struggle against fracking; and Powerless, with an electrical Robin Hood supplying power to the poor of India.
Politics and the U.S. economy were addressed in a beautifully filmed tribute to Gore Vidal's writings and activism (Gore Vidal: The United States of Amnesia), and Bill Clinton's secretary of labor, Robert Reich, presented his theories on the failings of the American economy in the well-financed Inequality for All.
Awards were given this year to The Kill Team, a penetrating examination of the U.S. soldiers arrested for killing civilians in Afghanistan; Bridegroom, a moving testimony of love and a powerful statement for same-sex marriage; and Let the Fire Burn, mentioned above.
A couple of great films still running the festival circuit before theatrical release (and reviewed previously in People's World) were Patience Stone, a stunning poetic essay addressing the plight of Muslim women, and How to Make Money Selling Drugs, one of the most creative films exposing the failed "war on drugs." A special panel discussion of this film brought together its filmmakers, experts in the field, and some of the subjects from the film, who addressed serious concerns about the growing prison population being held in privatized facilities. All statistics show that drug use, drug crimes and gun violence have increased, and race plays a major role in filling jails, statistics that are supported by Michelle Alexander's seminal book, "The New Jim Crow." Neill Franklin, a former undercover narcotics agent responsible for sending many young men to prison, had a change of heart and appears in the film to explain the mistakes of the program. He's now executive director of Law Enforcement Against Prohibition and has a very informative website that explains the importance of not decriminalizing but rather legalizing certain drugs to eliminate violent drug cartels and street dealers.
The 12-day Tribeca Film Festival is just part of an amazing array of seemingly endless film festivals in New York. The Havana Film Festival recently started a New York version held every April, the venerable New York Film Festival is now in its 51st year, and the 7th annual Other Israel Film Festival takes place this coming November.
Photo: Tribeca Facebook page