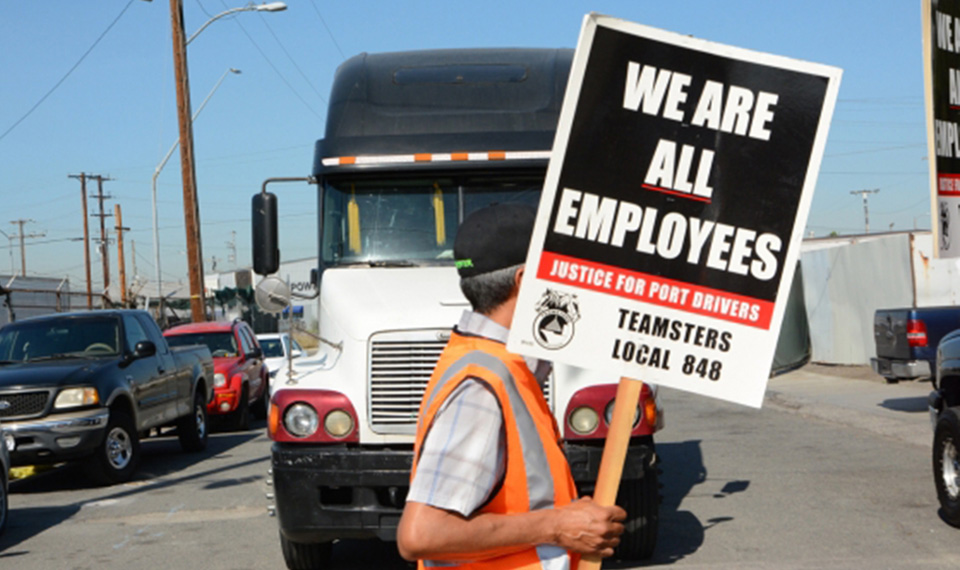 LOS ANGELES – Truckers working on the docks at Los Angeles-Long Beach, the nation's busiest port, want the Department of Defense (DOD) to stop their employer, California Cartage, from continually committing wage theft.
The complaint, sent by the Teamsters union to the DOD on behalf of the Cartage workers, is a continuation of the long-running campaign being waged by port truckers to be correctly classified as "employees" protected by U.S. law and having the right to join a union. Currently, all port truckers here are misclassified by their employers as "independent contractors" who have virtually no rights.
California Cartage is one of the five big cartage firms at the L.A. port. According to Truckers.com newsletter, "With more than 800 trucks located at the Port of Los Angeles, California Cartage controls around 10 percent of the containers hauling freight out of the harbor" through its five subsidiary trucking companies.
A large percent of Cartage's business involves hauling tanks and jeeps to and from freighters for the DOD. By misclassifying its employees, the company is in violation of the federal Service Contracting Act (SCA).
If the DOD does nothing, it is enabling a law breaker.
The complaint on behalf of Cartage workers was sent to the DOD by Frederick Potter, Teamsters' union vice president-at-large and director of the union's port division.
It states that "Independent contractors who work for California Cartage subsidiary K&R Transportation claim that once costly deductions are taken from their weekly settlements for fuel, lease payments, insurance and maintenance costs to pick up their Department of Defense loads, their average hourly wage falls well below the 'SCA wage determination rate.'"
Misclassifying workers
"California Cartage and the companies under its umbrella are not new to wage theft allegations and misclassification complaints, Truckers.com reports.
Over the past two years, there have been at least seven decisions issued by the California Labor Commissioner against the Cartage conglomerate, which has paid more than $900,000 in back pay and penalties to settle with some of the drivers.
Teamsters officials are quoted in Truckers.com as saying "California Cartage would be liable for an estimated $105 million for wage theft if all of its port drivers won their decisions."
Several recent court rulings have dealt setbacks to the trucking industry's practice of missclassifying drivers as independent contractors rather than as full employees, according to Truckers.
For example, U.S. District Judge Cathy Ann Bencivengo wrote in a decision against the California Trucking Association that the carriers in question were essentially trying to skirt labor law. "CTA members are free to use independent contractors or employees," she wrote. "However, CTA members must do more than simply label a truck driver as an independent contractor; the truck driver must in fact be an independent contractor under California law."
In a ruling against the Swift Transportation Corporation, the judge sided with the drivers who considered themselves to be employees because Swift controlled every aspect of their work schedules – from where and how they delivered freight to which routes they used.
Reyes Castellanos spoke to Truckers.com about being misclassified by the K&R company, a subsidiary of Cartage.
Castellanos said he is in a lease-purchase agreement with the company and has had his truck for four years. He said he only has one year left – if he can hold out that long – before his truck is paid off. However, he has had to sink a lot of money into fixing his truck, which has had serious problems.
When his truck is down, he does not receive a pay check. And as an independent contractor he does not receive paid days off, sick days or holiday pay like an employee driver would.
"Until recently, I was not aware that K&R was breaking the law, but after I did some investigating, I realized this isn't how things are supposed to work," Castellanos said.
The advent of the so-called gig economy has led more workers into employment situations that are "precarious," said Orly Lobel, a professor of labor law at the University of San Diego.
The truckers' fight to be classified as employees is often compared to the fight of Uber Corporation taxi drivers. This past April, according to Truckers.com., the company settled two class action lawsuits that will require it to pay drivers up to $100 million, but allow it to continue categorizing them as independent contractors, rather than employees.
However, the trucking industry "might have a harder time winning compared to Uber," Lobel said.
Trucking companies will have to prove that "independent contractor" is not just a "cosmetic label" for "full-time drivers working full weeks under the same conditions the industry has always worked with."