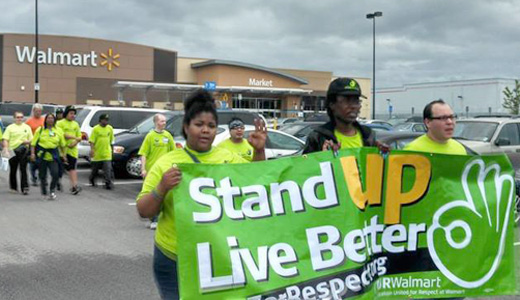 Hundreds of workers' actions against Walmart nationwide this year will occur on Black Friday, Nov. 29 — the day after Thanksgiving. All the actions are important indicators of the rising discontent nationwide against low wages, bad benefits, income inequality and the corporate-engineered "race to the bottom" – with Walmart leading the way.
An early action against the megamonster, known for its always-low wages, always-bad benefits and rampant labor law-breaking, came Nov. 18.
On the ground, more than one third of non-union "independent contractor" truck drivers at the Port of Los Angeles walked out against Green Fleet Systems, Pac9 and American Logistics International. These three firms' fleets truck imported goods from the port inland to Walmart's warehouses, and to warehouses for other retailers.
The walkout "put a serious crimp in their operations," Teamsters Local 848 Secretary-Treasurer Eric Tate, who coordinated the action, said in a phone interview. The firms couldn't move their goods to warehouses of Walmart and other retailers. "We put a line up" and drivers refused to cross it, he explained. "We had the streets backed up a mile long." And unmanned trucks were stuck inside the warehouse lots.
Backed by the area Teamsters Joint Council 42, which sent trucks and logistical support, some drivers continued their walkout through 4 p.m. the next day, Tate adds. Teamsters from Seattle, L.A. and even New Jersey joined the truckers who walked out. And, off truck firm response to a prior walkout in August, Tate doesn't expect retaliation.
"In the end, all three of the trucking firms that employ the drivers are taking them back," Tate said. "They were even calling us, asking when the drivers are going to come back to work. We'll continue this until we're able to organize the port drivers."
All this precedes Black Friday, the busiest and most-chaotic day of the holiday shopping season. Last year, Walmart workers, who are not organized by any union, but who have organized themselves into OurWalmart to campaign for better wages and working conditions and respect on the job, used Black Friday as a high point in their nationwide campaign of 1-day walkouts and picketing.
This year, Walmart workers and their allies plan a similar cascade of 1-day walkouts and picketing of Walmart stores and supercenters coast to coast, with the aid of groups ranging from Jobs With Justice and the AFL-CIO to the Corporate Action Network. And Walmart workers in Chicago and Seattle staged 1-day walkouts earlier this month to protest the firm's labor law-breaking last year, the network reported.
Besides pay and working conditions, the L.A. port truckers also protested their "misclassification" by the firms as "independent contractors." They have no labor law rights and can't be organized. Each trucker must pay for Social Security, Medicare, workers' comp and other taxes as well as their tires, gas and insurance.
But the truckers say they're really under the companies' control and thus should be "employees," protected by labor law and not liable for the other payments.
Unions and their allies strongly support the truckers and the Walmart workers. "The company is illegally trying to silence employees who speak out for better jobs," said Sarita Gupta, executive director of Jobs With Justice/American Rights at Work.
Photo: Corporate Action Network