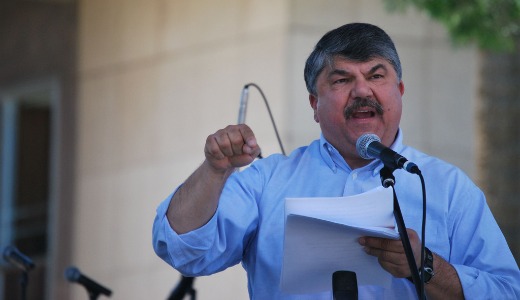 ORLANDO, Fla. – The AFL-CIO will examine and create a new and different internal and external structure, to be considered at its convention in Los Angeles in September, federation President Richard Trumka says.
The revamp is necessary, he added, to meet the conditions of changing workplaces, extend labor's reach to allied and community groups, and to shift its emphasis within the federation to more inter-union and regional cooperation.
"We'll use our sessions" in meetings nationwide "to see how we need to change to meet the needs of today's and tomorrow's workers," Trumka told reporters covering the federation's Executive Council meeting in Orlando, Fla., on Feb. 26. "We have to be honest with ourselves." The revamp meetings will be open to all.
Since its founding with the merger of the American Federation of Labor (AFL) and the Congress of industrial Organizations (CIO) in 1955, the nation's largest labor group has been an amalgamation of unions – now 57 after Actors Equity received a charter on Feb. 25 – state federations, central labor councils and specific departments.
Some departments and unions have come and gone, notably those that left in 2005 to form Change To Win. Constituency groups became part of the federation. But until recently, the AFL-CIO has not had ties to non-union worker and community groups, though several have joined the federation in coalitions.
Trumka says the fed will hold open community meanings, inviting unionists, non-AFL-CIO unions, youth, academics, community allies and others to discuss ways to change that structure and to more widely represent workers.
"The AFL-CIO was designed to prevent us from hurting one another, not necessarily to help one another," Trumka explained. Now its leaders want to reach out beyond unions themselves to appeal to workers, as workers, on a wider scale. "We have to design new forms of representation," Trumka said.
Those new forms include chartering more worker centers, expanding Working America – the fed's 3.2-million member community affiliate for workers who can't or won't join unions – and other "non-collective bargaining forms of representation."
But the ideas won't be top-down, and the federation wants to integrate legislative, collective bargaining, politics and organizing all into one process. "The state feds and central labor councils will change and there'll be one strategic plan," not 50, Trumka stated.
Photo: Jobs with Justice // CC BY-NC 2.0