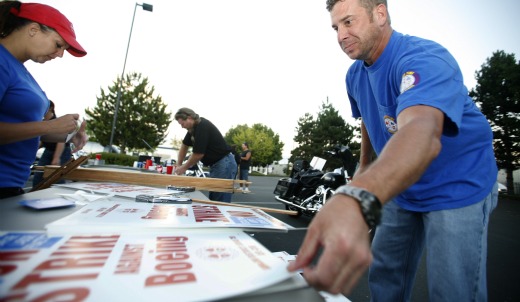 WASHINGTON – Republican lawmakers have turned a complaint by the National Labor Relations Board against Boeing into a full-scale attack on workers' rights, charged AFL-CIO President Richard Trumka at a press conference here yesterday.
Republicans are lining up behind a new bill they introduced after the NLRB filed a complaint against Boeing, which the board says retaliated against Washington state workers for exercising their rights. The NLRB charges that Boeing moved production from Washington to South Carolina in retaliation for Washington state workers having gone on strike. Such retaliation is against the law.
Trumka, Pat Bertucci, a Machinists union member who works for Boeing, and University of Texas law professor Jack Getman took part in the press conference, with each of them saying the Republican House bill, H.R. 2587, would cripple the NLRB's ability to protect workers.
The three explained to a largely unaware audience of journalists that the bill would take away the NLRB's authority to remedy unlawful conduct such as the conduct Boeing is said to have engaged in. H.R. 2587, they explained, would not just apply to cases currently being considered, such as the board's action against Boeing. It would allow corporate retaliation against workers by transferring, subcontracting or off-shoring jobs, they said.
"If a group of workers walk out of a plant because of unsafe working conditions," Trumka said, "the company could decide to move the work and the jobs rather than fix the problem, and the NLRB would be powerless to protect the workers or their jobs."
Trumka continued, "If a group of women or African Americans joined together to protest race or sex discrimination by the employer, the company could simply transfer the work somewhere else, and the NLRB would be powerless to protect the workers."
Bertucci, who is a third generation worker at Boeing in Washington state, noted, "I'd like to see my daughter have the same opportunity as I did. If this bill passes, every American's right to be in a union will be threatened."
Due to the Boeing complaint and a regulation proposed by the NLRB to speed up union elections, the labor board has become a target for the GOP. Many Republican lawmakers have threatened to hold up nominations and have promised to block recess appointments to the board in order to shut it down.
A non-functioning board is a possibility, since the five-member NLRB needs three members to have a quorum. With the board's chair, Wilma Liebman, leaving last month and board member Craig Becker's term expiring when Congress adjourns, as expected, in December, the board will be down to just two members.
In South Carolina yesterday, GOP presidential candidate Mitt Romney, who holds personal investments in Boeing, threw his support behind the GOP's anti-labor bill, calling the members of the NLRB "labor stooges."
South Carolina AFL-CIO President Donna Dewitt said, "Presidential candidate Mitt Romney seems more interested in scoring cheap political points and supporting Boeing than in talking with working families in Charleston about their concerns for the creation of family-supporting jobs."
Dewitt added that throughout his campaign, Romney has shown that his priorities lie with corporations and the rich, not with workers in South Carolina or anywhere else. "Whether its calling corporations 'people' or defending law-breaker Boeing at the expense of South Carolina workers, multimillionaire Romney has continued to prove he is out of touch with the struggles facing working families in America," she said.
Photo: The NLRB says Boeing illegally opened a production line in South Carolina to punish these workers for striking at a Boeing plant in Washington state in 2008. (AP Photo/Clint Karlsen)