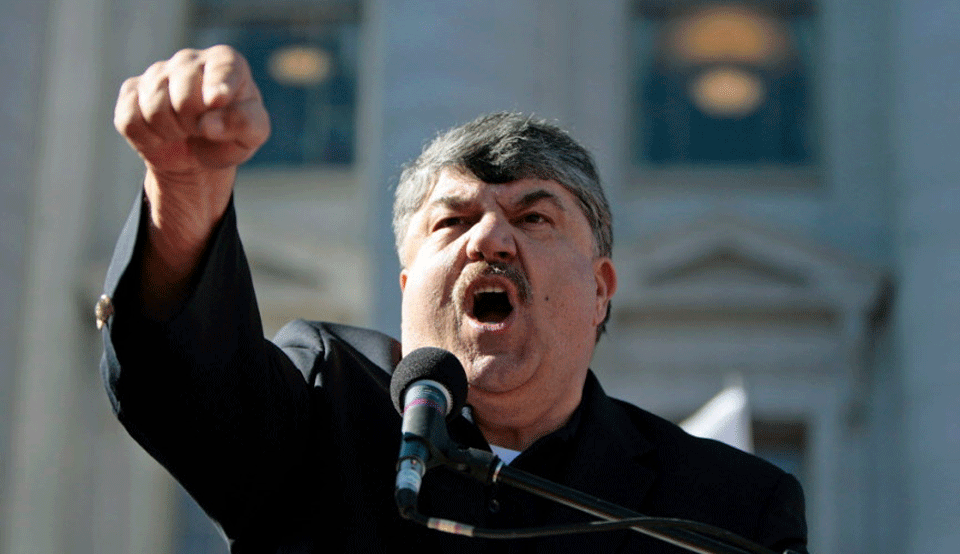 WASHINGTON—Saying GOP President Donald Trump "has made this crisis worse," organized labor "must do what the federal government has refused to do: Protect America's workers" during the coronavirus pandemic, AFL-CIO President Richard Trumka says.
In an April 21 telephone press conference on the pandemic, "that means advocating for and pushing through strong worker safeguards in both laws and regulatory actions," he said.
It also means demanding Congress order the Occupational Safety and Health Administration (OSHA) to safeguard workers through an emergency standard mandating company worker protection plans. A top pro-worker lawmaker introduced such legislation the same day.
And it means complete bans on retaliation against workers who blow the whistle on unsafe employers, Trumka said, adding "workers should have the right to refuse to go to work if they believe it's unsafe to do so."
It also means guaranteed wages and health benefits for the 22 million workers – and rising – who have lost their jobs.
"Keep front-line workers safe," is a top labor demand, Trumka declared. "Keep workers employed" – through guaranteed income even if they can't come in – "and their pensions safe." And "keep the Postal Service healthy" so its members, all unionists, can deliver needed medicines, packages, and food during the pandemic.
And workers must have a seat at the table on recovery measures when they come, Trumka declared.
"And we'd put more limits on the funds and continue stringent monitoring" of how and to whom they're sent and spent, he added. That's preferable to just handing out cash, watching firms reroute it, "and then trying to recoup the money after it's been spent."
All those are needed because of closures due to the coronavirus pandemic, which has infected 800,262 people in the U.S.– one-third of the world total — and killed 42,946 – one-fourth – as of the morning of April 21. It has cost workers their health insurance, too, Trumka said.
The AFL-CIO sent those demands, in detail, in a letter to legislative leaders this week. They also closely track the list from the Congressional Progressive Caucus, whose 95 members are trying to insert those priorities into the next economic stimulus law. The GOP-run Senate may consider a stimulus proposal the week of April 24.
Trump worsened the coronavirus crisis, which Trumka calculated pushed U.S. unemployment above 20 percent, by refusing to listen to scientific warnings beforehand and now by encouraging crowds that have descended upon several state capitols demanding re-opening of the economy even before the pandemic is licked.
"Now he (Trump) wants us to trust him with our lives and livelihoods," Trumka said, denouncing that very idea – along with those who demand such reopening.
"There's no room for error" on reopening, he declared. "We must have a say on that at every level" of both government and business.  "And any decision must be based on science, not on politics and profits."
Trump isn't the only malefactor in his own government, Trumka said. Not only does Trump's Occupational Safety and Health Administration refuse to order firms to protect their workers through a special emergency standard which OSHA inspectors could enforce, but there are fewer inspectors now than at any time in its history.
OSHA, the Mine Safety and Health Administration, and the National Institute on Occupational Safety and Health "have been AWOL" in the coronavirus fight, Trumka said. All are charged with protecting worker health. Trump's budgets, which Congress has repeatedly rejected, cut money from all three. But dollars haven't increased, except to cover inflation, either.
In a separate statement, the Fire Fighters also called out Trump's Federal Emergency Management Agency for putting first responders far down the list of those workers who should have priority for protective gear, such as N95 masks, respirators, and gloves.
Trumka added coronavirus testing and treatment to that criticism, saying it " must be fast, free, affordable and accessible."
But he also stated workers are ready and willing to build the personal protective equipment everyone needs to help combat the virus's spread. With one partial exception, Trump has refused to invoke the Defense Production Act to force firms to convert to making N95 masks, ventilators, and other protective gear.
In a move that could just as easily have been retaliatory against workers, and organized labor, the only time Trump used the law was to strongarm General Motors – whose workers are represented by the Auto Workers – into making ventilators and respirators. GM and Ford had closed for weeks, under UAW pressure, after workers contracted the virus.
"We're ready to build the PPE and to use it in places that need it the most," the AFL-CIO chief explained.
Trumka's scorn wasn't reserved for Trump and his congressional minions. He also took aim at businesses who want to reopen now, and especially at the crowds who defy social distancing orders and bans on large gatherings – both moves designed to prevent community spread of the coronavirus.
His mildest statement on that question was that "I'm not willing to sacrifice workers' lives for a premature reopening" of business. The reopening, Trumka warned, could undo all the progress the U.S. has made, despite Trump, in fighting the pandemic.
Crowds of people, all disobeying those federal recommendations, have descended on state capital buildings in Michigan, Maryland, Idaho and elsewhere, demanding complete reopening of businesses, despite the coronavirus threat.
Many of those protesters wear Trump's "Make America Great Again" hats. The Michigan Conservative Coalition and the so-called Michigan Freedom Fund – bankrolled by the family of right-wing Trump Education Secretary Betsy DeVos – organized that state's protest.
"By asking for the economy to be reopened before we have safe workplaces, people are demanding workers lives be put at risk," Trumka said.