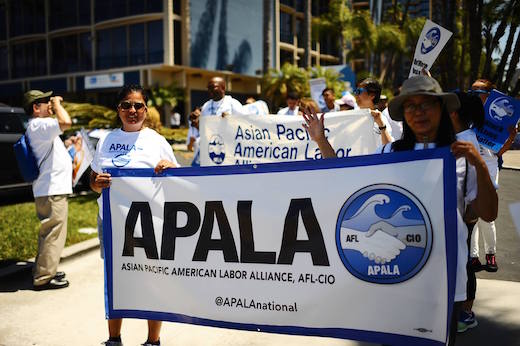 (PAI) — Add the Philippines – a top U.S. ally ever since it left its U.S. territorial status 70 years ago – to the list of "terrorist" nations whose incoming nationals Republican presidential nominee Donald Trump would ban.
His statement produced outrage from Filipino-American leaders, and left Nevada's GOP attorney general and Trump surrogate Sean Reyes, who is Filipino, trying to explain his candidate's stand to unionists and other Asian-Pacific Americans at an August 12 national conference in Las Vegas.
Polls among Asian-American groups, taken months before Trump's latest statement, show Reyes' efforts to cover for the Republican nominee may not be successful. The business mogul's prior anti-immigrant, anti-Muslim stands already upset Asian-Americans. The latest survey gave him a 19 percent favorable-61 percent unfavorable rating. And 40 percent said such statements would decide their vote.
That didn't stop Trump last month. "We're letting people come in from terrorist nations that shouldn't be allowed because you can't vet them," he said at a rally in Portland, Me. "You have no idea who they are. This could be the biggest Trojan horse of all time."
He then cited an earlier arrest and 25-year jail sentence of one Filipino immigrant for terrorist activities as an example and called the Philippines "a terrorist nation." Coded in ugly and irrational anti-Muslim hysteria, he said, "We're dealing with animals."
Trump's statement – and the backlash – is important as Asian-Americans are the fastest-growing U.S. minority group. And they're voters in key swing states such as Nevada, home to 301,000 Asian Americans. California has 1.5 million Filipinos and Philippine-Americans.
"Donald Trump disrespects Filipinos and exposes his own ignorance and racism by calling for a ban on immigration from the Philippines," said SEIU Vice President Luisa Blue, a Filipina-American whose parents immigrated to the U.S. years ago. "His lack of appreciation of the contributions Filipino laborers have made to this country is shocking.
"Since the 1920s, Filipinos have immigrated to this country to work on farms and in the fishing canneries of the Pacific Northwest, helping to build our nation's agriculture and fishing industries. Today Filipino immigrants are a driving force in the healthcare industry, working as health care professionals saving lives and providing quality care," she explained.
"I'm concerned that Trump continues to expand on the hateful rhetoric during his campaign for president, and I can only imagine what he will do if he wins. It's time for Filipino-Americans and other Asian-American and Pacific Islanders to join together and use our strength at the ballot box to make sure that we defeat Donald Trump in November and elect Hillary Clinton, who stands with Filipino-Americans and all working families," Blue concluded.
Trump's statement left Reyes struggling to explain at a presidential candidate forum hosted by Asian-American groups, including the Asian-Pacific American Labor Alliance (APALA), the AFL-CIO's constituency for Asian-American unionists.
Reyes told that crowd on August 12 that Trump was discussing only "terrorist elements that do exist in the Philippines." He added that "What Mr. Trump was trying to communicate…is that he welcomes law-abiding Filipinos who want to come and have a better life and better opportunities, whether they want to live here or send money back to the Philippines."
Photo caption: APALA members participate in a march in 2015. | Asian Pacific American Labor Alliance