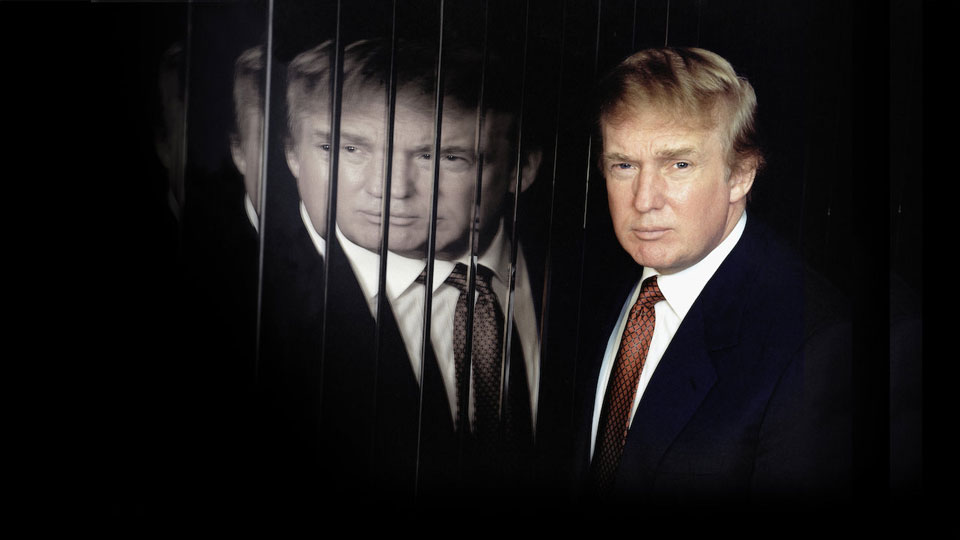 UK television's Trump: An American Dream is a four-episode overview of the rise of Donald J. Trump, accessible through Netflix. Although certainly not compelling, the Trump documentary commands interest without emotional involvement. It is topical. But it's strangely inert at its core, a trashy train wreck of vacuous celebrity and mindless sociopathology. Cold and off-putting, it's the Donald Trump story.
The mini-series is composed of four segments loosely chronicling Trump's adult life, backfilled with elements of childhood and young adulthood which reflect formative development. Veteran award-winning historical producers David Glover and Mark Raphael helm the project. Barnaby Peel is the principal director, with Daniel Bogado and Natasha Zinni each directing individual episodes. Although lacking in-depth analysis, the flashy segments fit seamlessly, leaving the viewer with more than enough framework to draw their own conclusions.
The first episode displays the Trump core methodology: pursue real estate development using money from his father, banks, and the government. Be brash. Wield power. Promise anything and everything. Never admit responsibility or defeat.
Trump allied himself with organized crime figures. His mentor was the notorious Roy Cohn, a virulent anti-Communist right-wing power broker. He hyperbolically publicized his buildings, while furnishing them cheaply and repeatedly refusing to pay contractors for work they performed. Trump promoted his buildings as "the finest in New York," "cutting edge" and "forward thinking." His own engineers and builders had a much different summation: "garbage" with "cheap tiles glued down" and "a lot of crap."
The documentary makes a good effort to balance Trump's self-promoting hyperbole. We see former New York Mayor Ed Koch characterizing Trump as a fraud and phony: "Donald is a person who only understands force and power and making fun of people." New York City Councilmember Ruth Messinger describes Trump as the exemplar of "the corporate welfare system" which wreaks havoc on our cities. A series of former business partners and employees from Artie Nusbaum, who worked on the Wollman Skating Rink, to financial analyst Marvin Roffman offer scathing portrayals.
Trump's personal life mirrors his development projects. He goes from one relationship to another, over-leveraged and under-committed. He promises much. Ultimately, he invests little of himself, preferring attempts to capitalize on other people's wherewithal. As both buildings and bodies become fodder for the tabloids, he relishes the attention, unconcerned about the personal collateral damage.
Trump uses the celebrity he accrues as the foundation for his political career. He confuses marketplace bravado with political acumen. His reality television show sets the pitch for his public appeal. The low bar for attracting attention is the springboard to national office.
Unfortunately, even the documentarians are seduced by this approach. They try mightily to balance critique with notoriety. But from their vantage point, most of their sources are from the privileged sectors of our society. Certainly, he's a fraud and he's even offended their sensibilities. Yet we are lacking in how conman Trump has injured the common person—the workers he has refused to pay, provide living wages or adequate benefits for, the people of color his housing projects discriminated against, the neighborhoods whose fine buildings he destroyed without consideration of their utility or aesthetics.
Clearly more episodes and depth need to be added to this strong foundational biopic. It is hard to imagine a more damning summary than that from Tony Schwartz, Trump's ghostwriter of his Art of the Deal, the bestselling puff piece. After spending hundreds of hours with Trump, Schwartz concluded that he had inherited his very narrow world view from his cruel father, a world inhabited only by predators and victims. "I thought he was a sociopath. Has no conscience. Doesn't make a distinction between right and wrong."
Trump himself seconded that opinion: "I'll wait for bad times. When bad times come, then I'll get whatever I want." Trump: An American Dream is a wakeup call, a warning against his kind of predatory capitalism and the political system that foisted this nightmare on our country. Check it out before you vote!
Trump: An American Dream is available streaming on Netflix.