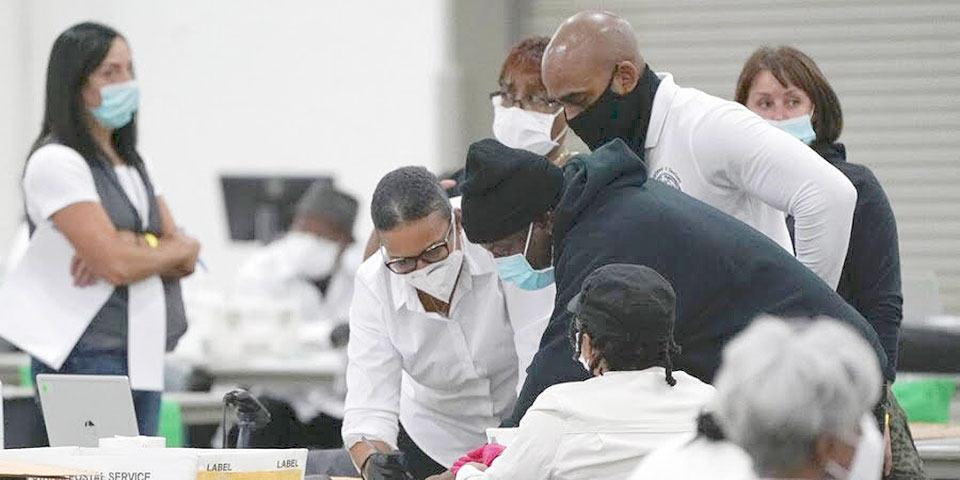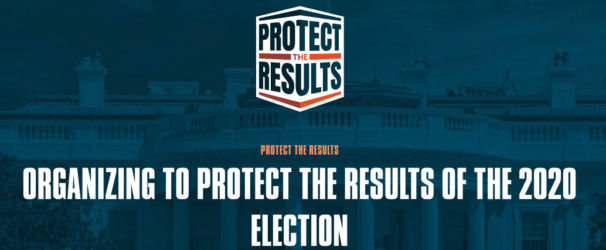 As voters across the country demand continuation of vote counts that are now clearly close to making Joe Biden President-elect Joe Biden President Trump is desperately trying to prevent the inevitable by going to court and demanding that the vote counting stop in Michigan.
If Michigan, where he is declared for Biden he will almost certainly reach the 270 electoral votes he needs to win. Officials there say they may have those results by Wednesday night.
The votes still out are from Detroit where Black voters are putting Biden over the top. One told MSNBC this afternoon that "we have gone from picking cotton to picking presidents."
As expected, the final official winner of this year's race for the White House could take days, possibly weeks, before all ballots are certified, and a winner formally declared.
The Trump campaign, along with the National and state GOP, is using the courts to steal the election, suppress the vote, and undermine an election already replete with flaws.
The Trump campaign filed a lawsuit Wednesday in Michigan state court demanding a halt to the counting until they are given more access to locations where ballots are being counted in a state which he must win to have a chance at staying in the White House for another four years.
The campaign said it has called for a temporary halt in the counting of all ballots until it is given "meaningful access" in numerous locations and is allowed to review ballots already opened and processed.
This court filing comes shortly after the campaign announced it would also seek a recount in Wisconsin—a state called for Biden early Wednesday afternoon.
Bill Stepien, Trump's campaign manager, cited "irregularities in several Wisconsin counties."
While Trump, and his campaign, continue to put out misleading tweets and comments—calling for the vote counting to end where he is doing poorly, and for more time to count all ballots in places he needs to win—the Biden campaign and Biden's legal team said they are ready for any legal fight because "the people, not Donald Trump, will decide this election." At a press briefing today, campaign leaders already told the press they consider Biden the president-elect.
Michigan Democrats expect the Trump lawsuit to fail.
This lawsuit, however, is a likely preview of legal actions to come as Trump's path to reelection is shut down altogether.
"We are leading a full-court press to make sure that we have all of our legal teams that are in place," senior Trump campaign adviser Jason Miller said Wednesday morning. "We want to make sure that all legally cast ballots are counted. We also want to make sure that illegally cast ballots are not counted."
In premature remarks given early Wednesday morning, Trump continues insinuating that electoral fraud was taking place, and his campaign will be "going to the U.S. Supreme Court. We want all voting to stop. We don't want them to find any ballots at four o'clock in the morning and add them to the list. It's a very sad moment."
What Trump fails to see is that with the last polling places closing all voting did effectively stop and ballot counting began. Even in states where timelines were extended to ensure every vote is counted, the requirement that ballots be postmarked by Election Day, Nov. 3, to be accepted is still in place.
Biden's campaign called Trump's statement "outrageous, unprecedented, and incorrect."
"If the president makes good on his threat to go to court to try to prevent the proper tabulation of votes, we have legal teams standing by ready to deploy to resist that effort," Biden Campaign Manager Jen O'Malley Dillon said in a statement. "And they will prevail."
In the swing state of Nevada, the Nevada Supreme Court denied a last-minute emergency request from the Trump Campaign, Tuesday, Nov. 3, asking to impose more restrictive vote-counting procedures in Democratic-leaning Clark County, one day after a lower court rejected a request by the campaign and state Republicans to allow greater opportunity to observe the vote-counting process.