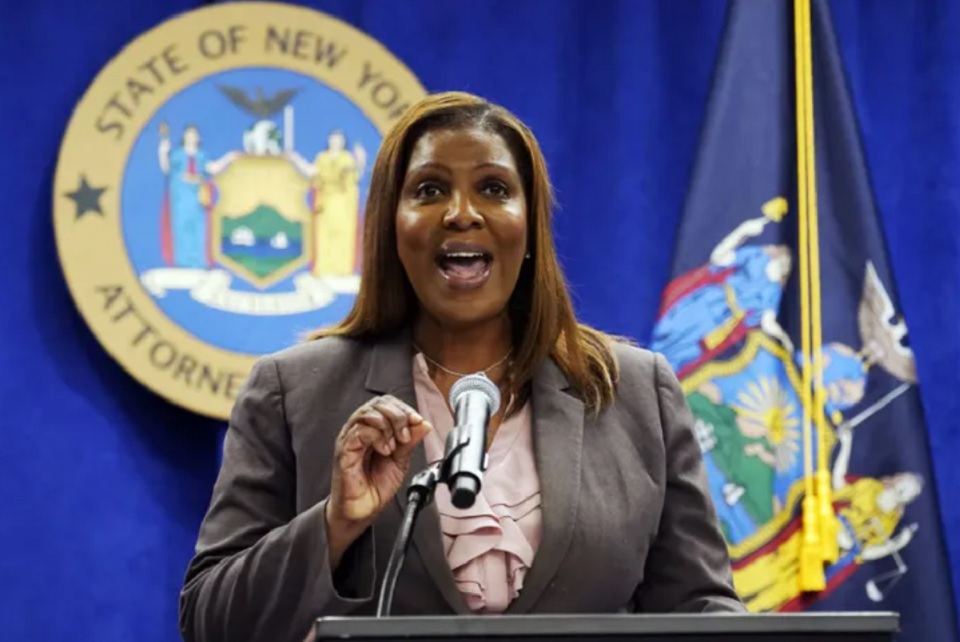 NEW YORK—Donald Trump will face yet another trial, in New York State Supreme Court in Manhattan on October 2. That is unless he, his company and his kids pay New York State at least $250 million first, to settle massive fraud claims.
So says New York Attorney General Letitia "Tish" James in a 100-page filing with Judge Arthur Engoron in what James calls an "ironclad" case of Trump inflating his assets to obtain bank loans, thus defrauding the banks and lying to the state.
And Trump stiffed the state, and Westchester County, out of tax revenues by at the same time grabbing conservation "easements" for his golf club there.
The AG's court filing comes as Trump continues to swirl in controversy and continues to lead the Republican presidential nomination race.
House Speaker Kevin McCarthy, R-Calif., a Trump toady, is trying to deflect attention from Trump's trials by bleating about impeaching Democratic President Joe Biden on charges that Biden is corrupt. McCarthy voiced the charges, with no evidence behind them, on Fox "News," the Trump megaphone.
Besides Tish's demand, Trump faces four other trials: In Manhattan, D.C., Georgia and Florida. The D.C. and especially the Georgia trials involve Trump's wide-ranging conspiracies to hold onto the Oval Office even after he lost the 2020 election, notably his incitement of the 2021 Trumpite invasion, insurrection and coup d'état attempt at the U.S. Capitol.
Multiple news reports, including on CNN, the Associated Press and PBS, said Trump's yearly frauds reached as high as $2.2 billion in overvaluations of his assets. The frauds covered not just his Trump Tower apartment, but his Westchester golf club and his Mar-A-Lago estate in Palm Beach, Fla., and other properties, James' court papers say.
James's filing is another of the mounting legal problems for the former Oval Office occupant, especially since James has evidence Trump and the Trump Organization conducted the frauds from 2011-2021. That includes Trump's four years in the White House.
The pending October court date, raising the number of Trump trials to five, could throw another monkey wrench into Trump's continuing campaign to return to the Oval Office. He's the Republican front-runner in opinion polls, and rejected participating in this month's first Republican candidates' debate.
Meanwhile calls are mounting for Trump to be disqualified from seeking the presidency again under the provisions of the 14th Amendment to the Constitution which clearly states that anyone leading an insurrection against the U.S. government is disqualified from running. Leading Democrats, lawmakers and numerous constitutional scholars, including many conservatives, say that states can keep him off the ballot under this Amendment. If that happens the case is sure to go to the Supreme Court.
Trump's also said publicly, and has a Trumpite-run think-tank drafting details for him should he win in 2024, that he would become a virtual dictator, packing the courts with Trumpite judges and neutering congressional priorities.
And one disgraced top aide, former Gen. Michael Flynn, advocates Trump impose martial law should he triumph next November.
Wants it dismissed
Trump wants the New York suit dismissed, loading the responsibility and control of the company onto his kids Eric Trump and Donald Trump, Jr.  In a deposition, Trump claimed he had more important things to worry about, like nuclear war with North Korea. He said in the deposition the war threat still looms.
James's court filing wasn't the only notable development on August 30 in cases revolving around Trump. In D.C., U.S. District Court Judge Beryl Howell found Trump 2020 election consigliere Rudy Giuliani liable for defaming Atlanta Black female vote counters Wandrea "Shaye" Moss and Ruby Freeman by alleging they committed fraud in popular vote counts there.
Giuliani is also one of 18 co-defendants with Trump in Fulton County, Ga. (Atlanta) DA Fani Willis's indictment of Trump on racketeering for trying to steal Georgia's electoral votes in 2020. Georgia was a key swing state whose popular votes Trump's opponent, Democrat Joe Biden, narrowly won.
Giuliani "intentionally inflicted emotional distress" on the two women, Judge Howell said. The judge fined Giuliani, whose law license has been suspended, $172,000, but ordered him to stand trial on federal charges as well to determine if there should be more punishment. Giuliani admitted he defamed the two women, but his statement "had more holes than Swiss cheese," the judge said.
There are no holes in the Trump fraud case, James's court papers told Judge Engoron in Manhattan. Her office first charged Trump, his kids and the Trump Organization—the family company—with fraud last September. This filing itemized it.
The whole case also exposes how corporate criminals, like Trump, can manipulate the system—political and judicial—in ways ordinary taxpayers cannot, to escape paying their fair share of government costs while reaping ill-gotten gains.
James' filing says Trump, the company and the kids he left to run it defrauded the banks by overvaluing his holdings. But he used other fake figures and other methods to claim conservation "open space" easements for the Westchester club, thus reducing his tax bills.
If Trump had arranged "full blown professional appraisals" of his holdings—not valuations by his pet auditor—his net worth would have been cut by 17% to 39% each year between 2011 and 2021, the AG said. His reported net worth peaked at $6.1 billion in both 2018 and 2019, when he was the Oval Office denizen. It really was no more than $4.2 billion.
James's office said Judge Engoron must answer two questions to determine whether to issue a summary judgement against Trump, the kids and the company for $250 million or more, without even going to trial: Whether Trump's annual financial statements were false or misleading, and whether Trump and the company used those lies to conduct business transactions.
"The answer to both questions is a resounding 'yes' based on the mountain of undisputed evidence," James's deposition said. James's underlying suit also seeks to bar Trump and the company from doing business in New York for five years, effectively putting it out of business.
Trump, his company and the kids "presented grossly and materially inflated asset values" in the financial statements and then used those statements "repeatedly in business transactions to defraud banks and insurers," the deposition, signed by Anthony Amer, James's special counsel in the Trump fraud case, said.
"At the end of the day this is a documents case, and the documents leave no shred of doubt that Mr. Trump's (statements of financial condition) do not even remotely reflect the 'estimated current value' of his assets as they would trade between well-informed market participants," Amer wrote.
We hope you appreciated this article. At 

People's World

, we believe news and information should be free and accessible to all, but we need your help. Our journalism is free of corporate influence and paywalls because we are totally reader-supported. Only you, our readers and supporters, make this possible. If you enjoy reading 

People's World

 and the stories we bring you, please 

support our work by donating or becoming a monthly sustainer today

. Thank you!