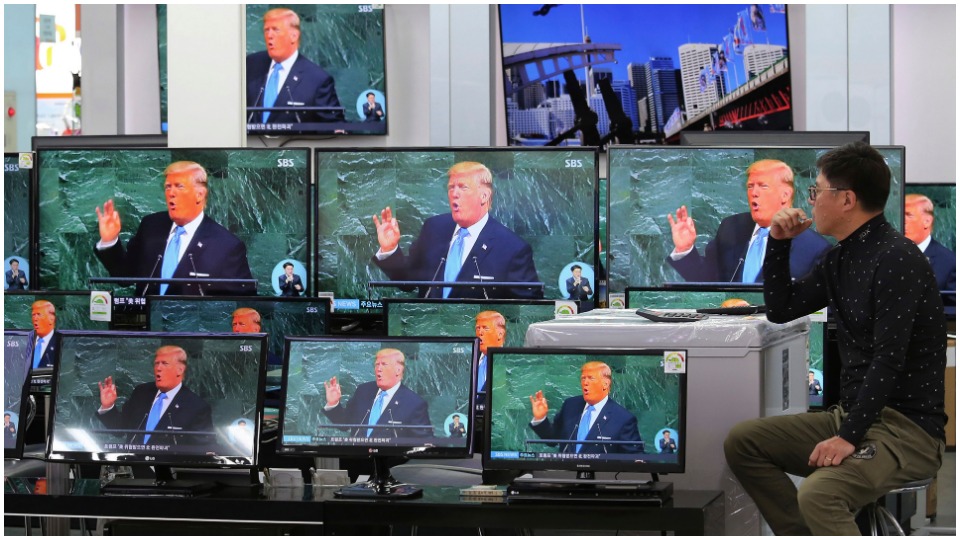 Donald Trump declared Wednesday that even if he loses to Joe Biden on Nov. 3, he is unwilling to commit to a peaceful transfer of power.
The unprecedented declaration by a U.S. president that he will not leave the White House should he lose the election has shocked people around the world. He openly admits his aspirations to be a dictator for life.
"Well, we're going to have to see what happens," Trump told reporters who asked whether he would commit to a peaceful transfer of power. "You know that I've been complaining very strongly about the ballots and the ballots are a disaster."
Pressed further, Trump said: "We'll want to have—get rid of the ballots and you'll have a very—we'll have a very peaceful—there won't be a transfer frankly, there'll be a continuation."
As many as half or more of the ballots cast will be mail-in ballots and what Trump is saying is that he considers all of them to be invalid. It is widely expected that in-person votes cast on Election Day will favor Trump in many states but that mail-in ballots will heavily favor Democrat Joe Biden. Trump is saying, essentially, that those Biden votes will not be recognized by him.
When questioned by Fox News' Chris Wallace back in July about whether he would accept the results of the election, Trump answered that he would "have to see" and claimed that mail-in voting will "rig the election."
There has never been any evidence presented to back up the president's frequent and continual claims that such voting is "fraudulent." In the last presidential election, at least a third of all votes were mailed in and this time it is expected, because of the COVID-19 pandemic, that the mail-in percentage could be as much as half or more.
THE FIGHT TO SAVE DEMOCRACY:

The possibility that Trump will not voluntarily leave

Trump's call to delay election is the opening act of a coup

Coup by court: Republicans prepare legal challenges that echo 2000 fight

 Separation of Trump and state: Blocking Republicans' evangelical election strategy
Trump has already sued states for sending out mail-in ballots even though he and his wife Melania are regular mail-in voters.
Republicans have called upon voters in critical swing states to request mail-in ballots and to vote by mail first and then go to the polls on Nov. 3 to vote a second time. This, of course, is completely illegal. When asked to condemn this encouragement for lawlessness by the president, Attorney General William Barr declined, saying only he was unfamiliar with election law in various states.
Just hours before he said he would not commit to a peaceful transfer of power, Trump said he wanted his Supreme Court replacement for Ruth Bader Ginsburg to be seated before Election Day so the court would rule in his favor when he challenges the election.
"I think this will end up in the Supreme Court, and I think it's very important that we have nine justices, and I think the system's going to go very quickly," Trump said at the White House early Wednesday, adding that "having a 4-4 situation is not a good situation."
With eight justices now on the bench Trump already has a 5 to 3 conservative majority, so what he was really saying was that he can't trust Chief Justice John Roberts to vote with the others in favor of stealing the election.
It is clearer than ever now that Trump will stop at nothing to remain in office. Much more than idle ramblings by a fascistic president, his remarks to "get rid of the ballots" to guarantee a "continuation" of his power make clear the dangerous situation with which the people of America are faced.
Fortunately, there is a way out of this disaster. If all those who oppose Trump turn out in record numbers to crush him with their votes, it will become much harder for Trump to remain in the White House. A landslide for Biden-Harris will stop Trump and his fascist legions in their tracks. It's only with a close vote that they can pull off their coup.