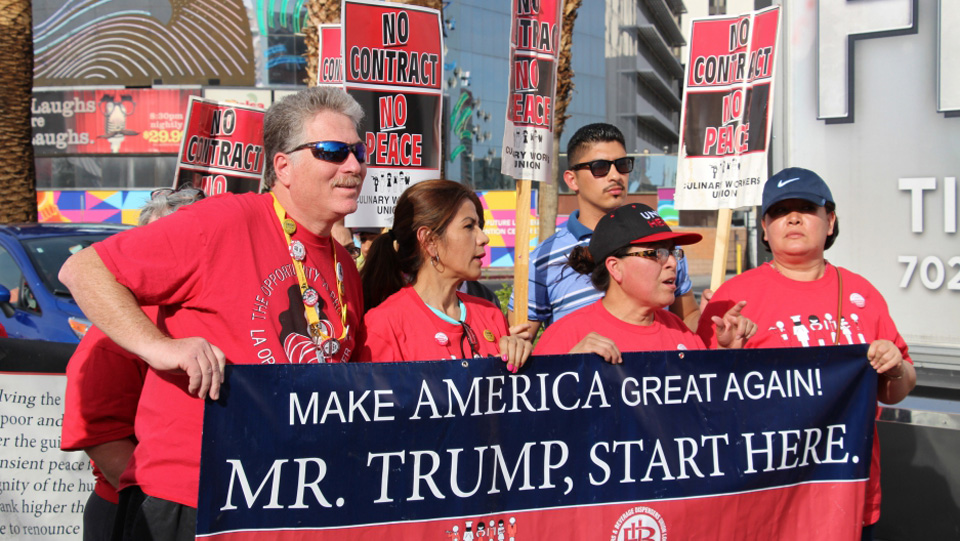 LAS VEGAS – As the presidential campaign stays focused on women and respect, one group of women with deep and long-term ties to the candidate are still struggling to be heard.
The Americans who know Donald Trump the best are the ones who work for him, said Maria Elena Durazo, national vice president of the union UNITE-HERE.
Hundreds of housekeepers, servers and cooks from the Trump Hotel here feel the sting of the billionaire's disrespect every day.
Last December, the 500-member work force at the hotel voted to have a union, overcoming an anti-union campaign that included illegal suspensions and firings. "We won fair and square," Geoconda Arguello Kline, the Secretary Treasurer of Culinary Workers 226, told People's World.
But Trump refuses to negotiate. The first Latina leader of the 55,000 member union, affectionately known by her members as Geo, cites more disrespect. "He won't even return my phone calls. He just runs away from us."  The union election was conducted under NLRB rules and management is legally required to negotiate. "He doesn't respect the process and he doesn't respect us."
Trump housekeepers need a union
Maria Jaramillo, 36, described her work day to People's World, illustrating why guest room attendants like her at Trump Hotel need a union: After clocking in at 8 a.m. and listening to a session on guest complaints, the housekeepers get their assignments on an iPad. For each room, you make the beds, wrestling with the many sheets, pillows and accoutrements that make up luxury bedding. Clean the bathroom, Jacuzzi, change the towels, check the water, coffee and other amenities. Vacuum. You get about 30 minutes per room. But when there's a check out, you also have to strip the room and take everything to the laundry, often on another floor.
Sometimes the rooms are really bad. "The worst," Jaramillo relates, is the aftermath of parties. "Some are really bad, trash, bottles, rollaway beds" to deal with. When you don't make your quota of rooms, you could get written up and "coached," a euphemism for criticized. You can also accumulate points which can lead to discipline and firing. You get half a point for coming in late, points for calling off work, points for coming back from break late. The latter isn't really a problem, Jaramillo explains. "Most of us don't take a break. We don't have time."
Union leader Geo takes special pride in the limit the union was able to put on the heavy workload at union hotels: "We won that language in union contracts in 2002," she says. Geo, a Nicaraguan immigrant, was herself a housekeeper for 7 years at a Las Vegas hotel before becoming an organizer and then moving up through the ranks.
Arguello describes the other benefits union workers have won: All union workers have health care and pension plans; Trump workers are on their own. Trump workers' pay is also $3.50/hour less than that of union workers.
"I work hard, I think I deserve to have more," says Jaramillo. She has four kids and says she lives check to check. "School clothes, groceries are up. It's really hard."
Jaramillo says that housekeepers are expected to be neat, be polite, and memorize the guests' names. That goes with the job, she says. But there are other rules too, prescribing in the pettiest ways how the women must look and present themselves. There are rules about hair coloring and highlights, colors and shades that aren't allowed, how much make up, how many earrings you can wear. Some women describe even being criticized by management for how wide or narrow their braids were. Jaramillo related the story of a friend who treated herself to a beautiful (and expensive) manicure the day before going on vacation. She was humiliated by being ordered by her manager to remove it or take the day off.
The Trump hotel workers are anxious to share their story with the American people. They are proud of the work they do and note that it is honorable work. They say that it is their hard work that has put millions in Trump's pocket. But when he used their job title "housekeeper" as a slur to demean Miss Universe, Durazo said, he disrespected and demeaned them as well.