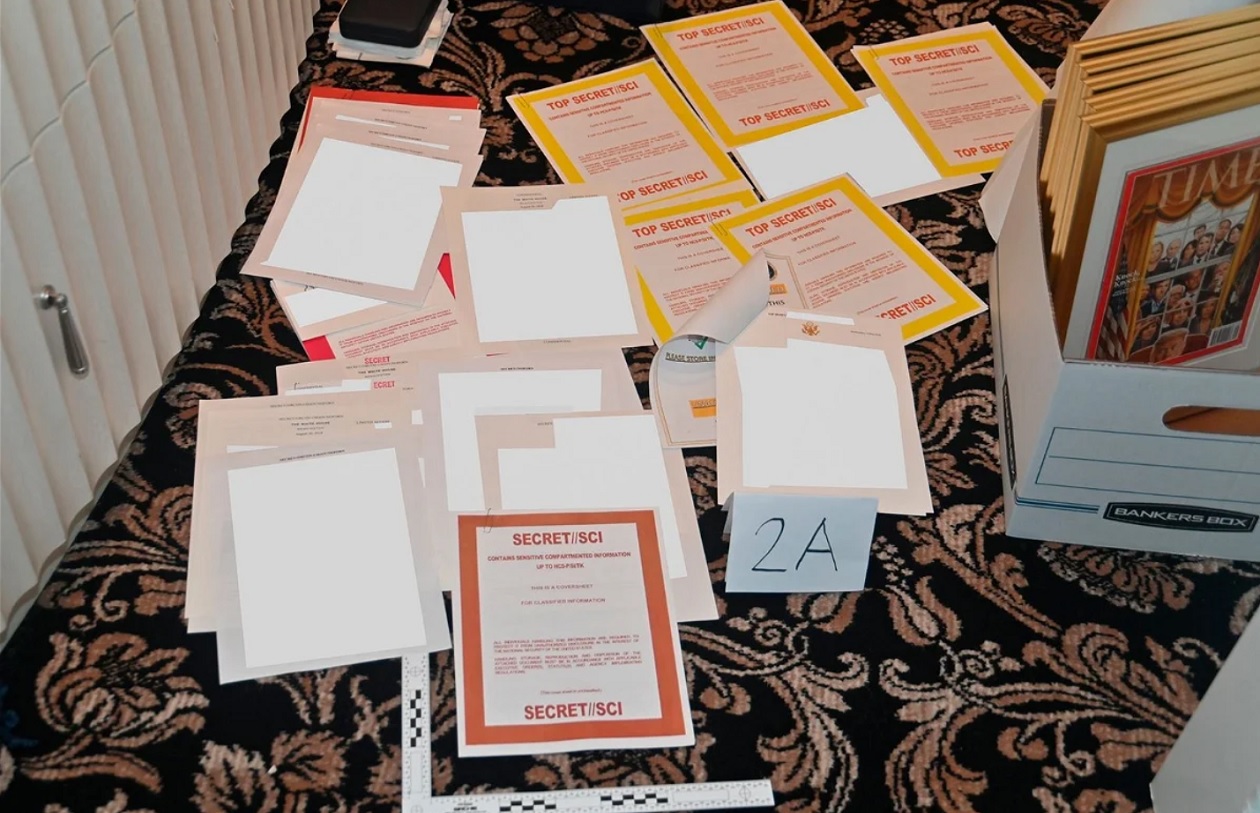 MIAMI—A federal grand jury in Miami has indicted Donald Trump for a wide range of criminal felonies surrounding his illegal mishandling and retention of government documents, including secret and sensitive ones, at his Mar-a-Lago estate in Florida. Some of the documents he refused to give up were held in violation of the espionage act because they contained information the government says threatened the security of the United States.
The still sealed indictments for which Trump must surrender himself to the authorities in Miami next Tuesday involve seven counts, among them stealing documents that belong to the public, obstruction of justice, conspiracy, espionage, witness tampering and lying to the FBI. Each of the 7 counts is likely to include multiple charges, all of which come on top of his indictment in New York last month for 34 felonies including illegal attempts to influence an election with hush money payments to a porn star. Shortly after the New York indictments a jury also found him guilty of sexually attacking a woman in a New York department store.
If he is found guilty of only some of the serious crimes for which he is now indicted he would face many years in jail. If he wins the Republican nomination for the presidency he could be campaigning with an ankle bracelet attached to his body.
Other charges against the former Republican White House denizen are "falsifying or destroying records pertinent to a federal investigation"—an obvious obstruction of justice— obstructing an official proceeding, and lying to federal investigators.
The Special Counsel has not yet filed charges related to Trump's attempts to hold onto power after he lost the election, including the coup attempt and the attack on the Capitol. Never has a former or sitting U.S. president faced so many criminal charges. His use of the presidency to pile up wealth for himself and his family also involves criminal activity for which he is yet to be charged on any level. Next month he could well be indicted in Georgia, too, for criminal interference in the election. He tried to pressure the state to add votes he had not received to his totals so he could revers his loss in the state. In Georgia also the prosecutor is considering charges related to Trump's scheme to line up false electors, denying the voters their real choice in the election.
One of the most serious of the latest indictments, according to news sources, is that Trump illegally and willfully retained national defense documents, including secret ones, for himself, refusing to turn them over to appropriate officials when demanded.
If found guilty of that charge Trump will be in violation of the Espionage Act. The World War I-era Espionage Act treats such refusal, and willingness to give defense information to unauthorized people, as espionage. Defense documents do not have to be classified to make such mishandling, or even the threat of it, illegal.
The June 8 indictment marks the first time in U.S. history an ex-president has been indicted for federal crimes (his prior indictments are for state crimes), especially crimes against the government, and the first time since Richard Nixon, 49 years ago, that indictments were even considered against a president.
And this indictment isn't the end of Trump's legal troubles with the feds, even though it marks a major milestone in Justice Department Special Counsel Jack Smith's investigation of Trump's offenses.
Smith is also presenting the case covering Trump's encouragement—indeed, virtual orders—to the 1,000 Trumpites who stormed and sacked the U.S. Capitol on Jan. 6, 2021, in the attempted invasion, insurrection and pro-Trump coup d'état. A D.C. grand jury is hearing that case.
Declined to unseal it
The Justice Department declined to unseal the Florida indictment, or discuss its specifics. It will be unsealed no later than Trump's appearance for arraignment and a plea in U.S. District Court in Miami, scheduled for 3p.m. on June 13. But Trump and his attorneys received summaries.
Reading from the summary, Trump attorney Jim Trusty said the indictment also includes the lies Trump told to federal probers. And Trusty confirmed the espionage charge.
Trump has repeatedly denied taking federal documents—classified or otherwise–with him to Mar-a-Lago. But he's also admitted doing so, indirectly. Trump claimed, after he left office, that he could unilaterally declassify any document, even in his head, thus implying he kept them. When Fox News host Sean Hannity tried to help bail him out by saying on national television, "You would never willfully remove classified material and take it with you, would you?" Trump incredibly did not take the escape route Hannity was offering him and declared, "Of course I would. I have every right to do that, they belong to me."
And federal documents appeared in pictures of the 2022 FBI search at Mar-a-Lago. Agents, armed with a warrant, found and photographed documents, many stamped "secret" or "sensitive," scattered on the floor of an unsecured storage room. They then carted them away. Some 300 were classified.
Before that, Trump had waved one very sensitive military document, a U.S. war plan against Iran, while addressing a crowd at his Bedminster, N.J., golf club six months after leaving the White House. Trump's speech was filmed. Smith reportedly has the film.
And Trump obstructed justice by blocking the government's efforts to reclaim those documents, the indictment summary said. The documents were finally recovered when the FBI, at National Archives request, got a subpoena to enter Mar-a-Lago for them. Trump also illegally conspired to move the documents to prevent their recovery by government officials, the summary says.
Indictment of Trump is an historical milestone for the U.S.: The first-ever felony charges against a former Oval Office occupant, much less the current front-runner in the Republican presidential race.
Republican reaction, or lack of it, confirmed that status—and that Republicans fear Trump's political clout and his legions of loyalists. A prime worshiper: House Speaker Kevin McCarthy, R-Calif. As the insurrection swirled in 2001, McCarthy called Trump in a panic, urging him to call off the rioters.
But less than three weeks later, with Trump out of office, McCarthy traveled to Mar-a-Lago to politically genuflect at Trump's feet. Trump later backed McCarthy's speakership race. McCarthy repeated his grovel after the indictment news broke.
"I, and every American who believes in the rule of law, stand with President Trump against this grave injustice. House Republicans will hold this brazen weaponization of power accountable," the Speaker said. "It is unconscionable for a president to indict the leading candidate opposing him." McCarthy also accused current President Joe Biden of having held on to classified documents "for decades."
Biden has carefully said not a word about Trump's legal troubles, but often criticizes Trump for the insurrection and labels Trump as a threat to the U.S. Constitution. There was only a four-year gap between Democrat Biden's years as Barack Obama's vice-president and his election as president.
Unique in the United States
While Trump's indictment is unique in U.S. history, other nations, most of them tyrannies of one sort or another, have seen former leaders indicted, often in political retribution. There are exceptions abroad to that "dictatorial retribution" rule, though, including an almost-one here: Nixon.
Republican Nixon escaped indictment twice during Watergate. While Nixon was still president, Special Prosecutor Leon Jaworski concluded Nixon couldn't be indicted because of that status. But the Watergate grand jury named Nixon an "unindicted co-conspirator" in the Watergate cover-up, anyway.
After Nixon was forced to resign in 1974 before the Senate convicted him of high crimes and misdemeanors, including obstructing justice, Jaworski's top deputy prosecutors lobbied to indict Nixon. Before Jaworski could decide, or even reply, Republican President Gerald Ford pardoned Nixon.
Abroad, former French President Nicholas Sarkozy was convicted two years ago of bribery and influence-peddling during his term. Current and former Israeli Prime Minister Benjamin Netanyahu, a close personal and right-wing political pal of Trump, faces multiple influence-peddling and conflict of interest charges.
Trump confirmed his indictment on his media platform, Truth Social. Trump proclaimed innocence, damned it as a witch hunt and ranted that Biden, who beat Trump in 2020, should be indicted, too.
Biden retained documents at his Delaware home after his vice presidency, but didn't realize it during packing in 2017. When Biden and his lawyers found the documents, they were immediately voluntarily returned and sent to the National Archives. No subpoenas were needed.
Meanwhile, the criminal perils against Trump keep piling up. Trump faces a probable second round of indictments by the D.C. grand jury which veteran federal prosecutor Smith has marshaled, for Trump's role, actions—and inactions—during the invasion and insurrection two years ago.
In both of Smith's investigations, Trump's last chief of staff, former Rep. Mark Meadows, R-N.C., who was literally at Trump's side during the insurrection and who saw every single message in and out, may be a key witness. Meadows testified in secret before one of the two grand juries, in Miami or D.C., on June 8.
Meadows has also testified before the Fulton County (Atlanta) grand jury District Attorney Fani Willis convened. The DA is investigating how Trump broke Georgia's Racketeer Influenced and Corrupt Organizations (RICO) law in attempting to steal Georgia's electoral votes after Trump lost Georgia to Biden in 2020. Meadows traveled to Georgia as part of that theft scheme.
Trump has been indicted before, in both state and federal courts. He beat the raps, wound up with hung juries, settled out of court—including in his first federal indictment, in the late 1960s, with his developer father over excluding Blacks from federally aided housing they built—or paid civil fines.
And in 1990 Trump stiffed the subcontractors, their workers and their unions, who built his Atlantic City, N.J., Taj Mahal casino. He got away with paying, at most, 40 cents on the dollar, years later. The firms and workers lost $70 million. Trump's never been jailed, yet, for that or anything else.
This is different, a legal analyst told ABC. "The last place you want to be is in a criminal trial in federal court," he explained. Conviction rates and jail time both "exceed 90%."
We hope you appreciated this article. At 

People's World

, we believe news and information should be free and accessible to all, but we need your help. Our journalism is free of corporate influence and paywalls because we are totally reader-supported. Only you, our readers and supporters, make this possible. If you enjoy reading 

People's World

 and the stories we bring you, please 

support our work by donating or becoming a monthly sustainer today

. Thank you!