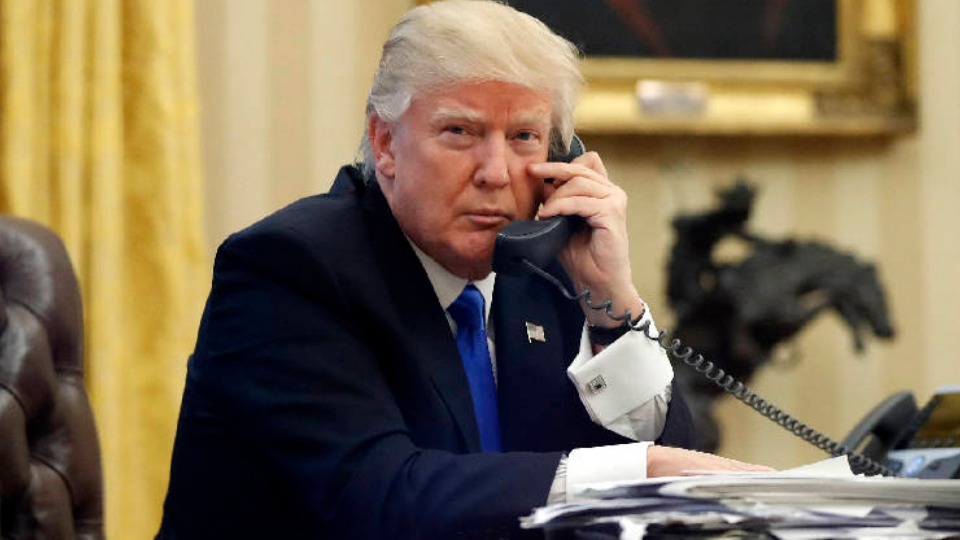 In a shocking hour-long phone call that Democratic Sen. Tim Kaine of Virginia declared today was "an attempt to overthrow the government of the United States," President Donald Trump demanded Saturday that the Georgia secretary of state recalculate the vote in that state in his favor.
In a Sunday morning statement, President-elect Joe Biden called the phone call "an assault on American democracy."
Trump demanded that Republican Brad Raffensperger, the Georgia secretary of state, "find" enough votes to overturn his (Trump's) defeat and to do it "in a hurry." The Washington Post, NBC, and other major news outlets have released tapes of the call, a clearly illegal attempt by the president to trash democracy and fix the vote. It is behavior consistent with that of authoritarian dictators.
Trump, White House Chief of Staff Mark Meadows, and several Trump lawyers were all on the illegal call ordering that Raffensperger act quickly to overturn the vote before Tuesday, Jan. 5, the date of the Senate runoff elections in Georgia.
The Secretary of State was patient with Trump's demands, but pushed back on each and every one of them, insisting that Joe Biden won Georgia and that there was no fraud.
Trump threatened the Republican secretary of state with "criminal consequences" if he refused to reverse the results of the November election. NBC continued all day Sunday to release additional excerpts of the taped call. Trump told Raffensperger that if he did not "find 11,780 votes" for the Trump-Pence ticket, he was taking "a big risk." That number would overturn the Biden-Harris margin in Georgia by just a single vote.
Raffensperger and his office's general counsel can be heard on the tape rejecting Trump's demands, saying that the president's false claims are based on debunked conspiracy theories and that Biden's victory in Georgia was fair and accurate.
Trump scoffed at their statements.
"The people of Georgia are angry, the people in the country are angry," he said. "And there's nothing wrong with saying, you know, um, that you've recalculated."
Raffensperger responded: "Well, Mr. President, the challenge that you have is, the data you have is wrong."
At another point, Trump said: "So look. All I want to do is this. I just want to find 11,780 votes, which is one more than we have. Because we won the state."
The hour-long conversation, Sen. Kaine, said this morning on MSNBC, was nothing less than "an attempted coup." Kaine was the Democrats' 2016 vice-presidential candidate alongside former Secretary of State Hillary Clinton.
Incredibly, GOP allies from all corners are continuing to support the president's attempts to overturn the election results.
Peter Navarro, a top Trump adviser, said on MSNBC Sunday morning that he expected Vice President Mike Pence to back the 12 GOP senators, led by Ted Cruz of Texas, and the 100-plus GOP members of the House who are opposing certification of the election results on Jan. 6. "He (Pence) can postpone this whole thing (certification) for ten days," Navarro claimed, "and Inauguration Day itself can be postponed until a special commission audits the election results."
Republicans opposing congressional certification of the Electoral College vote on Jan. 6 say they will demand the formation of such a commission. Pence, who will preside over the joint congressional session in his role as president of the Senate, has said he will welcome the GOP challenges.
"There's no way I lost Georgia," Trump said repeatedly on the call. "There's no way. We won by hundreds of thousands of votes."
Besides Meadows, also on the phone with Trump, as he made his demands, was right-wing lawyer Cleta Mitchell, who has emerged in the news for the first time on the issue of the election. Prior to the call, Mitchell has had no known involvement with Trump or his attempts to overturn the vote.
Trump's tone and arm-twisting threats on the call were reminiscent of mafia boss behavior. Joyce Vance, former Alabama U.S. Attorney who has a history of battling organized crime, said, "The phone call is exactly what you would expect from a mob boss trying to enforce his rule."
She called for a Justice Department investigation for what she said was a possible violation of numerous laws, including those against extortion and other forms of illegal pressure on government officials.
In the political arena, it would be entirely appropriate for Congress to impeach Trump—again—for this action, regardless of what the Republican-controlled Senate would do. Impeachment is a political act entirely in the hands of the House and there have to be consequences for a president assaulting the constitution and democracy itself. When the new Congress meets Monday, this can and should be done immediately.
The phone call made to Raffensperger on Saturday is more serious than the one to the Ukrainian president for which Trump was impeached last year. In that case, Trump was illegally trying to influence an election; this time, he is plotting to actually overturn one.
GOP Sen. Mitt Romney of Utah said Sunday morning that the phone call and planned action by Republican lawmakers to block certification represent "a threat to our democratic republic."
In the style of the mob bosses, Vance was referring to, Trump demanded on the call that Raffensperger give him both the facts and the results he wanted, as opposed to facts and results that were based on reality.
Mitchell, the newly emerged right-wing lawyer, also spoke later to the press in the style of counsel representing criminal interests. Mitchell claimed Raffensperger's office made "many statements over the past two months that are simply not correct and everyone involved with the efforts on behalf of the President's election challenge has said the same thing: show us your records on which you rely to make these statements that our numbers are wrong."
Raffensperger, of course, is the only one who has shown any numbers, the real numbers. Trump has no numbers, no evidence to back his claims. Instead, he tries to use the power of his office to pressure people with the goal of keeping himself in office, even if it means overturning a free and fair election.
Caring not that he has been exposed for trying to ditch the U.S. Constitution, Trump on Sunday tried again, this time via tweet, to again strong-arm Raffensperger.
He tweeted out to the country that he had "spoken" to Raffensperger and that the secretary of state was "unwilling, or unable, to answer questions such as the ballots under table scam, ballot destruction, out of state 'voters,' dead voters, and more. He has no clue!"
Raffensperger responded with his own one-sentence tweet: "Respectfully, President Trump: What you're saying is not true."
Trump's threats against Raffensperger are only the latest of many attempts to subvert democracy by reversing the outcome of the Nov. 3 election through pressure on state Republican officials. He previously invited Michigan Republican leaders to the White House, pressured Georgia Gov. Brian Kemp in a call to try to replace that state's electors, and asked the speaker of the Pennsylvania House of Representatives to help reverse his loss in that state.
Kaine said he hoped the exposure of the phone call would make Republicans planning to challenge the certification of the Electoral College vote on Jan. 6 have second thoughts.
"This is not some type of real estate deal where Trump demands that he be given $11,000 so he can pull off something," Kaine said. "This is a demand that you change vote totals to overturn an election. It is an incredible assault on democracy."
The many Republicans who have said they will challenge the Electoral College tally on Jan. 6 do not have the votes to successfully reverse Biden's victory. What they can do, however, is further undermine democracy in the United States and help lay the groundwork for success in such undemocratic efforts in the future.
Trump is also stepping up calls for his supporters to descend upon Washington to protest the election outcome, with officials bracing for violent clashes outside the Capitol.
Kaine urged people to avoid coming to D.C. because he expects that "similar to what happened in Charlottesville, we know that extremists among the Trump supporters are capable of violence."
Criminal action against Raffensperger and Ryan Germany, the latter's legal counsel, was not the only threat Trump made on Saturday. He also told them that if the Republican senators lose in Tuesday's Georgia runoff election, they will be responsible.
"That's a criminal offense," Trump said, "And you can't let that happen. That's a big risk to you and to Ryan, your lawyer."
Trump is scheduled to campaign in Georgia on Monday for the Republican Senate candidates, but he has already said he plans to talk about fraud. That prospect concerns Republicans who fear he may depress the Republican vote on Tuesday and help the Democrats win.
"You have a big election coming up and because of what you've done to the president—you know, the people of Georgia know that this was a scam," Trump said. "Because of what you've done to the president, a lot of people aren't going out to vote, and a lot of Republicans are going to vote negative, because they hate what you did to the president. Okay? They hate it. And they're going to vote. And you would be respected, really respected, if this can be straightened out before the election."
During the call, Trump pushed a long list of false and conspiratorial theories. He claimed with, no evidence, that he had won Georgia by at least a half-million votes.
He made numerous claims that have been proven false: that thousands of the dead voted; that an Atlanta election worker scanned some 18,000 forged ballots three times each and "100 percent" were for Biden; and that thousands more living out of state came back to Georgia illegally just to vote in the election.
"So tell me, Brad," the president, sounding like The Godfather's Don Corleone, said, "What are we going to do? We won the election, and it's not fair to take it away from us like this, and Brad, it's going to be very costly in many ways. And I think you have to say that you're going to reexamine it, Brad, and you can reexamine it, but reexamine it with people that want to find answers, not people who don't want to find answers."
Trump called Raffensperger a "child" and "either dishonest or incompetent" for not believing there was widespread ballot fraud in Atlanta—and twice accused him of being a "schmuck" for endorsing Gov. Brian Kemp, whom Trump has slammed for not joining the efforts to overturn the election.
"I can't imagine he's ever getting elected again, I'll tell you that much right now," Trump said of Kemp on the phone call.
Trump also continued on the call with his racist attacks on former Democratic gubernatorial candidate and voter registration drive organizer Stacey Abrams by telling Raffensperger that Abrams "is laughing at you" for not recognizing the fraud Trump claims was rampant in Georgia. "She's going around saying, 'These guys are dumber than a rock.' What she's done to this [Republican] party is unbelievable, I tell you."
The secretary of state repeatedly pushed back, saying at one point, "Mr. President, the problem you have with social media, that—people can say anything."
"Oh, this isn't social media," Trump retorted. "This is Trump media. It's not social media. It's really not. It's not social media. I don't care about social media. I couldn't care less."
A hot topic for Trump was the false idea that many votes were cast three times. "Brad, why did they put the votes in three times? You know, they put 'em in three times."
"Mr. President, they did not," Raffensperger responded. "We did an audit of that, and we proved conclusively that they were not scanned three times."
In parts of the call, Trump switched from threats to almost desperately begging Germany, the legal counsel to Raffensperger: "Do you think it's possible that they shredded ballots in Fulton County? 'Cause that's what the rumor is. And also that Dominion took out machines. That Dominion is really moving fast to get rid of their, uh, machinery. Do you know anything about that? Because that's illegal."
Trump supporters have claimed that long-dead Venezuelan President Hugo Chávez had doctored Dominion machines, which they claim electronically sent ballot tallies overseas to switch Trump votes to Biden votes.
Germany responded: "No, Dominion has not moved any machinery out of Fulton County."
Trump: "But have they moved the inner parts of the machines and replaced them with other parts?"
Germany: "No."
Trump: "Are you sure, Ryan?"
Germany: "I'm sure. I'm sure, Mr. President."
After an hour of the back and forth, Raffensperger thanked the president for his time and ended the call.