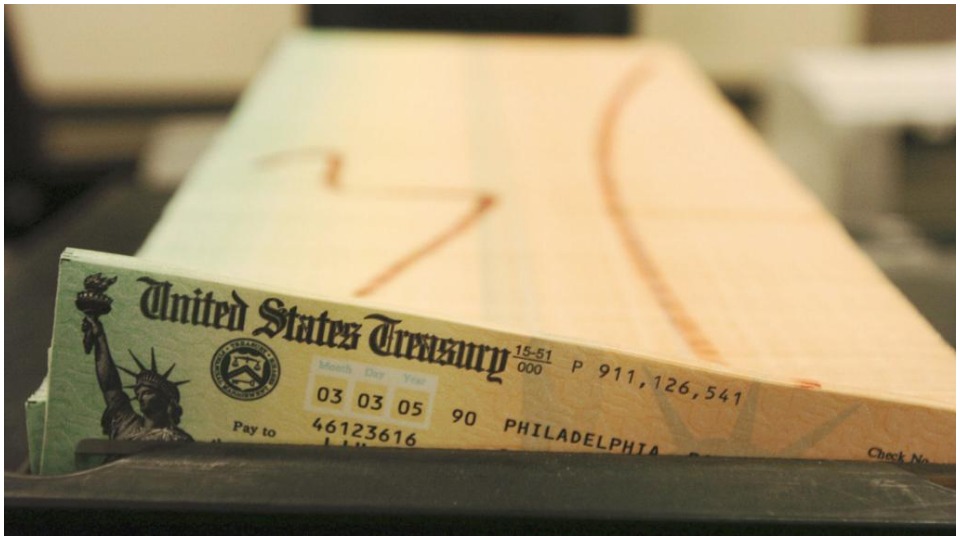 WASHINGTON—Got plans for that $1,200 federal check you're going to get from the $2.2 trillion economic stimulus law? Think again.
That's because, in a webinar last week, top Trump Treasury officials gave the nation's big banks permission to go ahead and seize the electronically sent checks, or parts of them, if your account is overdrawn.
They could even turn over your checks to debt collectors, one consumer advocate adds.
And if you're getting a paper check instead, you'll wait several months for it, rather than getting it the week of April 15. And Trump's signature will be on it, right in the middle of the election campaign.
The American Prospect disclosed the banks' permitted money grab in an April 14 article posted on its website. It posted the recording of the session, which was leaked, too.
The go-ahead signal came from Ronda Kent, the Treasury's chief disbursing officer and assistant commissioner of its Bureau of Fiscal Service.
"There's nothing in the law that precludes" the banks from grabbing the $1,200 checks to pay off a person's overdrafts, fees, and other charges, she said.
Prospect editors, pursuing the story, contacted the banks at the April 10 session. One, Wells Fargo, promptly said they wouldn't grab your checks. The other big banks—such as Chase, Citibank, and Bank of America—were silent.
"The Treasury Department effectively blessed this activity on a webinar with banking officials last Friday," the Prospect article's author, David Dayen reported.
Treasury's move angered the leader of the pro-worker, pro-consumer group Americans for Financial Reform.
"Treasury has apparently opened the door to letting banks that receive pandemic stimulus direct deposits for their customers to allow debt collectors to seize, or garnish, the funds for old unpaid debts," Ed Mierzwinski, who also is the senior director of federal consumer issues at USPIRG, emailed.
"As Democratic Sen. Sherrod Brown (Ohio) and Rep. Sen. Josh Hawley (Mo.) told Secy. Mnuchin last week: 'That is not what Congress intended.' We agree and will be supporting congressional efforts to stop the administration from allowing the seizure of funds designated to pay for food, medicine, and urgent needs caused by the pandemic, not old debts," he added.
Wait, there's more.
The Prospect article did not mention a rumor then circling Washington, confirmed by a story in the April 15 Washington Post, that the 70 million people who will get actual physical checks—not electronic direct deposits—for the $1,200 per adult and $500 per child will see the spiky signature on them of GOP President Donald Trump.
And those paper checks will take several months, not several days, to arrive—right as the general election campaign traditionally heats up.
Trump pulled a similar stunt with postcards in March.
The Centers for Disease Control sent out postcard warnings to millions of households, with its logo on the lower right-hand corner, listing the practical moves it urges, but not orders, for people to help stop the spread of the coronavirus pandemic: Frequent hand-washing, social distancing, wearing masks, etc.
It was headlined "The President's coronavirus guidelines for America." And while the headline was in small type, the capital "P" was prominent. The CDC logo was in small type far below.
To find out the status of your stimulus check, go here. If you did not file in 2018 or 2019 but were required to do so, you may need to file in order to qualify for a stimulus check. Finally, if you were not required to file a tax return in 2018 or 2019, you can enter your payment information here. For further information, visit the IRS website: Coronavirus Tax Relief and Economic Impact Payments.