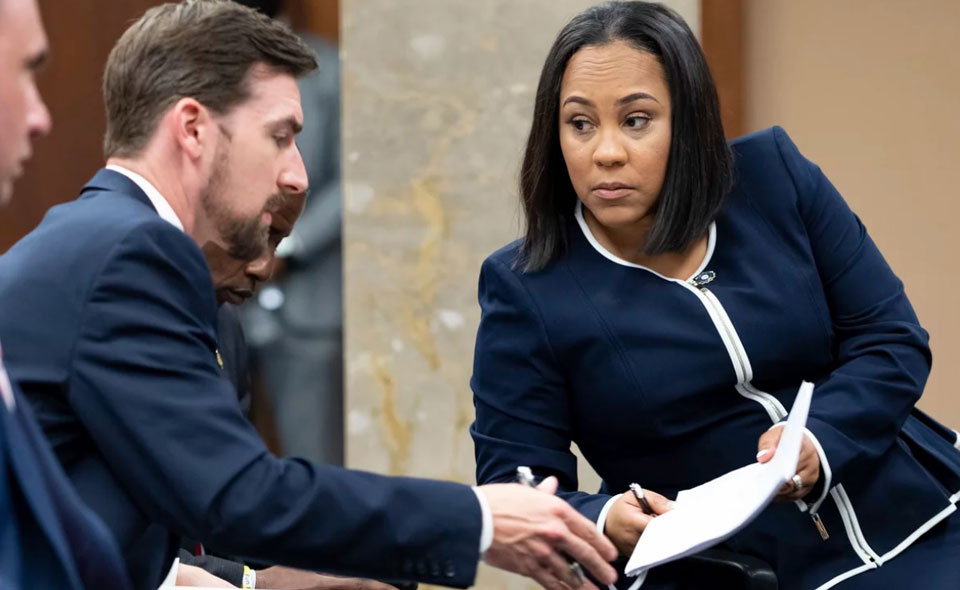 ATLANTA—Former Republican Oval Office occupant Donald Trump is in deeper-than-ever legal trouble over his infamous phone call demanding Georgia "find" enough extra votes to swing the 2020 election in the Peach State to him.
A special 26-person Fulton County (Atlanta) grand jury, called at the request of District Attorney Fani Willis, will decide if Trump committed a crime by demanding Georgia Secretary of State Brad Raffensperger "find" 11,780 pro-Trump votes to give Trump the state over Democratic nominee Joe Biden, by one vote.
Willis said at the start of 2022 she wanted a yes-or-no decision on criminal charges during the first half of the year, but when she announced the formation of the grand jury, she set no deadline. Fulton County Judge Robert McBurney will preside over its deliberations, which will be behind closed doors. He told jurors he wants them "to bring an open mind" to the issue.
But even before the grand jury was selected, Willis wrote to Georgia county elections officials, plus Raffensperger, asking they preserve all election materials for what she termed a potential criminal probe.
She also wants them to preserve everything related to Trump's January phone call when he pushed Raffensperger to "find" enough votes to reverse his election loss in the key swing state.
Willis's probe, and by implication the grand jury, too, would investigate "attempts to influence the administration of the 2020 Georgia general election," she wrote the local officials and Raffensperger then.  Any officials who refuse to cooperate will face subpoenas to do so, she warned.
The key evidence is the phone call.
"So look. All I want to do is this. I just want to find 11,780 votes, which is one more than we have. Because we won the state," Trump told Raffensperger in the key passage of their hour-long conversation. "You should want to have an accurate election. And you're a Republican."
Knowing the results of three statewide ballot counts—no fraud at all– Raffensperger refused. "We believe that we do have an accurate election," he told Trump. The Republican presidential nominee replied: "No, no you don't. Not even close. You're off by hundreds of thousands of votes."
After enormous and effective registration and get-out-the-vote efforts by Stacey Abrams's organizations and their allies—notably, Unite Here members —Biden beat Trump 49.47%-49.24% out of 2.945 million votes cast.
Georgia's ruling legislative Republicans, and Republican Gov. Brian Kemp, who beat Abrams four years ago in an election marred by Kemp's removal of tens of thousands of Black voters from the rolls, have since retaliated with ever-more-stringent voter repression laws targeting voters of color, women, students, the disabled, workers, and Fulton County in particular.
The Georgia vote controversy—literally Trump demanding Georgia commit election fraud–is the latest matter that could threaten the former White House occupant with criminal prosecution.
The other criminal prosecution threat is the ongoing, and intensifying examination by New York Attorney General Letitia "Tish" James of Trump's tax frauds—a problem she has said could lead to criminal as well as civil charges.
James' task force of lawyers, accountants, and financial fraud experts is probing how much fraud Trump, his company, his accountants, his kids, and his lawmakers committed in valuing his hotels, apartments, golf courses, and other properties for tax purposes.
He's refused to turn over needed documentation and a New York State Supreme Court judge in Manhattan agreed to James' demand to hold Trump in civil contempt and fine him $10,000 a day until he does so.
Before the grand jury selection, Willis beefed up her office by hiring a special 10-person task force, including evidence expert Michael Carlson and racketeering expert John Floyd, news reports said. Floyd, CNN reported, may work on the elections case only part of the time, and, unlike Carlson, is not a full-time staffer.
Meanwhile, former federal racketeering prosecutor Ankush Khardori wrote a column for Politico noting the U.S. Justice Department's decision to charge 10 leaders of the Oath Keepers with seditious conspiracy, a criminal offense, could lead to Trump.
The Oath Keepers were a key part of the invading insurrectionists who overran the U.S. Capitol on Jan. 6, 2021, disrupting and delaying the official count of electoral votes which gave Biden the White House.
"One could reasonably see the conspiracy charge as part of a potential trail that could lead to Trump's eventual prosecution," Khardori wrote.
That doesn't mean an indictment of Trump is imminent, he warned. But "one thing that is clear is that the" Oath Keepers "indictment represents the sort of incremental but meaningful progress that Attorney General Merrick Garland promised" earlier this year, on the first anniversary of the invasion.