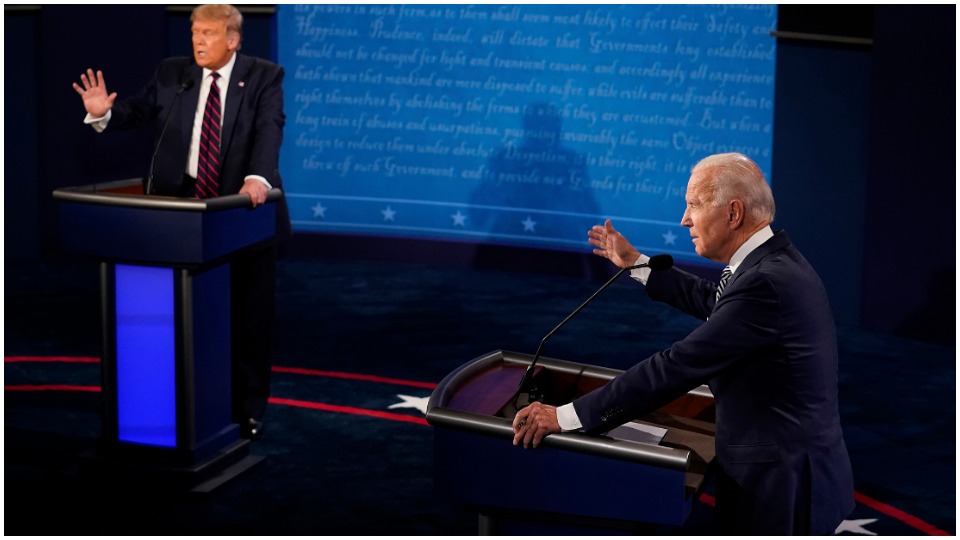 The first presidential debate of the 2020 election season last night was a dark moment in American history—a moment when a sitting president, Donald Trump, came prepared not to discuss issues but to trash yet another democratic norm: presidential debates themselves.
In addition, he tried to further delegitimize the entire election by calling into question the mail-in votes of as much or more than half the population, by refusing to agree to a peaceful transfer of power, and by threatening that "this is all not going to end well."
Trump spent much of the evening attacking democracy outright. He screamed about non-existent voter fraud through mailed-in ballots, lied about peaceful presidential transitions, claiming they never happen, and refused to pledge to accept the results and concede if he loses this year's election. But it was his enlistment of support from white supremacists that generated the most outrage.
Trump's boys
During and after the debate, social media reverberated with talk of Trump's encouragement of white supremacists to act on his behalf. "Are you willing, tonight, to condemn white supremacists and militia groups and to say that they need to stand down?" moderator Chris Wallace asked.
When finally backed into a corner on his refusal to condemn white supremacy, Trump told the Proud Boys, a far-right neo-fascist male-only organization, to "stand back and stand by." Be ready for action on his behalf, he was essentially telling the radical right. It was a call to arms.
He insisted that it is "the radical left" which is to blame for violence in U.S. cities, despite findings by his own FBI that it is the radical right that poses the main danger to domestic security. Following his instructions to the Proud Boys, Trump said, "I'll tell you what, somebody's got to do something about antifa and the left. This is not a right-wing problem, this is a left-wing problem."
The president's words spread quickly—especially to Proud Boys members themselves. Members of the neo-fascist group celebrated Trump's response in various private social media channels. The Proud Boys' social media account on Telegram posted two videos regarding Trump's answer. One video had the caption "God. Family. Brotherhood," with a man howling at the TV in excitement over Trump's enlistment of their organization in his cause.
Another member commented on the app that the group was already seeing a spike in "new recruits." Proud Boys organizer Joe Biggs stated online that, "Trump basically said go f**k them up! this makes me so happy."
On their official Telegram account, the Proud Boys unveiled a new shirt they're selling with Trump's words front and center. There were calls by activists and progressive organizations for the media not to allow Trump's enabling of white supremacists to be swept under the rug in news coverage of the debate.
Biden, the former vice president, jumped in by noting that FBI Director Christopher Wray testified recently that virtually all U.S. political violence comes from the extreme right. Biden noted antifa—short for antifascists—"is an idea," not an organized group. Trump interrupted to condemn anti-fascism, prompting Biden to retort, "Will you shut up, man?" And so it went, for more than 90 minutes, curtailing the amount of time available for discussion of the issues.
Three years ago, Trump cheered white hatred of "the other" by praising as "very fine people" the neo-Nazis who rioted in Charlottesville, Va., killed peaceful counter-protester Heather Heyer and injured dozens of other people. The Proud Boys, who call themselves "western chauvinists"—more code words—were in the neo-Nazi mob, too, in Charlottesville.
As if that wasn't enough, Trump reiterated the racist slogan of "law and order," which segregationist presidential candidate George Wallace popularized in 1968. Trump challenged Biden to utter the same words, and the former vice president declared he would provide "law, order, and justice."
"There has been more violence under you," Biden told Trump, citing FBI data. In the prior Democratic Obama administration, Biden said, crime declined by double-digit percentages. Biden was Obama's VP.
And Biden, not Trump, also recognized the U.S. has had years of unequal systems, including the economy, health care, and the criminal justice system, for Blacks. Trump didn't even answer that question.
Trump vs. democracy
The debate over Trump's white nationalism was one of many testy exchanges between the two contenders—exchanges almost always marked by Trump interrupting Biden, so much so that Wallace repeatedly had to step in to stop Trump.
"It looked like he (the moderator) was teaching kindergarten," a former early childhood education teacher in Maryland told People's World. "For Trump, it was like a verbal boxing match," she added. "You just watch him be combative."
The right-wing media did its part to do damage control for Trump's bullying performance, which surely repulsed many voters. Fox News and other outlets attempted to push the notion that "both sides"—Trump and Biden—were responsible for the chaos on television, and explained away Trump's aggressive behavior as an instance of the president "coming in too hot" because of his supposed passion to fight for the American people.
Trump himself attempted to frame the debate as though it was him against both Biden and Wallace, the moderator. Through a series of tweets and re-tweets, Trump and his supporters attempted to reprimand Wallace and claim the debate was an example of the "fake news" media hating on him. It was a clear attempt to revive the character he played in 2016—the outsider going up against the "shady establishment."
Trump's ideas, or lack of them, were another matter. In between Trump's goading, boasting, and interruptions, the debate showcased some key differences between the candidates.
Biden pledged he'd respect the election's results, whatever the outcome, adding he would ask his supporters "to stay calm." Trump refused to do the same, instead urging his supporters to show up at the polls to watch everyone else vote—essentially a call for voter intimidation.
"I will accept [the results], and he will, too," Biden predicted. "And I'll be a president for Democrats and Republicans." That was an oblique reference to the Trump-GOP $1.7 trillion tax cut for the rich, which Biden again promised to repeal. Trump openly said then he wanted the tax cut to hurt workers and residents in blue states and cities.  Federal data show it has, by eliminating their deductions, including for state and local taxes and union dues.
Trump also slammed voting by mail, with much of the country already doing it due to the health threat from standing in lines to vote during the coronavirus pandemic. Biden retorted it's safe and has been used since the Civil War, including in five states which have totally voted by mail for at least a decade.
"He has no idea what he's talking about," Biden said after Trump's lies and rant about mail-in voting. "Once the winner is declared after all the ballots are counted, that will be the end of it."
Economy in the tank
Trump kept bragging about the "great" economy he allegedly produced, though he admitted the coronavirus pandemic shut it down. He also claimed the economy's now coming back, prompting Biden to retort that you can't just measure the economy by the rising stock market.
Left unsaid: The nation's governors, mostly in blue states, had to step up and shut it down to try to curb the virus, which has killed 206,036 people, officially, among the 7.193 million who have tested positive in the U.S. since the pandemic was declared March 13. That's one-fifth of the world's total deaths, a point Biden made.
"He has no plan" to battle the coronavirus, or for anything else, Biden said of Trump. "He knew back in February" of the magnitude of its threat. "He did nothing." Objective analysts agree with that assessment. In another lie, Trump charged, without backing it up, that Biden would have done nothing about the virus, killing two million people.
By contrast, Biden pointed out that Trump inherited a stronger economy after Democratic President Barack Obama's stimulus law helped pull it out of the 2008 Great Recession. Biden, as Obama's VP, managed that stimulus. That included saving the U.S. auto industry, a key economic engine in Ohio, site of the debate, and swing state Michigan.
Under Trump, Biden said, the economy has tanked.
Job creation, Biden noted, first slowed and now reversed itself under Trump, due to the coronavirus-caused depression. "He'll be the first president who leaves office with fewer jobs than when he came in," Biden said of Trump.
Pointing directly at the viewing audience, Biden asked: "You folks at home, how are you doing?"
But Biden also admitted the economy, recovering or not, is unfair to Black, brown, and other people of color. As on the campaign trail, he pledged to start trying to fix that. Trump didn't answer the question.
But Biden declared his economic plan, including green projects such as rehabbing buildings and converting the entire 600,000-unit federal fleet to electric vehicles, would produce well-paying factory jobs in the U.S. On the campaign trail, Biden inserts the word "union" after "well-paying." He didn't do so during the debate but did call for the jobs created to pay prevailing wages, not just the minimum.
The failure to mention the $600 of expired federal unemployment benefits that Republicans let expire, as well as the GOP's killing of the HEROES Act was a missed opportunity on Biden's part. Highlighting the plight of the tens of millions of jobless Americans would have been a powerful retort to Trump's claims of being strong on the economy.
On the environment, Biden was more thorough, acknowledging that under his plan, no more coal-fired and oil-fired electricity plants would be built and the U.S. would strive for "zero net emissions of greenhouse gases by 2050." Greenhouse gases, from fossil fuel combustion, are a top cause of global warming. New electric plants would be solar-powered, Biden promised.
Trump didn't answer Wallace's question about whether he believes in climate change, other than to blame China for pollution and for the coronavirus pandemic, too. Intensifying his prior racial slur, Trump called the virus "the China plague."
Trump also repeatedly used the Green New Deal, which Biden does not support by name, to accuse Biden of "socialism," a favorite GOP insult leveled at Democrats of all stripes and at all levels.
Cutting health care in the middle of a pandemic
Trump also falsely charged Biden with supporting socialized medicine, which Biden denied. Biden opposes the Medicare for All program pushed by Sen. Bernie Sanders and Rep. Alexandria Ocasio-Cortez, among others. Responding to Trump, Biden reiterated he would expand eligibility for the Affordable Care Act, especially to people now getting Medicaid.
Thinking he'd pulled Biden into a trap over Medicare for All, Trump sneered, "You just lost the left."
The former vice president, meanwhile, pointed out the fact that Trump backs total elimination of the ACA, which extended health care coverage to 20 million people. But they, and 10 million others, have now lost it because they lost their jobs in the depression caused by coronavirus-forced closures.
Biden particularly made that ACA point in again denouncing Trump's rush to seat federal appellate judge Amy Coney Barrett on the Supreme Court. The justices will hear a red state, Trump-backed lawsuit to kill the ACA just one week after the election.
Trump did not say, as he has before, that he wants Barrett on the court in case it decides election challenges. He did say he expects the justices to handle post-election fights, though, and left a clear implication that he wants a court favorable to him.
Trump bragged about reopening the economy, and the nation's schools, despite the coronavirus threat. He also bragged about "the tremendous crowds" at his rallies, and denied their lack of social distancing and masking helps spread the virus. He did not mention requiring attendees to sign waivers promising not to sue the Trump campaign if they catch the virus.
His statement that his rallies don't contribute to the virus's spread flatly contradicts evidence from his own rally in Tulsa, Okla. There, the virus spread to his own Secret Service detail and killed a 2016 GOP presidential primary foe, Herman Cain.
Instead of acknowledging the need for social distancing, mask-wearing, and other public health measures, Trump instead ridiculed Biden for wearing a mask and reinforced the notion that the pandemic is not so serious.
"He has no plan," was a Biden refrain about Trump not just on the virus, but on others. Biden pointed out he issued comprehensive anti-coronavirus plans both in March and in May and pledged he would trust scientists and their advice about what to do. Trump, as usual, dismissed science.
"He's been totally irresponsible in not encouraging" anti-virus masks and in not providing personal protective equipment against the virus to front-line workers, Biden said of Trump. "He's a fool."
John Wojcik and C.J. Atkins contributed to this story.
---
Like free stuff? So do we. Here at People's World, we believe strongly in the mission of keeping the labor and democratic movements informed so they are prepared for the struggle. But we need your help. While our content is free for readers (something we are proud of) it takes money — a lot of it — to produce and cover the stories you see in our pages. Only you, our readers and supporters, can keep us going. Only you can make sure we keep the news that matters free of paywalls and advertisements. If you enjoy reading People's World and the stories we bring you, support our work by becoming a $5 monthly sustainer today.