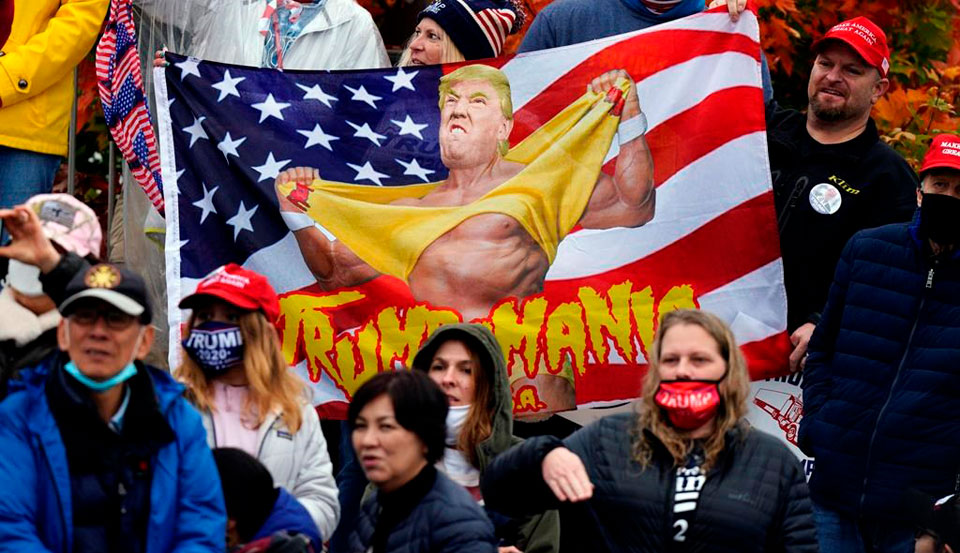 Republican Oval Office occupant Donald Trump lost the 2020 election to Democratic nominee Joe Biden, but he won't yield—and neither will some of his threatening supporters on the ground or in the halls of government.
Amid joyous honking of car horns by backers of Democratic nominee Joe Biden, after he was declared the Electoral College winner, angry Trumpites massed in Portland, Ore., again and in state capitals in the swing states Georgia, Arizona, Michigan, Minnesota, and Pennsylvania to vent their hate.
And they weren't the only bitter-enders. News reports differed on whether, or when, Trump advisers, including son-in-law Jared Kushner, would break the news to him, and how. Other family members were reportedly holding out against a concession announcement. His tweets show Trump is in denial.
Leading congressional Republicans, as well as two extreme far-right lobbies for the crooked corporate class, the National Federation of Independent Business and the National Right to Work Committee, also refused to give up.
NFIB posted no congratulations to Biden and Sen. Kamala Harris, D-Calif., the vice-president-elect. The RTW crowd didn't mention the voting, except in a pre-election podcast its leader gave to Ohio radio station WJW.
Other capitalist lobbies such as the National Association of Manufacturers and the Chamber of Commerce followed the usual rules: Congratulating the winners but also claiming their pro-business agenda, not Biden's, is what the voters really want.
One Republican politician, retired President George W. Bush, whom Trump has shunned and denounced, followed tradition and congratulated Biden. Others were silent or followed Trump's line.
Sen. Mitt Romney, R-Utah, who does not need Trump, did so, too—but then declared the Senate and the people rejected progressive policies such as the Green New Deal and Medicare For All. More common was Trumpite Rep. Dan Meuser, R-Pa., who plans to run for governor in 2022. He told the Trumpites in Harrisburg the election was illegitimate.
Resistance continued among top Trumpite officials. They included General Services Administrator Emily Murphy, a former GOP congressional staffer. Murphy must sign a release allowing Biden transition teams into federal offices, and she refused. Her pro-Trump stand also blocks $10 million Congress allotted for the transition.
They also included Senate Majority Leader Mitch McConnell, R-Ky., who will continue in that job if the Republicans win one of two outstanding Senate seats in Georgia in Jan. 5 runoffs. In a rambling post-election press conference in the state capital of Frankfort, McConnell declared "We've had a peaceful transfer of power going back to 1792, every four years" and thought it would happen again—without mentioning either Biden or Trump by name.
Ominously, Trumpites around the U.S. continued their threats. So did Trump.
The White House denizen took to his favorite communication mode, Twitter, with a series of vitriolic messages again alleging the election is a fraud. Twitter red-flagged some and took others down.
Trump also plans post-election campaign-style rallies of his legions in swing states where he alleges he won the vote, news services report. One news report said Trump would lead them, another said he would send surrogates.
One Trump campaign adviser told Axios Trump's campaign will plan regular press briefings, announce more lawsuits, provide talking points for surrogates, and will attempt to book spokespeople on television. It'll also keep raising money to fund the lawsuits challenging statewide results in Arizona, Georgia, and Pennsylvania.
Some rank-and-file Trumpites were already out in force in the weekend after the election. "Stop the steal!" and "Stop the Count" was their constant chant.
The largest Trumpite crowd, estimated at 2,000, converged on the Pennsylvania State Capitol in Harrisburg, armed with chants, MAGA hats, and in some cases, guns. They tried to disrupt a happy demonstration by pro-democracy supporters after the Keystone State was called for Biden, giving him the electoral votes needed to claim the presidency. The Biden supporters had a legal parade permit. The Trumpites didn't.
Police split the two groups by sending the Trumpites to the other side of the capitol building. The Trumpites included backers of the Proud Boys—the white nationalist group Trump told to "stand back, stand by" at the first debate with Biden. They also included, HuffPost reported, "a notorious troll," Jonathan Riches. "It's OK to be white," the troll said.
About 1,000 Trumpites converged on the state capitol building in Atlanta, chanting "Lock him up!" about Biden, and "Fake news!"—Trump's common meme—about the results, AP reported.
In Arizona, the mob had descended on the Maricopa County (Phoenix) Elections Board, where the vote count in the tightly contested state continued. Maricopa casts most of Arizona's votes. The mob had penned the vote-counters, and the CNN crew, in the building earlier in the week.
Late in the evening of Nov. 8, windows were shattered in Multnomah County (Portland, Ore.) Democratic headquarters, with TV images of spray-painted walls declaring "no presidents" and with expletives denouncing Biden, The Oregonian reported. Earlier, graffiti was painted on the building. Police arrested three people after the evening's ruckus and charged them with misdemeanor disorderly conduct. There was no word on arrests for the prior graffiti.
In a way, all this was forecast almost a year ago. The Ring of Fire blog, itself citing an earlier New York Times story, reported last Dec. 30 that armed Trumpites interviewed at a rally in Las Vegas said even then that "nothing less than another civil war" would occur if Trump lost.
Like free stuff? So do we. Here at People's World, we believe strongly in the mission of keeping the labor and democratic movements informed so they are prepared for the struggle. But we need your help. While our content is free for readers (something we are proud of) it takes money — a lot of it — to produce and cover the stories you see in our pages. Only you, our readers and supporters, can keep us going. Only you can make sure we keep the news that matters free of paywalls and advertisements. If you enjoy reading People's World and the stories we bring you, support our work by becoming a $5 monthly sustainer today.