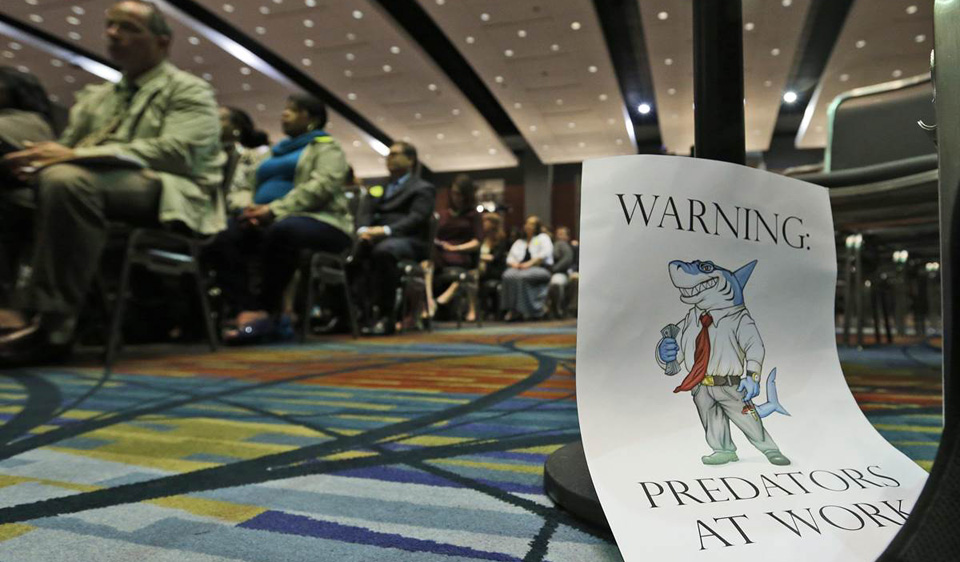 "Personnel is policy," says Gary Cohn, the former president of Goldman Sachs recently named to head President Trump's National Economic Council. He got that right, and every working family should shudder that Trump – after railing against the corruptions of Goldman Sachs and other big banks in the campaign – has put six former Goldman Sachs bankers at the head of his economic team.
Their first priority is to roll back bank regulation, and, as Gary Cohn told the Wall Street Journal, one of their first targets is to disembowel the Consumer Financial Protection Bureau (CFBP).
The CFPB was created in the Dodd-Frank banking reforms passed after the excesses of the banks helped blow up the economy. Led by Elizabeth Warren (then a Harvard Law professor, now a U.S. senator), consumer and civil rights groups pushed for it against the full force of the banking lobby. The agency's sole mission is to protect consumers against the scams and schemes of fraudulent banks and lenders.
Led by Richard Cordray, a former Ohio attorney general and treasurer, it has been a stunning success, recovering nearly $12 billion for 27 million consumers from the lenders who cheated or defrauded them.
The CFPB is the champion of what Trump calls the forgotten working families of America. It has protected veterans and military families, recovering $100 million from lenders who preyed on them. It recovered over $480 million for students who were deceived by for-profit chains peddling fraudulent products. It has moved against the payday lenders that gouge low-wage workers. It is about to issue rules prohibiting payday loans with interest of 300 percent or more – literally immoral loans that earn the Bible's condemnation of usury.
Seniors are often targets of financial frauds. Last year, a survey showed that nearly one in five citizens 65 and older had been "taken advantage of financially." The CFPB has worked actively to shield them from deceptive practices.
The big banks hate the CFPB and its investigations into their policies and practices. The agency has recovered more than $1.5 billion for consumers bilked by credit card companies. For the first time, with the CFPB working people have a cop on the financial beat.
At its head, Cordray has earned widespread applause. Consumer groups hail how he's made the CFPB transparent and responsive. Civil rights groups applaud the progress he's forced on diversity in hiring and services.
He's gone after lenders and others for charging people of color more for mortgages, auto loans, and credit cards. The CFPB has recouped over $400 million in payments and credits to more than 500,000 consumers who experienced discrimination.
Now Cohn suggests he plans to weaken the CFPB by firing Cordray. Fire him? He should give him a medal. Under the law, Cordray has been appointed for a term that ends in 2018 and can only be fired for cause. To fire him, Cohn will have to violate that law.
Trump has given his economic policy over to the big bankers. They are gearing up for another predators' ball. The first regulation Cohn wants to reverse is the "fiduciary rule," which requires investment advisers to put client's interests first when they deal with retirement accounts. Banks don't like the rule because it prohibits investment advisers from peddling products that line their pockets at their clients' expense.
One thing is clear. If Trump's bankers can get rid of Cordray and geld the CFPB, millions of Americans will lose billions to the tricks and traps of the banks and lenders. Cohn has made Trump's intentions clear. Now we have to rise up and demand that Congress protect the Consumer Financial Protection Bureau from Trump's Goldman Sachs marauders.