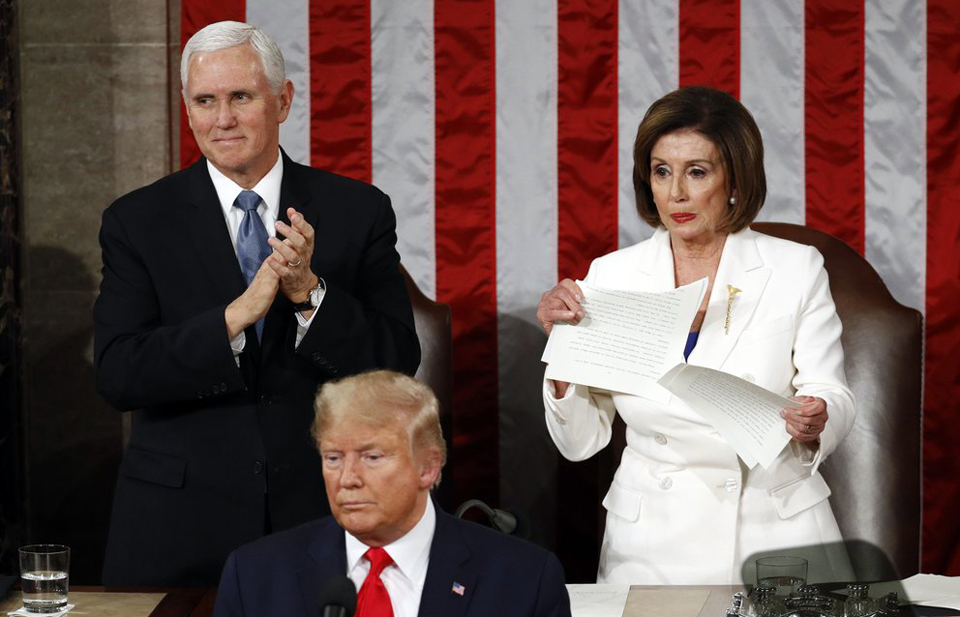 WASHINGTON—Rep. Jan Schakowsky, D-Ill., had a great evaluation of GOP President Donald Trump's State of the Union address, even before he gave it.
"I think we're going to hear lies," the Democrat from Chicago's North Side and adjoining suburbs said. She was right.
Analysis of Trump's speech shows it was filled with omissions, slurs against Democrats – even if he didn't mention them by name – unproven assertions, and, yes, outright lies.
No wonder House Speaker Nancy Pelosi ripped the speech into quarters at the end. No wonder Rep. Alexandria Ocasio-Cortez, the Democratic Socialist from New York City, boycotted it. No wonder Democrats stayed seated throughout, except for the dozens who walked out in disgust.
Meanwhile, Trumpite Republicans interrupted him at the start with the chant "Four more years! Four more years!" They cheered his award of the Medal of Freedom, the nation's highest honor for civilians, to right-wing radio propagandist, Rush Limbaugh. And at one point, the GOP sent up a nationalistic "USA! USA!" chant, too.
Trump's top slur was a slam at "socialism," especially in health care. The prime mover of that? Sen. Bernie Sanders, Ind-Vt., who makes Medicare For All the top plank of his presidential primary campaign. Trump said that plan was reflective of what "socialist dictatorships" do and he accused Democrats of wanting "to take away the  health insurance  of millions of Americans."
He lied that he and the GOP were committed to protecting people with pre-existing health conditions when, in fact, his administration is suing in court to have those protections eliminated.
Then there were Trump's lies about the economy he inherited from "the previous administration." Conveniently, he omitted the fact his unnamed predecessor, Democratic President Barack Obama, had to pull the nation out of the Great Recession – and that most of the recovery since then had occurred, and at a faster pace, on Obama's watch.
Also unmentioned: that the capitalist bankers, brokers, hedge fund vultures and financial finaglers who back the GOP and Trump caused the crash which robbed workers of jobs, pensions and often houses, in the first place.
The slams against socialism and the touting of the economy were just a few of Trump's lies, omissions and exaggerations without evidence. Others included:
– Climate change went completely unmentioned. Trump dumped the Paris climate accords. Never mind that Miami now regularly floods, as does Newport News.
– Robbing people with pre-existing conditions is part of the overall Trump-GOP effort to completely abolish the Affordable Care Act, throwing 30 million people out of health care and on the "mercy" of the rapacious and expensive health insurers. Trump's Justice Department and red states successfully told GOP-named judges the entire ACA is unconstitutional, but that case is headed for the Supreme Court and its five-man GOP-named majority, including two Trump appointees. Meanwhile, Trump's executive orders and agency chiefs are dismantling the ACA piece by piece, administratively.
– Trump pitched his campaign to blue-collar voters, touting factory jobs. Factory jobs declined last year, and GM just closed its iconic Lordstown, Ohio, plant. The guest of Sen. Sherrod Brown, D-Ohio, was Dave Green, president of the UAW local at Lordstown. Green now has to commute from there to somewhere in Indiana for work.
– Trump introduced from his seat in the gallery the Venezuelan fascist opposition leader as the legitimate president of Venezuela and used that as a segue to attack Democrats as supporters of "socialist dictatorships" in Latin America.
– Trump vowed he would preserve Medicare, Medicaid and Social Security. Just last month, at the World Economic Forum in Davos, Switzerland, he said he wants to cut them by the end of the year – to help close the $1 trillion annual federal deficit his tax cut for the rich helped produce.
– Trump touted the tax cut, briefly. He didn't declare, as he had promised, that it would help the middle class – because it hasn't. A recent analysis in Forbes shows the richest 20% of individual taxpayers got 52% of the tax cut's benefits. Other analyses give the rich even larger shares.
– Trump touted his racist Mexican wall and declining migration over the U.S. southern border. Left out: Migration is declining because he's forced migrants, including refugees from wars, gangs and natural disasters, into overcrowded and squalid camps in Mexico.
– Also left out: The 5,400 crying children whom Trump's ICE agents have ripped from their parents' arms when entire families did finally make it into the U.S. Those kids are in squalid U.S. camps, plus a "baby jail" in Houston, lacking basics such as towels and toothbrushes.
– Speaking of Trump's "virtually impenetrable" wall, he declared 100 miles have been built so far and claimed 500 more miles would be built this year. A Democratic campaign committee's response the next day noted "troops are paying to build it" and "sections of it are falling over in a stiff breeze." The border, by the way, is about 2,000 miles long.
– Unmentioned: Trump robbed military families' housing and base repairs nationwide of $5 billion to pay for building the wall, when Congress refused to give him the cash.
– Trump urged Congress to pass a paid family leave bill for the entire country, similar to the legislation he signed covering two million federal workers. Unmentioned fact #1: His bill is only family leave for caring for newborns and adoptees, not medical leave to care for yourself or your aging parents or ill school-age kids. Unmentioned fact #2: Trump didn't say how long a leave his bill would give. The Democrats' paid family and medical leave bill, by Rep. Rosa DeLauro, D-Conn., gives each person 12 weeks of leave, at 66% of their pay, up to $4,000 a month.
– Trump urged lawmakers to pass a national voucher program to funnel taxpayer-provided money to parents of private – mostly religious – school kids. And he kept nastily slamming "failing government schools." Unmentioned: 90% of U.S. kids and a majority of kids of color, go to public schools, most of them underfunded. That underfunding forced teachers in Los Angeles, Chicago, West Virginia, Arizona, Denver and elsewhere to strike. Vouchers would rob those schools of money they need.
– Also unmentioned: In a Supreme Court case last month, Trump's Justice Department argued for nationwide taxpayer-paid vouchers, a scheme he's pushed since day one – and that even GOP-run Congresses have rejected. Teacher President Randi Weingarten blew the whistle on Trump. Also unmentioned: The private schools that would benefit from the vouchers can be "selective." Read into that what you will.
– Trump declared he'd protect gun owners' rights, despite overwhelming national support for cracking down on gun-toters and extremists. One of Pelosi's guests, Fred Guttenberg, whose daughter Jaime was among the 14 students and three AFT members killed at the Parkland, Fla., school massacre which touched off the "March for our Lives" student-led gun control movement, blew up and shouted an objection from the gallery. Capitol Police ejected him.
Of course, Trump himself touched off the night's rancor even before he gave the speech. He wasn't even polite. Pelosi extended her hand for a however perfunctory shake. Trump turned his back on her, but Pelosi got a verbal dig back at him immediately afterwards.
The veteran lawmaker from San Francisco introduced Trump with the clipped words: "Members of Congress, the president of the United States" – a far cry from the traditional and more gracious introductions Speakers give presidents before such State of the Union addresses.