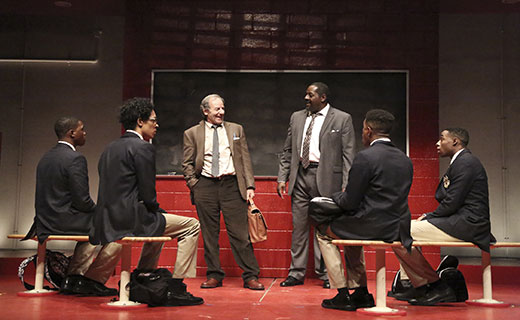 Residents of Greater Los Angeles are lucky to have the West Coast premiere of Tarell Alvin McCraney's play "Choir Boy" currently running at the Geffen Playhouse.
From cultural pundits to academic anthropologists to average theatergoers, many people have compared the theater to religion. It's the forum where the great issues of the day, moral, cultural, political, get aired in public. Even for those who will never see it, a play that lifts up great ideas and wrenching social problems for discussion will necessarily affect the general discourse, change minds, and perhaps affect policy.
Tarell Alvin McCraney, one of America's most important new voices in the theater, has already established himself as one who can almost single-handedly pivot the national conversation around the range of themes he addresses. As a young, black gay man whose 2013 MacArthur Foundation fellowship catapulted him to immediate worldwide renown, he is an artist to whom, like Arthur Miller's salesman, "attention must be paid."
"Choir Boy" takes place at the fictional Charles R. Drew Preparatory School for Boys, a prestigious half-century-old institution somewhere in the South or near-South (the Klan is not too far distant), with a heavy, perhaps even oppressive religious mission. Its claim to fame, aside from readying these teenagers on the cusp of manhood for advancement to college, is the tradition of singing, especially of spirituals in contemporary a'cappella arrangements, as a calling card for the school.
The entire action of the uninterrupted 95-minute play takes place over the course of the senior year of the five students who sing in the choir, the historic year between the 49th and the 50th-anniversary graduations from Drew. The opening and closing scenes depict the singing of the school song, "Trust and Obey." As you might expect, we are privy to an hour and a half of adolescent life, fights and friendships, posturing and bantering, male physicality and testosterone, struggles for position, joking and ribaldry, and not to mention a little bare skin.
It's worth a reminder as to who Charles R. Drew was, and why a significant number of schools and other public institutions are recognized with his name. An African-American originally from the Washington, D.C., area, he attended medical school and early on specialized in blood transfusions and the establishment of blood banks. He was firmly opposed to racial segregation, including the separation of blood by race that was standard medical practice until well into the World War II years. His medical and scientific advancements saved thousands of lives during the war, and many millions in the years since.
Like the theater and religion, popular song was sometimes able to take on social issues and effect change: That was the impact of composer Earl Robinson and lyricist Yip Harburg's number "Free and Equal Blues" that addressed that very same subject.
Anyway, Dr. Drew died, way too young, in 1950, still in his forties, as the result of a traffic accident in Alabama. It may be myth, but it was long commonly believed that he died unable to receive a blood transfusion in a rural Southern hospital, the very thing he crusaded for all his life.
In many ways, "Choir Boy," its set design by David Zinn drenched in blood red, asks us to contemplate some of these same questions. How equal are we? Are we all, servants of God at Drew Prep, equally cleansed by the washing of our sins? Or are some of our sins, like homosexuality, just too dangerous to allow into the mix with the rest of respectable humanity? Do our educational institutions, and our religious houses, affirm the universal human condition? Or are they also part and parcel – like the Klan, one might say, or like our prisons, or corporations and banks that redline neighborhoods – of a complex system that parcels out justice in keeping with the prevailing standards of prejudice?
Can we indeed trust our school to support us as full human beings and develop our knowledge and talents the best possible? And what is our obligation to obey – headmasters, teachers, parents, donors – when they are not doing the right thing? Is it better to be feared or respected? This is the question that repeatedly comes to the fore, an appropriate one for people in all types of unequal relationships everywhere.
McCraney weaves all these ideas into a fast-moving montage lit every few minutes by a gorgeous repertoire of spirituals, sensuously arranged by Jason Michael Webb. It feels wholly natural: The ideas and reference world in which we are most embedded, will understandably come to mind in connection with the normal events of everyday life. Not surprisingly, many of these lyrics bring us back to the theme of blood, both the blood of death and the blood of salvation.
The spirituals serve another purpose as well, as they become the subject of spirited debate among the students. Are they literal messages directed at helping fleeing slaves to "wade in the water" or "follow the drinking gourd," bearing a limited historical and mythical content? Or is there a larger motive, which has survived to the present day, of inspiring faith, building strength, courage and hope for survival and deliverance? And does that mean deliverance for all, or only for the "chosen" who are (fill in the blanks: educated, white, heterosexual, born-again, wealthy, urban, American, etc.)?
As deliciously, pointedly directed by Trip Cullman, "Choir Boy" is very hard to imagine performed by anyone other than this energetic, word-perfect cast of seven: five students, the young actors Nicholas L. Ashe as Junior Davis, Grantham Coleman as Anthony Justin "AJ" James, Caleb Eberhardt as David Heard, Donovan Mitchell as Bobby Marrow, and Jeremy Pope as Pharus Jonathan Young; and Michael A. Shepperd as Headmaster Marrow, and Leonard Kelly-Young as Mr. Pendleton, the only white performer on stage. (Ashe, Coleman, Eberhardt, and Pope have appeared in previous productions of the play.) The challenges to any future cast are enormous: Any production of this play is necessarily going to be a community event of broad import.
The "Choir Boy" play focuses on the gay student Pharus Young. What he is up against – not just slurs and insults, but neglect, silence, and isolation – should not be any young person's lot. Is he himself a kind of Jesus figure convicted by his (limp) wrists? His unusual, and homophonic, name suggests the word "pharos," meaning a lighthouse or beacon, as in the light of the world. Can his suffering, indeed, can the martyrdom of any young gay kids because of who they are, call us to redemption? Obviously, this metaphor can be expanded universally.
There are organizations addressing the epidemic of bullying that is all too pervasive in our schools and communities, such as the Gay, Lesbian & Straight Education Network (GLSEN); Parents and Friends of Lesbians and Gays (PFLAG), and the numerous Gay-Straight Alliances that have sprung up in high schools around the country, affording kids the space to explore their own feelings and to support all kids of whatever orientation.
The audience leaves not only in the ecstatic joy of witnessing a crack ensemble performance of young actors making theater history, but also in the catharsis of seeing hope emerge, change happen, people growing, a community fitfully and faithfully keeping their eyes on the prize. The final spiritual is "I've Got a Rainbow Wrapped Around My Shoulder." It does get better.
"Choir Boy" is performed Tuesday – Friday at 8:00 pm, Saturday at 3:00 and 8:00 pm, and Sunday at 2:00 and 7:00 pm. Closing night is October 26. The Geffen Playhouse is located at 10886 Le Conte Avenue, Los Angeles CA 90024. Tickets are available in-person at the box office, via phone at 310.208.5454 or online at www.geffenplayhouse.com.