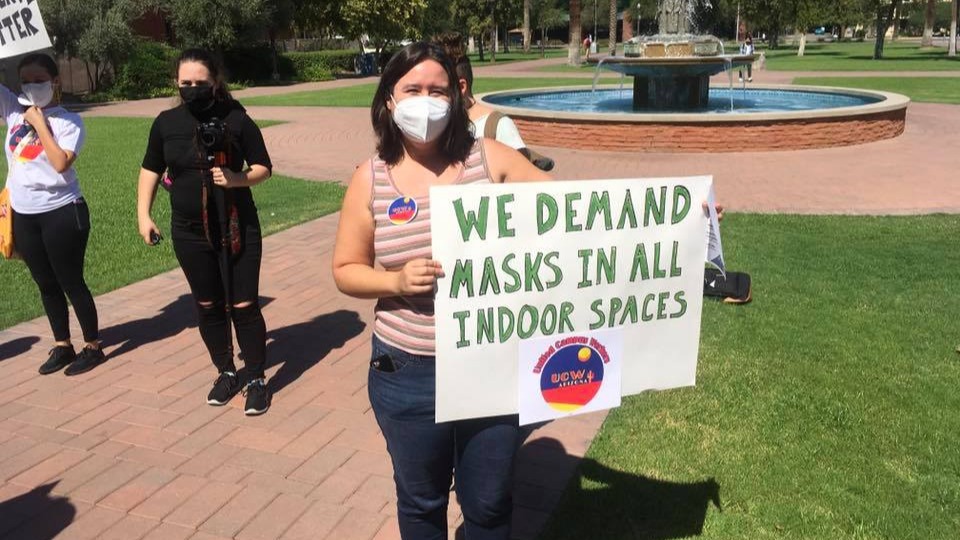 TUCSON—Arizonans have not only been fighting a deadly virus for nearly two years, but they have also had to battle against a governor and legislature that take the side of the deadly virus itself. One fightback is taking place on the campuses of the University of Arizona (UA) in Tucson and Arizona State University (ASU) in Phoenix, where organizers from the United Campus Workers (UCW) held a "Funerals for Health and Safety" to protest the state and universities' anti-people policies. (Read the People's World report from Phoenix here.)
University students, teachers, and staff have had quite the bad experience since the onset of the COVID-19 pandemic. Some have been sickened, some have died, and all have had their studies, jobs, families, and social lives disrupted. Now they are being threatened with state laws to abolish mask mandates and vaccination requirements. The laws were ruled unconstitutional by a lower court last week, but the state is appealing the decision to the right-wing Arizona Supreme Court.
The union organizing drives at the two campuses grew out of the uncaring and inept response to the epidemic by the administrations of the universities and the state. Faculty and staff came together to protest bad policy and the refusal of the administrators to consult with campus workers and students in the face of real danger.
An estimated 100 people participated at the Sept. 20 "Funeral" rally at the University of Arizona in Tucson, including campus workers, students, and community supporters. After a moment of silence to remember people lost to coronavirus, Sandy Soto, a professor and UCW leader, stressed that "the union is not going away," and that it is a fight to empower all campus workers, professors, and grad students. Soto also stressed that this included front line staff, like cafeteria workers and janitors, who deserve hazard pay.
Miranda Shubert, another UCW leader and staff worker, read the union's demands. They include a mask mandate, a vaccination requirement (with appropriate exceptions), an allowance for all employees and students to be vaccinated and tested during work hours at campus locations, flexible and alternative forms of learning, teaching, and other work, and hazard pay for essential workers.
Statements of solidarity were given from Tucson Jobs with Justice leader Steve Valencia, Arizona State Rep. Pamela Powers Hannley, and other campus, labor, and community representatives.
ASU, the country's largest campus, held their "funeral" earlier in the day.
The campaign to organize workers at these two universities, which grew out of Arizona's continuous attacks on working people, public education, and rational science, should serve as a lesson to all. We must stand up with our co-workers and communities to organize against a system that puts corporate profits before people—even within educational institutions.