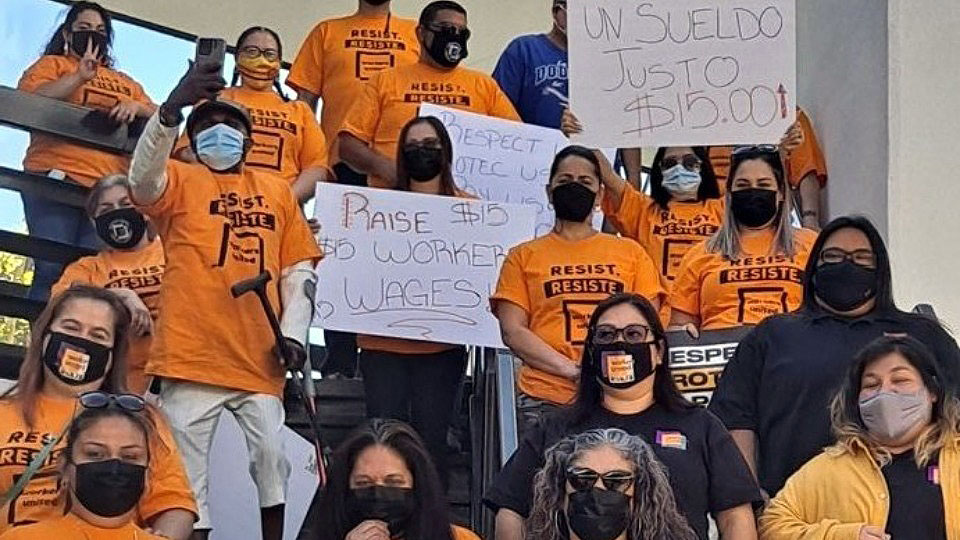 TUCSON—Defeating a well-financed campaign by big employers, Tucson voters last week overwhelmingly decided to enact a $15-an-hour minimum wage for the city. The current Arizona state minimum wage is $12.15 an hour.
The corporate-owned media has been trying to portray the Nov. 2, 2021, elections as a big victory for Republican politics, but they are doing so with scant evidence. They are ignoring places like Tucson, where the Republican Party is even afraid to run candidates.
The so-called "Blue Wave" that progressives had hoped would sweep the country in November 2020 when Trump was ousted, did not materialize nationwide, but it did happen here in Tucson. The Republicans took such a beating in Pima County last year that the local business interests tried a different strategy for the elections this time in Tucson, the county's largest city.
Instead of running candidates as Republicans, the Chamber of Commerce had a stealth campaign with one candidate running in the Democratic primary in Ward 3 and another running as an independent in Ward 6. Voters were not fooled.
Three Democrats won, including moderate incumbents Steve Kozachik and Richard Fimbres. Longtime progressive environmental activist Kevin Dahl was elected to the open Ward 3 seat, defeating independent Lucy Libosha and a far-right Republican who managed to get on the ballot without his party's support. Another three city council members and the mayor will be elected in 2023. All six council members and the current mayor are Democratic. A proposition to raise the salaries of city council members failed by an extremely narrow margin.
The Fight for $15 Act, meanwhile, will not only raise the minimum wage to $15-an-hour by 2025 but also create a city office for enforcement to offer protections against wage theft, shaving off time from workers' shifts, and other tricks used to exploit the poorest working people. Tipped workers' wages will increase from $9.15 to $12-an-hour, and all raises will continue to be adjusted for cost of living increases.
Organizers say that over 85,000 Tucsonans will benefit from the wage increase, which will be a boost for Tucson's economy. The enforcement policy will also add money to the local economy by recovering millions in unpaid wages to low-paid workers. This money will be locally spent and increase tax collection. Higher wages will also increase contributions to Social Security and Medicare funds. Tucson's labor movement was in the thick of the campaign, especially in the Fight for $15, with funding and volunteers.
The stage is now set for the 2022 midterm elections with redistricting and a large number of state legislators retiring or running for higher offices.