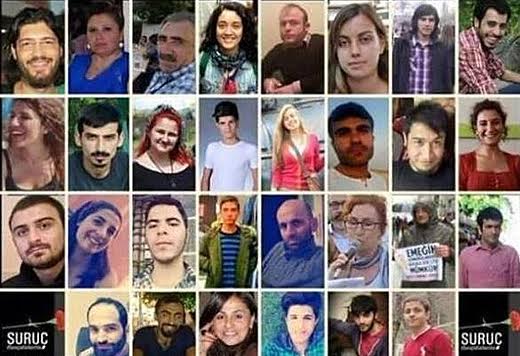 A terrorist bomb attack in southern Turkey killed at least 30 members of a socialist youth organization July 20.
The attack in the southern city of Suruç targeted a gathering of 300 Socialist Youth Associations Federation (SGDF) members from Istanbul.
SGDF is a youth branch of the Socialist Party of the Oppressed (ESP), which is a Marxist-Leninist political party that defines itself as "a militant revolutionary socialist party fighting for a workers'-laborers' federative republic in Turkey and Northern Kurdistan." SGDF's organizational structure mainly consists of university and high school students.
The SGDF was holding a press conference in the garden of the Amara Cultural Centre, before leaving for the nearby city of Kobanî in northern Syria to help with reconstruction there, when the bomb detonated. The district of Suruç is located on the Syrian-Turkish border approximately 10 kilometers (6.2 miles) from the Syrian town of Kobanî.
The Party of Democratic Regions (a Kurdish political party in the Republic of Turkey) Urfa co-chairman Ismail Kaplan said that the explosion had been caused by a suicide bomber.
The garden was turned into a bloodbath with young people's bodies scattered around, some torn to pieces. Suruç's hospital appealed for blood donations in the wake of the atrocity.
Fatma Edeman said: "One of my friends protected me. First, I thought: 'I am dying,' but I was OK. I started to run after I saw the bodies." Ms. Edeman said that she and her comrades had expected Kobanî to be relatively safe. "Our friends went there and it didn't seem dangerous at that time. We couldn't even think something like that would happen," she said.
In Kobanî, the Kurdish People's Protection Units (the armed wing of the Democratic Union Party in the Kurdish region of Syria) stopped a car bomb attack on a checkpoint near a school.
The Islamic State group was suspected of carrying out both attacks.
Turkish President Recep Tayyip Erdogan said: "I personally and on behalf of my nation condemn and curse those who perpetrated this savagery."
The World Federation of Democratic Youth at its headquarters in Budapest condemned the murderous attack stating, "the attack is considered as a fascist action, and WFDY remarks that fascism in the region is the result of the imperialists plans and interventions in the Middle East.
"WFDY express its solidarity to the families of the dead and injured people in Suruç, and calls the anti-imperialist youth to follow the path of the organized massive struggle against imperialism and its plans, and also to resist and fight against any reactionary fascist power which is aiming to break the unity of the peoples, which is aiming to brake the unity of the anti-imperialist youth movement."
Morning Star, WFDY and Barbara Russum contributed to this article.
Photo: Faces of the victims, Ezilenlerin Sosyalist Partisi, Facebook.