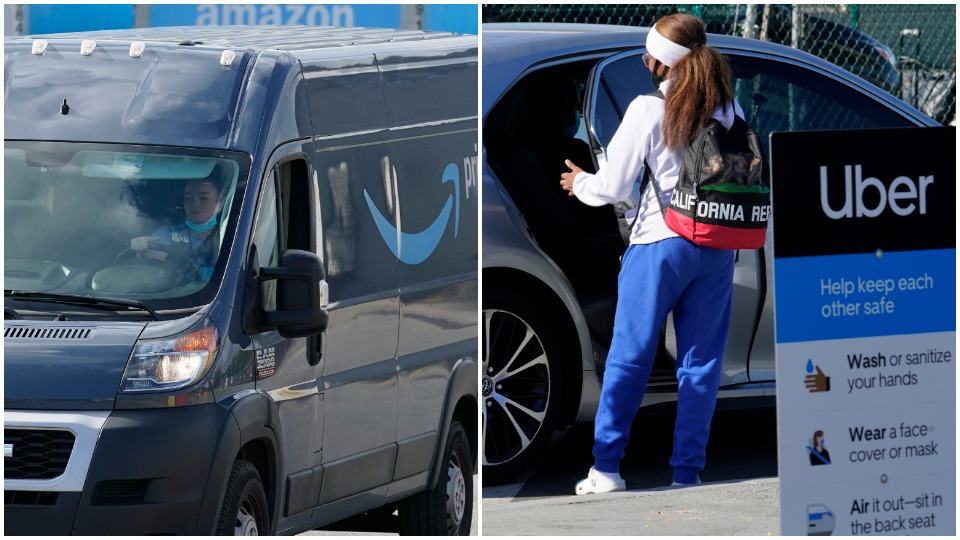 SACRAMENTO, Calif.—California officials aren't pulling punches when it comes to going after big corporate capitalists who harm workers, even though it's the holiday season. The state's latest moves: Taking on Amazon for not providing coronavirus pandemic data, and fining notorious "gig economy" employer Uber $59 million for not dealing with sexual assault and sexual harassment on the job.
The firms' actions, slammed by Attorney General Xavier Becerra and a three-judge Public Utilities Commission panel, don't surprise the California Labor Federation, Communications Director Steve Smith e-mailed. He also said the state fed would work with both the AG's office and the PUC on the issues.
"Big Tech has a history of flat-out ignoring laws that are in place to protect the health and safety of workers and consumers. With these recent actions, Attorney General (Xavier) Becerra and California's regulatory agencies are making clear that no corporation, no matter how wealthy or powerful, is above the law," Smith explained.
"The labor movement is committed to working with the State of California to hold these companies accountable and ensure workers and consumers have the safety protections they deserve in law."
Both cases are notable.
Amazon, owned by the wealthiest person in the U.S., Jeff Bezos, is the bigger target. Becerra, whom Democratic President-Elect Joe Biden has nominated to run the federal Department of Health and Human Services, has gotten fed up with the big freight firm's stonewalling of requests for data about how many workers in its Californian warehouses have sickened and died from the virus.
Uber is the embodiment of the so-called "gig economy," whose workers are "independent contractors" lacking labor rights. They often earn poverty wages. They're often protected only when state regulators—in Uber's case, a three-judge panel from the state Public Utilities Commission—steps in.
The judges fined Uber $59.085 million and recommended yanking its state operating licenses unless Uber either paid up or appealed the Dec. 14 order within 30 days.
In a 13-page filing, Becerra told the Sacramento County Superior Court that as long as Amazon keeps its coronavirus data secret, an infected worker at its warehouses could endanger other workers, the workers' families, and surrounding communities by being an unknowing superspreader of the virus, officially called Covid-19. Amazon's attitude could only make things worse, by hampering enforcement that would help prevent the virus's spread.
As a matter of fact, Becerra said he had to learn from press reports three coronavirus-infected Amazon warehouse workers, in Irvine, Tracy and Hawthorne, died just in April and May alone, even though he sought specifics on deaths and illnesses before those fatalities.
Becerra narrowed his request to cover only seven Amazon facilities, but the firm still didn't obey. It only sent documents about its anti-viral measures, without saying whether they've been implemented.
And Becerra's demand to Amazon is even more urgent now that CalOSHA adopted its own emergency standard ordering all firms to implement anti-virus worker protection plans. Few other states have done so, and the GOP Trump regime's OSHA in Washington has flatly refused, even when the national AFL-CIO unsuccessfully sued to force it to do so.
Virus cases are surging again in the Golden State, forcing Democratic Gov. Gavin Newsom into another lockdown to try to stop the plague.
As of 5 pm on Dec. 16, some 1.645 million Californians had tested positive for the virus since the pandemic's official start on March 13, and 21,420 had died. Californians accounted for one of every 10 positive tests in the U.S. Its deaths were third among 50 states plus D.C.
If Amazon is stiffing the state on the coronavirus, Uber's done the same thing on sexual harassment and assault. So in a 92-page ruling, Chief Administrative Law Judge Roger Mason and two colleagues blew the whistle with the big fine and the threat to yank Uber's operating licenses, in a case where, a year ago, the PUC first ordered Uber to obey.
Uber said California accounted for 21% of the company-wide 5,981 sexual harassment and assault reports it revealed in a report covering 2017-18. It refused to reveal anything else, claiming, among other reasons, that sending data to would violate privacy laws.
Mason dismissed all of Uber's arguments. In its second order, on Jan. 27, the PUC told Uber it could file data "under seal" to protect drivers and witnesses. Uber still didn't obey.
Firms "are expected to diligently monitor their activities. Deliberate, as opposed to inadvertent wrongdoing, will be considered an aggravating factor," the PUC said. "The level and extent of management's involvement in, or tolerance of, the offense will be considered in determining the amount of any penalty." Companies also must "promptly" report sexual harassments and assaults. Uber didn't.
"Uber had the ability all along to comply with the Dec. 19, 2019, and Jan. 27, 2020 [PUC] rulings yet refused to do so by interposing a series of factually and legally unsupported arguments and objections," it said.
And, the PUC said, any fine must be big enough, in layman's language, to get the firm's attention. That's why the PUC chose the $59.085 million figure, fining Uber $75,000 per incident for every day it didn't pay. Uber, the PUC noted, had total nationwide revenues of $19.2 billion in 2017-18, though it also lost $4.5 billion in that time.