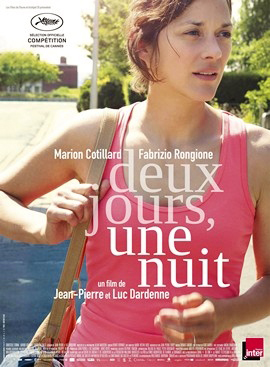 This award winning film, a Belgian production with French and Italian co-producers, centers on Sandra (Marion Cotillard) who works at a small solar panel factory and has recently been fired due to a serious episode of depression.
The film gets its title from Sandra's quest to get her job back. This requires reversing a vote taken by her 16 co-workers — encouraged by the boss and their foreman – to continue working with one less worker and each receive a 1,000 euro bonus.
After Sandra and her co-worker Maxime (Simon Caudry) convince their boss to have another vote because of the pressure and the carrot advanced by him and his foreman he agrees. But the new vote must take place the following Monday morning.
She must convince 9 of her 16 co-workers to give up their bonus and vote for her to keep her job.
While Sandra goes door to door encouraged by her husband Manu (Fabrizio Rongione) who tries to help Sandra overcome her depression, each visit to her co-workers gives great insight of the hard times experienced in the city of Seraing, Belgium.
This is a film about the working class that exposes the harsh reality of capitalism at work.
Sandra's mood swings with each encounter of her co-workers as each express their dilemmas living in a time of great austerity. The subtle work of the camera as it follows Sandra from one visit to another captures the depth of her own anxiety and insecurity trying to keep her marriage and family together.
Without giving away too much, I think this is a film worth seeing.
Two Days, One Night won many awards, including the Sydney Film Prize at Sydney Film Festival "For its masterfully elegant storytelling, its dedication to a fiercely humanistic, super-realist worldview, its brave, essential commitment to community solidarity, and its celebration of a woman's power and vitality," said Jury President Rachel Perkins.
Emma Dibdin of Digital Spy gave the film 4 stars, calling Cotillard "fascinating to watch" and said that "The physical sluggishness and emotional numbing of depression have seldom been better portrayed on screen, and yet Two Days, One Night still emerges as a psychologically delving and quietly uplifting modern-day morality play."
While doing some research on the once heavy steel producing city of Seraing, the name Julien Lahaut came up. Lahaut, a Communist, led a strike of 100,000 workers while under Nazi occupation during WWII.
Two Days, One Night
Writers and Directors Jean-Pierre Dardenne and Luc Dardenne
Staring Marion Cotillard and Fabrizio Rongione
95 minutes, PG-13
Photo: This is a poster for Two Days, One Night. Fair use.
See also Ed Rampell's review