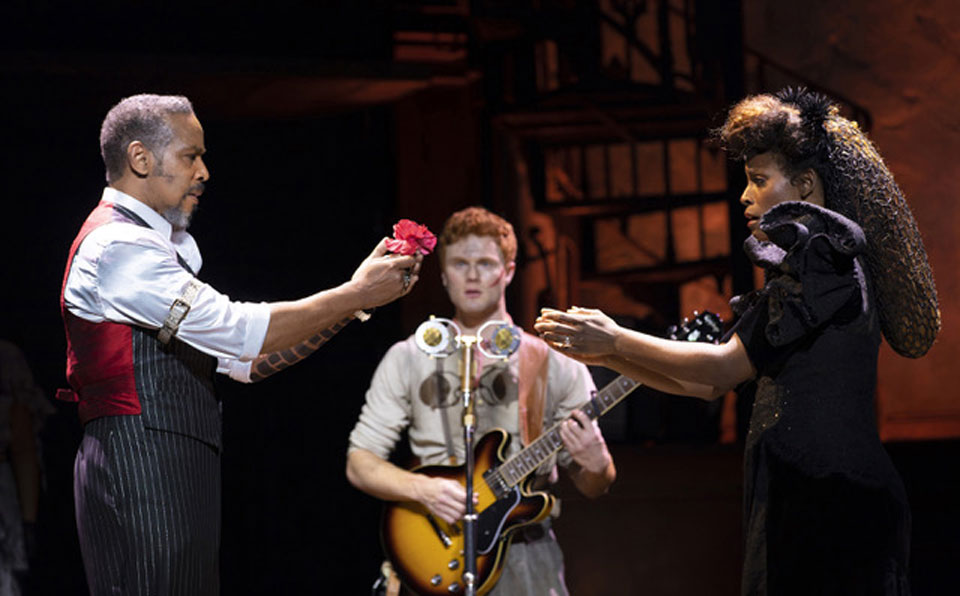 LOS ANGELES — Winner of eight 2019 Tony Awards, including Best Musical and the 2020 Grammy Award for Best Musical Theater Album Music, with lyrics and book by Anaïs Mitchell, developed with and directed by Rachel Chavkin, Hadestown opened here on April 27. In addition, it took home four Drama Desk Awards, six Outer Critics Circle Awards, including Outstanding New Broadway Musical, and the Drama League Award for Outstanding Production of a Musical. It was the most honored show of the 2018-19 Broadway season.
But awards alone are not why ardent theatre lovers should be flocking in the weeks ahead to downtown L.A.'s Ahmanson Theatre. It is simply one of the most powerful and timely musical and dramatic experiences you're likely to encounter for quite some time. The fact that this exquisitely rendered feat of musical storytelling is the work of two women it itself noteworthy. It runs through May 29.
Hadestown originated as Mitchell's indie theater project that toured Vermont, which she then turned into an acclaimed album. With Chavkin, her artistic collaborator, it evolved into a big, genre-defying new musical that blends modern American folk and ballad music with New Orleans-inspired jazz as it reimagines two ancient Greek myths into a tightly integrated concept. It's as fresh a version of the ancient story as the Brazilian film Black Orpheus was in its day.
Many readers will be familiar with these two stories. Orpheus (the high tenor Nicholas Barasch), a penniless poet and musician, deeply loves Eurydice (Morgan Siobhan Green), but she is soon taken from him by death. Only by songfully pleading with the gods for her release back to Earth from the Underworld (Hades) does he gain the privilege of visiting her there just as she is about to descend into the zone of permanent oblivion. He wins the promise that Eurydice can return to Earth with him, but on condition that on the long march back he is not to look back at her, but must always maintain faith that she is following. As every student of mythology knows, he does fatefully look behind him, and his bride must return to the Underworld. Yet by way of consolation, he becomes a timeless muse for the arts, for out of his sorrow and loss he creates a lifetime stream of beautiful music to honor love and lovers. (It's why so many theaters are named Orpheum—and who knows, maybe it's the origin of the expression "to Hell and back.")
In the second story, Persephone (Kimberly Marable) is the goddess of Spring, who each year returns to restore light, warmth, new growth, sustenance, faith and hope. During the dark, cold months, she returns underground to her "unity of opposites" mate, King Hades, Lord of the Underworld (Kevyn Morrow). Together, their love made the world go around, yet perhaps their love has arrived at a tipping point: Will her eternally recurrent Spring suffice to combat the ruinous degradation caused by her husband? While she (a stand-in for environmentally conscious socialism?) provides enough bounty for all, he keeps the poor hungry, and eager, for the gift of regular meals, to sign away their souls to his "dark, Satanic mills." He keeps his minions busy night and day at mining precious ores and metals, coal and oil, and putting up spanking new electrical grids over the face of the planet, like the mindless automatons they have become. He also assigns them the project of building walls to protect their "freedom" from "the enemy" "who want what we've got"—this is clearly the protest musical of the Trump time in America. Hades has his chorus of workers recite these mantras like a holy patriotic catechism.
This Brechtian version of Hadestown captures the essence of fetishistic monopoly capitalism, amassing wealth like the comic book Uncle Scrooge beyond any rational purpose other than to protect it from any who might wrest it away. The "enemy," in the end, is not on the outside, but is the proletariat itself—the global working class if it can be said that, after all, it's not just American workers who go to Hadestown. The Fates sing, "You can have your principle when you have your belly full," which has to be Mitchell's adaptation of "First feed the face and then talk right and wrong" from The Threepenny Opera. In the musical, as Eurydice steps out on her long journey following Orpheus out of Hades, she is herself joined by an army of what are identified in the cast as the Workers Chorus, who resemble nothing so much as Eugene O'Neill's cast of maritime toilers in The Hairy Ape.
Apparently there are enough people in the professional theater world to recognize the truths exposed in Hadestown to festoon the show with multiple plaudits and awards—and there are audiences who keep buying tickets and filling seats to see it. Art in the oligarchic era of Amazon, Tesla and Uber continues its critical role. As Orpheus says, toasting the arrival of Persephone with wine, "To the world we dream about, and the one we live in now." And later, in a soapbox oratory to the workers, like something out of the Wobblies' Little Red Songbook, "I believe in us together; with each other we are stronger than we know."
Hadestown opened at Broadway's Walter Kerr Theatre on April 17, 2019, where it played sold-out houses nightly before performances were suspended due to COVID. It resumed performances September 2, 2021, as one of the first musicals to reopen on Broadway. And now there is the North American touring production.
As our guide and narrator we have the slinky Hermes (Levi Kreis), who introduces all the characters as though he were hosting a cabaret staging at his club. At the end he summarizes by saying it's a sad song that we sing of Orpheus, but we sing it anyway. Who knows? Maybe one day it will turn out differently. The three Fates, one of them playing an accordion and another a violin, are played by Belén Moyano, Bex Odorisio and Shea Renne. The Workers Chorus features Lindsey Hailes, Chibueze Ihuoma, Will Mann, Sydney Parra and Jamari Johnson Williams.
The two interwoven love stories are set in what appears to be a French Quarter bar with high windows, slatted shutters, and ironwork stairways (the stage design is by Rachel Hauck). The arrival of Spring is celebrated here, and the mise en scène handily converts to the underground Hadestown workhouse.
The seven-piece orchestra, not counting additional percussive effects by the actors and the two Fates with instruments, are divided on risers at both right and left, and is strong in the strings, with guitar, violin, cello and double bass, perhaps meant to remind us of Orpheus's lyre, the instrument he is traditionally associated with, and which also figures architecturally into many theatre and concert hall designs. The score is cutting-edge for Broadway with much that is familiar in formal terms, especially numbers involving dance, yet also featuring extended vocal solos, duets, trios and ensembles that are so artful and seductive they could almost be called operatic. It could be considered a kind of "Broadway opera" in the sense that many Stephen Sondheim works are, or older works by Bernstein, Weill, Blitzstein, Loesser and others, as well as newer works such as Hamilton and Light in the Piazza. I would be remiss if I failed to remark on the gorgeous three-part harmony for the Fates, a mix of Andrews Sisters, Pointer Sisters, the Three Ladies of Mozart's Magic Flute, and the hypnotizing trio of female voices (Sophie, Octavian and the Marschallin) in Strauss's Der Rosenkavalier.
Everything about the production is enchanting, a brilliant contemplation of eternal themes such as nature vs. industry, plenty vs. scarcity, faith and doubt, love and fear, all creatively staged with costumes by Michael Krass, sound design by Kevin Steinberg and Jessica Paz. Bradley King's lighting design is overwhelmingly effective, except, I'm sorry to say, for several too many times when bright spotlights are annoyingly directed right into our eyes. The sensuous choreography, as well as a riveting fight scene, are by David Neumann. The audience in the 2100-seat Ahmanson rose as one in a standing ovation at the final curtain.
Tickets are available through CenterTheatreGroup.org, by calling (213) 972-4400, or in person at the Center Theatre Group Box Office at the Ahmanson Theatre at The Music Center, 135 N. Grand Ave., Los Angeles 90012. Performances run through May 29, Tues.-Fri. at 8 p.m., Sat. at 2 and 8 p.m., Sun. at 1 and 6:30 p.m. (with some exceptions noted on the CTG website).
Hadestown returns to Southern California when it plays the Segerstrom Center for the Arts, 600 Town Center Dr. in Cosa Mesa, Orange County, Aug. 9-21. Information at SCFTA.org.
The promotional trailer for Hadestown can be viewed here.