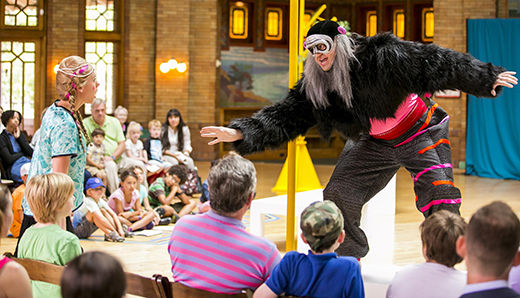 CHICAGO – It is well known that science fiction can serve as a radical warning of things to come if society progresses on its present course, and as a mirror held up to our own civilization today.
Perhaps there ought to be more in this genre directed toward a children's audience, to pique their imaginations and steer them onto the road of reordering the planet, which desperately needs it.
Matthew Aucoin (oh-KOYN), 25, has written the music and words to a new opera just under an hour in length. Titled "Second Nature" and set in the year 2120, it had an attractive, professional world premiere in the beautiful early 20th-century conservatory-like second-floor open space above the Café Brauer at Chicago's Lincoln Park Zoo in two performances on August 19 and 20. We caught the second evening. Although written for young people's ears, the work is interesting and accessible to everyone. Happily there are several future performances scheduled.
Only 105 years from now, climate change has made most places on Earth unlivable. The few surviving humans have built a shelter they call the Habitat to protect them from the outside world. Everything inside their little bubble is a virtual or synthetic copy of what was once found in nature. The place they live in happens to be the remains of an old zoo – thus the appropriateness of the world premiere venue, although this coincidence should not be an impediment to later productions of the work.
Many years before, escaping the ravages of a despoiled world, the strong-willed Elder Constance (Leah Dexter) led Elizabeth (Julie Miller) and her son Jake (in this performance acted by James Onstad but sung from the pit by Brett Potts), and David (David Govertsen) and his daughter Lydia (Sylvia Szadovszki), to this isolated preserve, which they are forbidden ever to leave.
Enter the bonobo (also sung by David Govertsen), known among animal researchers as the friendliest, most cooperative and least belligerent member of the ape family. He becomes acquainted with the two children, Lydia, 12, and Jake, 10, and relates how the world once was. He even offers them a piece of unimaginably delicious fresh fruit from a tree that still grows outside the Habitat, and they start wondering what else might be out there.
The parents Elizabeth and David defy Elder Constance and let their kids go free, and Lydia and Jake start exploring their own "second nature."
As in the original Garden of Eden story, which surely everyone will have thought of already, it takes disobedience to become fully human, with the power to act morally, make decisions, love, labor, and yes, err as humans. What progress in the world has ever taken place without someone thinking, "There has to be a better way?"
Aucoin's opera has any number of additional historical and artistic references and resonances. At times it felt like a medieval morality play, or a fairy tale with maidens imprisoned in locked towers, and like a coming of age story for the survivalist epoch. Hansel and Gretel come to mind, as well as Brecht's teaching play "The Measures Taken" or Aaron Copland's school opera "The Second Hurricane." The composer is still quite young, but he has been absorbing all these influences since he was the age of these characters; he heard his own music performed by a local orchestra at the age of nine.
The principal drawback of the Café Brauer space was acoustic. The singers' voices rose like a sound cloud up to the high glass ceiling and failed to project out to the audience. There was no amplification, nor was the libretto provided. So truthfully much was lost; charitably one could say that even language itself had become victim of global destruction!
The colorful set was built by Means of Production; costumes by Uber Costume (Elder Constance's Disney witch-evoking gown was brilliant); and the fanciful wigs by Penny Lane Studios. It was all very eye-catching.
"Second Nature" is a project of Lyric Unlimited, Lyric Opera of Chicago's department dedicated to education, community engagement, and new artistic initiatives. Any major opera company has to be considering who will be the audiences of the future for its work.
Aucoin's scoring for piano, violin and clarinet was clear and efficient, in a modern esthetic that children will either find uncomfortable – if they've been listening to too many popular songs – or perhaps find entirely suitable for the story, without prejudgment. I hope the latter, and I'd like to believe it too, on the theory that young ears are not so preconditioned to "know" what opera is supposed to sound like. Some of the dialogue is on the "talky" side, but as the music unfolds we hear a well constructed trio and a final quintet of remarkable grace.
Another "Second Nature" performance is open to the public on Sat., Oct. 17, at 2 pm at Francis W. Parker School, 330 W. Webster, Chicago (entrance on Clark St.). Tickets may be reserved for that performance at www.lyricopera.org. Acoustics in standard auditorium spaces will no doubt be better.
"Second Nature" will also tour Chicago-area schools this fall with Lyric Unlimited's Opera In the Neighborhoods program.
The printed program for the opera is itself memorable and collectible, not only a cast list but a virtual little encyclopedia about opera and animal preservation, complete with games and study guides.
May "Second Nature" find a second production in another community soon. It's a remarkable work.
Sylvia Szadovszki as Lydia and David Govertsen as Bonobo.
Photo: Todd Rosenberg