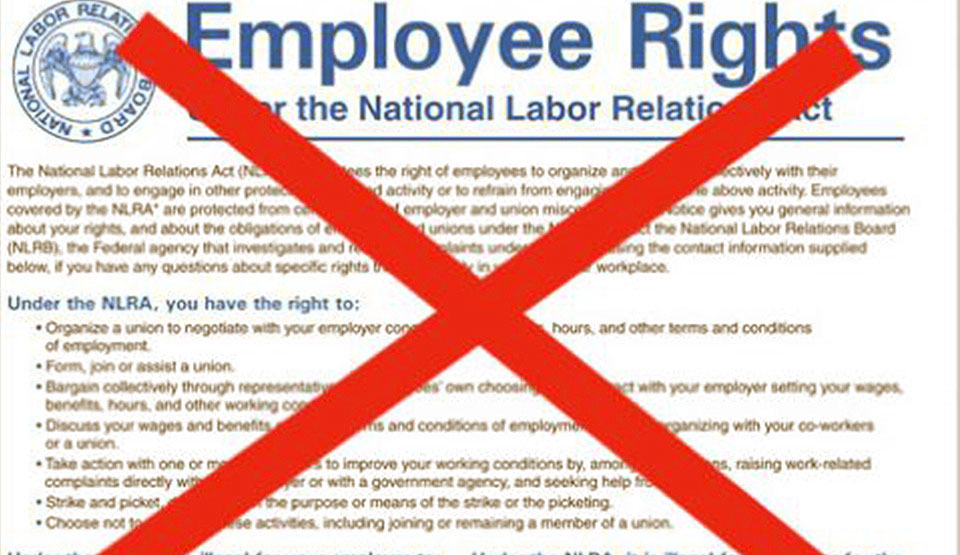 WASHINGTON—The U.S. Constitution's Bill of Rights includes these words opening the Fourth Amendment: "The right of the people to be secure in their persons, houses, papers, and effects, against unreasonable searches and seizures, shall not be violated."
Somebody tell the three-white-man, all-Trump-named right-wing Republicans who are now the entire National Labor Relations Board.
Recently, the three ruled, unanimously, of course, that bosses could search your car in the company parking lot, including the trunk, or your toolbox, or your locker, or anywhere else for unauthorized–i.e. union–materials. The only restriction: Tell workers in the company handbook.
Then there's the little problem organizers have after they file union recognition election cards with the NLRB. They're supposed to get a list, from the company, of workers' names and addresses so they can contact people off the job.
After all, they can't go in the plant to organize. They'd get arrested, as Rep. Andy Levin, D-Mich., a former AFL-CIO Deputy Organizing Director, pointed out at a hearing last year.
So unions and organizers get the Excelsior list from the company. In 2014, the NLRB majority, named by Democratic President Barack Obama, added home phones, cell phones, and e-mail addresses to the list.
Now the NLRB wants to dump the phones and e-mails altogether—and make that change permanent. It proposed a rule, which would have the force of law, on July 29 and gave everyone two months to comment on it. Even a management-side labor lawyer, Clifford Geiger, admitted in a recent blog that "this one may be headed for court."
The two recent rulings are part of a continuing pattern by the Trump-named NLRB members, led by chairman John Ring, who made a name for himself as a right-wing GOP congressional aide drafting mean and nasty anti-worker legislation.
The difference between the Trump NLRB and prior boards is that rather than just reverse pro-worker rulings case by case, they frequently go further, promulgate their anti-worker edicts as proposed federal rules, take comments, shrug them off and set them in stone. It's often tougher to toss a federal rule than it is to repeal a federal law.
But the violation of the Fourth Amendment is more wide-ranging, and it caught the eye of, among others, the Electrical Workers (IBEW). Had it been in effect just months before, a big and successful organizing drive by Local 538 at Full-Fill Industries in Danville, Ill., would have been in danger. The case Ring and his colleagues used pitted Verizon Wireless against the Communications Workers, and the CWA lost that May 24 decision.

"Verizon Wireless gives an employer the right to search its employees' personal workspace, locker, or even an employee's own vehicle. In the decision, the board reversed a previous administrative law judge's ruling" and "determined a 'reasonable employee' would not refrain from engaging in protected activity–like union organizing–if that activity could be discovered through a search of their personal property."
"In other words, the NLRB believes there would be no deterrent effect. The board further concluded that companies can do this because they have a business interest in protecting assets and ensuring a safe workplace," IBEW said.
That's ridiculous, said IBEW President Lonnie Stephenson.
"This decision will absolutely have a chilling effect on lawful union organizing, not to mention a person's sense of privacy while at work," Stephenson said on August 3.
"We don't check all our rights at the door when we clock in." And what makes it worse is that the board upheld part of the administrative law judge's ruling that lets bosses check workers' computers and e-mail for "legitimate management reasons," whatever that means.
The board claimed, however, "The 'reasonable employee' does not view every employer policy through the prism of the National Labor Relations Act."
"Consistent with this principle, we reject the (administrative law) judge's unsupported speculation that employees would refrain from engaging in" organizing and other pro-union protected "activity merely because evidence of such activity might be detected if their personal property or personal vehicle were searched."
"To the contrary, a reasonable employee would understand the purpose of the (Verizon handbook) rule is, as it states, 'to protect company assets, provide excellent service, ensure a safe workplace, and to investigate improper use or access."
Besides, the board opined, its decision "merely reserves the right to" employers to "search employees' personal property or vehicles. Nothing suggests such searches will take place, let alone they will occur routinely or frequently. We do not believe the remote prospect that a search might someday occur would have any material impact on the exercise of" workers' rights, Ring and his NLRB colleagues declared.
Local 538's top organizer at Full-Fill, Joe DiMichele, agreed with Stephenson. Without that threat, the local won the vote at Full-Fill.
"Employers always use fear and intimidation tactics to discourage employees from organizing," DiMichele said. "This new decision completely takes away an employee's right to organize and contradicts the purpose of the NLRB, which is to protect employees' rights."
"If we would have had the current decision, the employees would not have felt safe and protected in their right to organize. It essentially allows the employer to harass its employees."