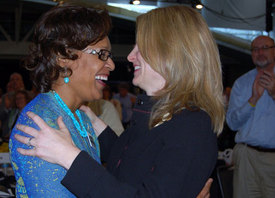 PITTSBURGH — In a session packed with emotion, delegates to the 26th AFL-CIO Convention yesterday elected a historic leadership team.
Two women, Secretary-Treasurer Liz Shuler and Executive Vice President Arlene Holt Baker join the new president, Richard Trumka, as the federation's top three leaders.
Shuler, 39, is the youngest person ever to become an officer of the AFL-CIO.
All three were voted in by acclamation.
Trumka previously served as the federation's secretary-treasurer, Shuler served as executive assistant to Electrical Workers President Edwin Hill and Holt Baker was re-elected. Outgoing federation president, John Sweeney, formally nominated Trumka.
Teresa Albano
John Sweeney, right, passes the gavel to new AFL-CIO President Rich Trumka.
Trumka talked about how he was raised in a union family in Pennsylvania's coal country.
"Even though the face of the labor movement is different, one thing today is the same as it was then – the surest way to lift workers and families into the middle class is with the strength that can only come with a union contract.
"That truth hasn't been more critical than it is right now because today the American middle class isn't being squeezed – we are being crushed."
Trumka said that even though it wasn't the labor movement that created the economic disaster it is the labor movement that will lead the nation out of it. People rose to their feet in prolonged, thunderous applause.
Shuler pledged to manage the AFL-CIO's finances responsibly and transparently.
"We need to revitalize and unify labor at every level," she declared. "We need to reach out to unorganized workers – especially those under 35 – who, for whatever reason, don't see us as the answer to the economic problems we face."
Holt Baker said her mission would be passage of the Employee Free Choice Act and reaching out to a new generation of workers, to give them a chance at the American dream.
"We're not just concerned about labor's family. Our fight is really about ensuring life, liberty and the pursuit of happiness for all families," Holt Baker said, adding, "I believe with every fiber in my body that our movement must keep on ensuring that millions of workers in this country have the dignity and respect they deserve. That means good wages, affordable health care and continuous job training. If we don't fight for this, who will?"
In addition to the top three officers convention delegates elected 51 vice presidents who will make up the AFL-CIO Executive Council.