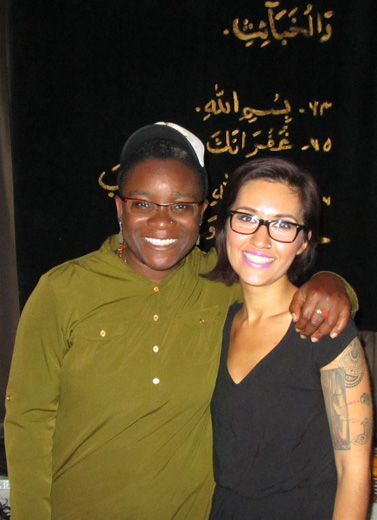 Yes, the double entendre is intentional: Coming out as gay/lesbian, and simultaneously affirming (or adopting) a Muslim identity. Or as two path-breaking performers at the Levantine Cultural Center in Los Angeles put it recently, "Allah made me Muslim; Allah made me queer."
Wazina Zondon is one of the performers, the daughter of an Afghan working-class immigrant family growing up in New York City, who knew she was "different" already as a pre-teen, and able to put a lesbian label on it by her later teen years. She now teaches Sex Ed at a public school in Brooklyn, and is a member of the New York Collective of Radical Educators (NYCoRE).
The other performer is Terna, based in Boston area and pursuing an MA in psychology and mental health. She is of mixed Nigerian-Liberian background, who came to Islam after a Christian upbringing, proud and "out" in the States, but deeply (and necessarily) closeted whenever she visits her family in Africa.
Their traveling performance piece, "Coming Out Muslim," is a collage of coming-out stories, unmet parental expectations, song and chant, dance movement, prayer, revelations, hair and head coverings, and henna. They mean to persuade us of their conviction that "Islam is not a problem-it's the people who interpret it." There's a lot of common ground there with just about every religion.
Sitting at the intersectional crossroads of race, class, gender, sexuality, nationality, colonialism, language, immigration status, and faith, the issues posed in this presentation defy easy, convenient categories. To some for whom this subject matter has heretofore been taboo, the show teems with radical precepts and unimaginable egalitarianism. For an audience of seasoned GLBT activists who told their "coming-out" stories to the world 40 and 50 years ago, it has the nostalgic glow of a first-time experience. If Gay Liberation has come to many Christian and Jewish denominations, now it's the Muslims' turn to speak up and speak out.
The intersectional fulcrum sometimes balances on delicate negotiations with lovers and partners. Culture and religion are often inseparable. In one passage, Wazina addresses her partner's questions about toleration and backwardness in the traditional Afghan community that is Wazina's emotional homeland: "Don't tell me how to handle my family," she cajoles. "I ask you to love them for all that they are and all that they are not, as you love me." Good advice in any relationship!
Terna asks "that you remember all those who are not able to claim all of themselves out loud, for whom it is literally dangerous to do so. For those of us who straddle worlds (identities and cultures dealing with the legacy of colonialism), I ask prayers, blessings and advocacy so that we are able to be home, go home, create home. I ask you to commit to being a person who invites and can hold the wholeness of others."
The Los Angeles production of "Coming Out Muslim" was co-sponsored by two small but important organizations: Muslims for Progressive Values, founded in 2007, which aims to present an alternative view of both politics and Islam, and even has a GLBT committee. They are happy to meet in dialogue with anyone who invites them, for a fresh and different perspective on being Muslim in the contemporary world.
The second co-sponsor was the Levantine Cultural Center itself, founded in 2001 to explore the arts and civilizations of the Middle East and North Africa, from Morocco in the west to Pakistan and Afghanistan in the east. A big part of its job is to combat negative stereotypes of a largely ignored and underrepresented community.
It has a small performance space, a library, café, gallery, and bookstore and gift shop on West Pico Boulevard in Los Angeles. Their schedule is bursting with lectures, exhibitions, panel discussions, readings, theater and dance performances, comedy nights, film showings, and Arabic language classes – in 2013 more than 80 programs – many reflecting the multi-cultural and inter-cultural facets both of that part of the world, and of the city of Los Angeles itself.
If you are interested in bringing "Coming Out Muslim" to your community, contact them at comingoutmuslim.com, or check them out on Facebook. Contact Muslims for Progressive Values at info@mpvusa.org. The Levantine Cultural Center can be found at levantinecenter.org.
Photo: Left, Terna, right, Wazina Zondon, at the Levantine Cultural Center, Los Angeles.