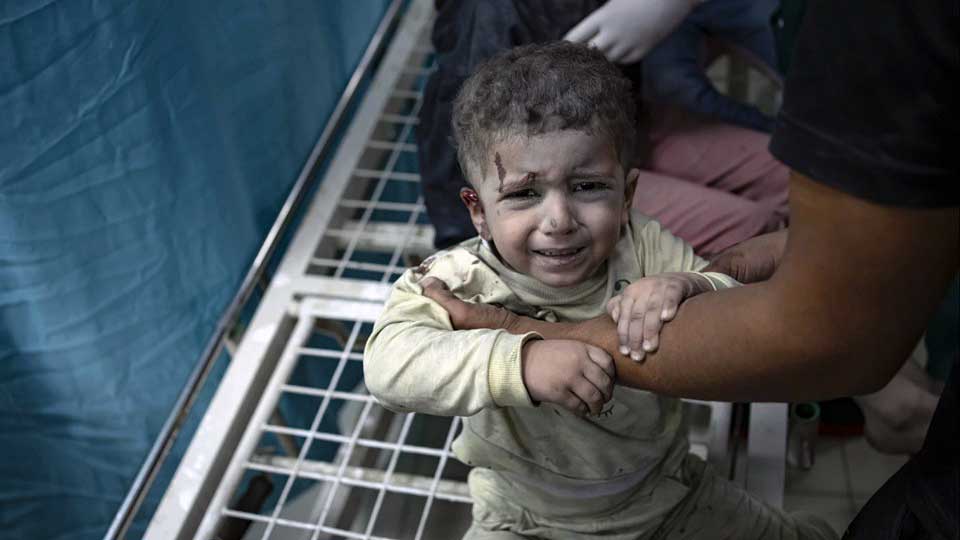 Gaza is "hell on Earth," United Nations official Jens Laerke declared this weekend as Israeli planes and tanks continued their relentless bombardment and invasion of the Palestinian territory. Jens Laerke, spokesperson for the U.N. Office for the Coordination of Humanitarian Affairs, said that Palestinians in northern Gaza were completely cut off from any help.
As of Monday, Israeli tanks have surrounded Gaza City's largest hospital, al-Shifa, with hundreds of patients, including dozens of premature babies, trapped inside. As many as 500 medical staff and 2,500 Palestinians sheltering from Israeli bombs are also reportedly still in the compound.
More than 20,000 people were sheltering at al-Shifa as late as Saturday, but that was before Israeli missile strikes on the obstetrics unit and courtyard sent them fleeing in a desperate attempt to survive.
Gaza Health Ministry under-secretary Munir al-Boursh claimed Monday that those who remain inside are afraid to try another escape, though, because Israeli snipers are firing at any movement inside the hospital.
Israel has accused Hamas of concealing a command post under al-Shifa hospital, allegations denied by Hamas and hospital staff. A British doctor from London currently working in Gaza, Dr. Ghassan Abu-Sittah, told Sky News that Israeli officials need to be reminded "by everybody, press included, that the targeting of any hospital is a war crime, regardless of what outlandish excuses they might provide."
Al-Shifa's only remaining electricity generator used up the last of its fuel on Saturday, killing three premature babies and 29 other patients after life-sustaining medical equipment failed. Dr. Ahmed El Mokhallalati, a surgeon at al-Shifa, told the press Sunday that staff have lined up 37 premature babies on ordinary hospital beds and are using the little power that remains to try to keep them warm.
"We are expecting to lose more of them day by day," he said.
His colleague, Dr. Mohamed Tabash, reached the Reuters news agency via telephone, saying: "Yesterday, I had 39 babies, and today they have become 36. I cannot say how long they can last. I can lose another two babies today, or in an hour."
Tabash said that the infants are too cold and that with no infection control measures to separate them, they are transmitting viruses to one another. With no immune systems and the hospital unable to sterilize their milk, many are becoming sick and face dehydration.
Facing scorching global condemnation, the Israeli military said it placed 300 liters (79 gallons) of fuel at al-Shifa's door but blamed Hamas fighters for preventing medical staff from reaching it. The Gaza Health Ministry disputed that claim and said the fuel would have provided less than an hour of electricity anyway if it really was provided.
Thanks to Israel's total siege of Gaza, no fuel has been allowed in since Oct. 7, and several other health facilities—those not already knocked out by bombing or shelling—have had to shut down.
The al-Quds hospital in Khan Younis was shuttered Sunday because it had completely exhausted its fuel. The Palestinian Red Crescent tried to evacuate the 6,000 people in the facility on Monday but had to abandon the attempt. In a post on social media, the agency said that "the evacuation convoy…was forced to return due to…shelling and shooting" by Israeli troops.
Evacuees were pushed back into the hospital, where they remain, with no food, water, or electricity.
Israeli Prime Minister Benjamin Netanyahu and his U.S. backer, President Joe Biden, still defiantly reject international calls for a ceasefire.
Biden administration officials in Washington continue pointing to the "humanitarian pauses" that Israel has supposedly observed to allow for aid. In reality, the daily windows have mostly amounted to a chance for the Israeli military to force more civilians out of their homes and off their land in northern Gaza and push them southward on foot.
Even so, tens of thousands of people remain in the north, where Israeli ground forces are pushing deeper and deeper into densely populated areas.
Speaking to the Associated Press, resident Saib Abu Hashish said he has been trapped on the ground floor of his family home along with 27 others in Gaza City for three days. Food and water are about to run out. He said their neighbors attempted to escape the area on Sunday, but Israeli soldiers started shooting at them.
"We want to leave but we can't because of the bombing," Hashish told AP. "If we survive the bombing, we will die from hunger."