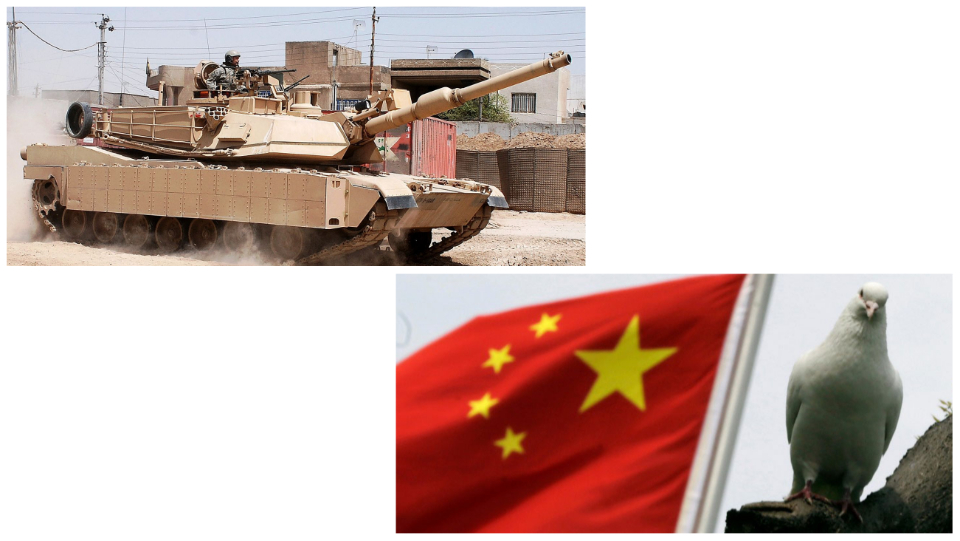 In recent weeks, the United States announced that it was shipping 31 Abrams battle tanks worth $400 million to Ukraine. That came only several weeks after Washington agreed to supply $1 billion in arms sales to Qatar, a country in the Persian Gulf and the site of the recent World Cup soccer matches.
There's really nothing unusual about either of these transactions. They're but the latest episodes in a long-time policy that goes back to the 1940s and President Harry Truman's sale of weapons to Greece and Turkey, whose military governments were fighting left-wing insurgents in their countries.
An aspect of the anti-communist "Truman Doctrine," weapons sales to U.S.-friendly authoritarian regimes was a keystone in the developing Cold War against the Soviet Union.
It also marked an early development in what has been called the "permanent war economy."  A major component of the permanent war economy, which is still in existence, is what President Dwight Eisenhower named the "military-industrial complex."
This intertwined war machine—which merges weapons makers, the armed forces bureaucracy, and the foreign policy establishment—continues to influence all aspects of how the U.S. approaches international affairs.
By the late 1940s and early '50s, the U.S. government had put into practice a policy of "containment," that is, a strategy based on reliance on overwhelming military superiority to block the expanding influence of the USSR and the other socialist states of Eastern Europe.
To that end, the United States was instrumental in the founding of the North Atlantic Treaty Organization (NATO), as well as several other military alliances. It also set about rapidly expanding what over time ballooned to a network of 750 military bases in more than 80 countries around the world.
Over the last 75 years, the U.S. government has maintained the largest military budget in the world, with total outlays estimated since 1947 to be well in excess of $25 trillion (calculated based on sources here, here, and here). One can only imagine how that money could've been put to social use.
And to go along with all these factors, the United States has fought numerous wars (Korea, Vietnam, Iraq, and Afghanistan being the largest), funded proxy wars in all parts of the globe (Africa, Southeast Asia, Latin America, Europe), and created a "cult of the military," in which any criticism of the role of the armed forces in our society is considered unpatriotic.
Even today, decades after the disappearance of the Soviet Union and a year-and-a-half after the U.S. withdrawal from 20 years of fighting in Afghanistan, Washington continues its time-worn policies. Now Russia—and especially China—are the new adversaries.
Not only has NATO expanded eastward toward Russia, but the United States has created new military and economic alliances with Australia, India, Japan, and Great Britain to counter what it sees as a growing threat from China to U.S. "interests."
Some observers wonder if we've already entered a new Cold War, while others are trying to assess how to reshape old policies in new conditions. There are plenty of establishment types who write of ways to tweak U.S. foreign policy but do not go to the root of the problem.
There are others, however, who succinctly critique why things are the way they are. For example, William Astore, a retired Air Force lieutenant colonel, recently wrote in Tom Dispatch about the power of the military-industrial complex (MIC).
"There's an obvious lesson to be drawn from its [the military-industrial complex's] striking endurance, never-ending enlargement, and distinct engorgement in our moment (even after all those lost wars it fought): The system will not reform itself. It will always demand and take more—more money, more authority, more power. It will never be geared for peace. By its nature, it's authoritarian and distinctly less than honorable…."
Well, you can't have a Cold War if one side refuses to join in. China, on the other hand, is forging a foreign policy distinctly different from that of our country. Its military budget is about a quarter the size of that of the United States. It has one military base outside its borders, in Djibouti. It belongs to no military alliances.
China is pursuing a foreign policy that its government says is devoted to "exploring a new path for the development of international organizations." President Xi Jinping recently explained that this policy is based on five main concepts:
1.) Political trust. Guided by the vision of forging enduring friendship and peace;

2.) Win-win cooperation. "We accommodate each other's interests, stay true to the principle of consultation and cooperation for shared benefits, enhance synergy between our respective development strategies, and keep to the path of win-win cooperation toward common prosperity;"

3.) Equality between nations. "We are committed to the principle of equality among all countries regardless of their size…;"

4.) Openness and inclusiveness. "We stand for harmonious coexistence and mutual learning between different countries, nations, and cultures; dialogue between civilizations; and seeking common ground while shelving differences; and

5.) Equity and justice. "We are committed to the purposes and principles of the U.N. Charter; we tackle major international and regional issues on the basis of their merits, and oppose the pursuit of one's own agenda at the expense of other countries' legitimate rights and interests."
To carry out these goals, Xi has proposed two main policy pursuits: the Global Development Initiative (GDI) and the Global Security Initiative (GSI). In the area of development, the Chinese government is working with governments of other countries "with the aim of making the Global Development Initiative a workable platform for people-centered development." China says its seeking to "maximize the effects of its cooperation networks in such areas as cutting-edge technology, agriculture, digital education, energy, culture, and climate actions."
In the Global Security Initiative (GSI), the Chinese Global Television Network (CGTN) reported in May 2022 that at April's Boao Forum for Asia, Xi proposed the GSI, which takes "security as the guiding principle, mutual respect as the fundamental requirement, indivisible security as the important principle, and building a security community as the long-term goal."
It says all of this is focused on fostering a new type of international security that "replaces confrontation, alliance, and a zero-sum approach with dialogue, partnership, and win-win results."
In this effort, China welcomes the participation of all nations, none more than the United States.
China's foreign policy, according to the Chinese states, is based on a "shared future for mankind." It envisions "an open, inclusive, clean and beautiful world that enjoys lasting peace, universal security, and common prosperity," in the words of Xi.
The contrast, therefore, between the fundamental goals of U.S. foreign policy and those of the People's Republic of China cannot be clearer. It is up to the people of the world, including Americans, as to which road we will all travel.
As with all op-eds published by People's World, this article reflects the opinions of its author.