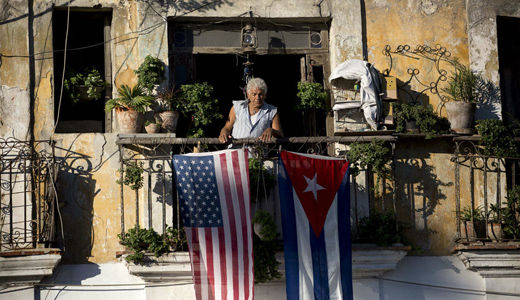 In normal circumstances, commercial relations between two nations involve travel and trade and they reflect mutual respect for the well-being of both of them. An ability to make contact and do business with each other is as old as commerce itself.
This approach ought to apply to the government and people of Cuba inasmuch they are at peace with the world and are recognized as a leader in Latin America. For example, the Trade Sanctions Reform and Export Enhancement Act of 2000 contains a provision harmful to the conduct of normal business affairs with Cuba, despite the fact that it was enacted with good intentions by Congress to improve relations, and also help out agribusiness. It requires Cuba to pay cash in advance to purchase food products and medicine from the US market. Cuba is denied credit from U.S. financial institutions which would expand trade that could benefit U.S. citizens and contribute to a more well-balanced arrangement.
As blockade policy stands now, Cuban exports – from rum and cigars, to diabetes medicines and lung cancer vaccines – cannot legally be sold in the United States.
Cuba has long insisted that it is willing to talk with the U.S. government on the condition that normal relations are based on lifting the commercial, economic, and financial sanctions, otherwise known as the U.S. blockade. However, after respective embassies had been re-established as of August 14, 2015, President Obama's simple recognition that U.S. policy had "failed miserably" did not carry sufficient weight with Congress to reverse decades of isolation, hostility, and misunderstanding.
The UN Charter makes clear that it's necessary to respect the independence of sovereign nations so that development may take place free from outside interference. The disconnect appears to originate from a double standard applied to Cuba, which has led to U.S. government attempts to control Cuban territory – Guantanamo is one example – in order to exercise geo-political domination and control over lands south of the Rio Grande. Cuban national hero José Martí regarded that entire region as "Our America."
Sadly, President Obama's action of September 13, 2016, in extending the Trading with the Enemy Act which declares Cuba to be an enemy of the United States, is an offspring of the well-known U.S. political ambition to eliminate the Cuban revolution. Cuban academic Dr. Néstor García Iturbe points out, U.S. policy is based upon the view that the U.S. "national interest" requires the recovery of property lost because of the revolution. Denying Cuba's right to self-determination as a consequence of this policy stems from a lack of good faith bargaining.
Although Cuba is not a threat to U.S. national security, problematic areas remain to be resolved through ongoing negotiations. Why should U.S. citizens still be denied their right to travel as a tourist to Cuba? Why is the IRS threatening to remove the tax-exempt status of the Interreligious Foundation for Community Organizations/Pastors for Peace (IFCO) for its important humanitarian support toward Cuba? Why is Cuba still blocked from making commercial transactions with U.S. banks especially when the lack of financial credit is a barrier to economic relations that might benefit U.S. farmers, small businesses, and workers alike?
The easy answer to these questions is that Congress alone can end the stalemate that exists between two close neighbors and, in doing so, advance the historic change in relations that began in December 2014 – even though regime change is still the U.S.' objective. Repealing language in Helms-Burton (1996) that prohibits U.S. recognition of any government led by Fidel or Raúl Castro would send a positive signal that would be heard by U.S. people willing to extend a hand of friendship to their Cuban counterparts. Unless Congress steps in and blocks government interference with foreign subsidiaries of U.S. companies, thus preventing them from conducting business with Cuba – as ordered by the 1992 Torricelli law – the pace of change will continue to be painfully slow.
Photo: A man hangs U.S. and Cuban flags on his balcony in Havana. | Ramon Espinosa / AP