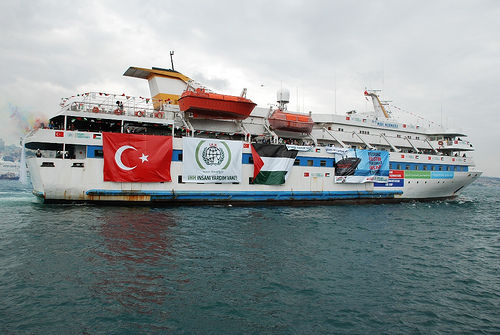 Israel military forces attacked ships bearing humanitarian aid for the people of Gaza, May 30. Known as the Freedom Flotilla, some 700 people from 50 different countries, sailed on six ships May 28 from Cyprus, determined to break the Israeli blockade of Gaza.
One of the organizations involved, Free Gaza, reports, "Under darkness of night, Israeli commandoes dropped from a helicopter onto the Turkish passenger ship, Mavi Marmara, and began to shoot the moment their feet hit the deck."
The number of dead is not clear. Israeli officials reported 16 dead, while The New York Times reported 10 dead and Al Jazeera, which had a reporter on board, reports 19 dead and dozens injured.
Free Gaza says, "Streaming video shows the Israeli soldiers shooting at civilians, and our last SPOT beacon said, 'HELP, we are being contacted by the Israelis.'
"We know nothing about the other five boats. Israel says they are taking over the boats."
Although a report on their website says two of their boats were flagged and registered under the United States, making them U.S. property, it appears all the ships asea are Turkish.
Reports say the attack happened in international waters, "in direct violation of international law."
Among the activists on board the ships were Holocaust survivor Hedy Epstein and Nobel Peace Prize winner Mairead Corrigan-Maguire of Northern Ireland.
In a carefully worded statement, the United States said it deeply regretted the loss of life and would look into the circumstances surrounding the incident.
"The United States deeply regrets the loss of life and injuries sustained, and is currently working to understand the circumstances surrounding this tragedy," White House spokesman William Burton said in Chicago, where President Obama was finishing a long holiday weekend, as well as dealing with the oil spill catastrophe in the Gulf of Mexico.
The statement reflects the difficult relationship the Obama administration has had with Israel's far-right Netanyahu government. The Israeli prime minister was supposed to meet with Obama on Tuesday, June 1, but called the meeting off after the flotilla attack.
Other international reaction has been strong and swift. Turkey, Spain, Greece, Denmark and Sweden have all summoned the Israeli ambassador's in their respective countries to protest against the deadly assault.
According to a U.S. State Department official the Turkish foreign minister is calling a UN Security Council meeting at 1 p.m. Eastern time today. The official expected a fuller statement from UN Ambassador Susan Rice after the meeting.
Israel, claiming self-defense from the rockets launched from Gaza, clamped down on the territory three years ago, and, along with Egypt, controls all commerce and travel in-and-out of the region.
The blockade has been condemned internationally and seen as a violation of international law. The Freedom Flotilla is the most ambitious attempt to date to break the blockade, reports The New York Times.
Photo: Mavi Marmara, one of the ships in the Freedom Flotilla. (CC)