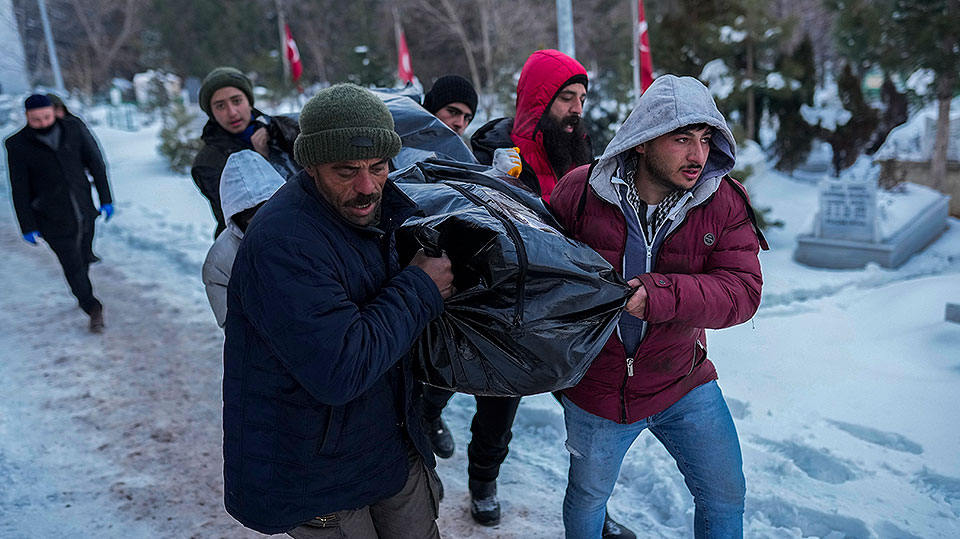 Suffering in Syria and Turkey caused by a strong earthquake on Feb. 6 has elicited an immense worldwide humanitarian response. The toll as of press time for this article was 36,000 people dead, with the number of recorded deaths steadily rising as rubble from collapsed buildings is removed. Unusually cold weather and snow add to the grief and difficulties in delivering aid material to survivors.
Compounding matters is the longstanding internal conflict in both countries aggravated by foreign interventions. The Turkish government contends with a Kurdish insurgency formerly active within its own borders and now based across the southern border in Iraq and Syria.
The Syrian government of President Bashar al-Assad, meanwhile, has confronted U.S.- and European-supported rebel forces fighting in northern Syria since 2011.
The humanitarian disaster from the earthquake is further aggravated by the warlike interference in Syria's affairs that has gone on for years and is still underway, particularly the role of economic sanctions employed by nations led by the U.S. government. Of concern is U.S. imperialism's seeming disregard of human suffering and deaths as it wields the weapon of economic war.
A civil war has raged in Syria for 11 years. The U.S. government, in conjunction with allies, supports elements of the anti-Assad resistance. They hold territory in northern Syria, where even U.S. troops are deployed.
The civil war has led to displaced populations of refugees, some living in government-controlled Syria, 3.6 million others living precariously in Turkey, and 4.1 million more living in conflict-ridden northern Syria; they were dependent on humanitarian aid prior to the earthquake. Kurdish rebels, anti-Assad rebels, and radical Islamists control their own portions of that area.
The earthquake has caused more death and destruction in Turkey than in Syria. Turkey registered 31,643 deaths as of Feb. 13 and Syria 4,574 deaths, of which 3,160 occurred in rebel-held areas.
The delivery of humanitarian aid material is always difficult in situations of natural disaster. The Turkish government reports offers of assistance from 71 countries. Search and rescue teams and shipments of materials have arrived there from dozens of them.
Conditions in Syria, however, are different. Western countries are contributing relatively little. Shipments of aid material have entered Syria from Iraq, Iran, Libya, Egypt, Algeria, United Arab Emirates, and India.
Rescue teams and aid shipments have been promised or have arrived from China, Iran, Russia, Cuba, and Algeria. Venezuela sent teams to both affected countries, and its teams were the first foreign rescuers to arrive in Northern Syria.
Physical barriers further complicate matters in Syria. Only the Bab al-Hawa crossing of the Turkish-Syrian border remains open; three others are closed due to Russian and Chinese pressure in the United Nations Security Council. Those countries regard U.S.-supported rebels active in the region as "terrorists."
The Assad government is requiring that aid for areas under its control enter through Damascus. Air shipments to the capital, though, have been hobbled due to runway damage left over from an Israeli attack in January.
Economic sanctions against the Assad government, in force since 2011, pose the main difficulty for countries that would provide assistance to Syria. Governments worldwide have joined the United States, leader of the pack, in sanctioning Syria.
Speaking to the press on Feb. 6, State Department spokesperson Ned Price insisted, "We are determined to do what we can to address the humanitarian needs of the Syrian people." He indicated that any U.S. aid would be delivered exclusively to NGOs, the implication being that economic sanctions remain in effect.
The head of the Syrian Arab Red Crescent called upon the United States and its allies to "lift their siege and sanctions on Syria so that rescue and relief work can proceed unimpeded."
Speaking for China's foreign ministry, Mao Ning likewise called for an end to sanctions, pointing out that U.S. "military strikes and harsh economic sanctions have caused huge civilian casualties," while U.S. troops have assured the "plunder … [of] more than 80% of Syria's oil production."
A UN Special Rapporteur had already urged in November 2022 that sanctions against Syria be ended on grounds of "destruction and trauma suffered by the Syrian people since 2011."
On Feb. 9, the U.S. government blinked. The Treasury Department provided authorization lasting for 180 days for "all transactions related to earthquake relief." Other nations may follow suit.
The difficulty remains: An aggressive U.S. government is prone to trivializing claims that economic sanctions threaten human lives. The economic measures against Syria's government revive the spectacle of sanctions aggravating humanitarian catastrophe from another cause. That was Cuba's situation in having to deal with both U.S. sanctions and the COVID-19 pandemic.
The current situation in Syria calls for a critical look at the U.S. government's frequent resort to economic sanctions as it wages what amounts to permanent war. Sanctions offer the advantage of impunity. An aggressor's profile is lowered even as threats of ungovernability and human suffering mount.
As has long been known, those who suffer most from sanctions aimed at a national economy are a society's poorest citizens. Sanctions violate human rights, particularly the right of citizens to lead economically sustainable lives and their right to benefit from social programming that is determined collectively, notably healthcare, education, and social security for elders.
Although legal experts have identified criminal aspects of U.S. sanctions, even crimes against humanity, the upshot has been impunity for the U.S. government, in part due to U.S. disregard for the International Criminal Court.
Frequent use of economic sanctions represents one aspect of non-stop war-making on the part of the U.S. government and of nations following the U.S. lead. Sanctions are in the same category as the use of one's own military forces, the use of proxy warriors and other agents, and internal subversion leading to destabilization and/or coups.
Syria's people have been on the receiving end of all that for years, and now, even with the devastation of the earthquake, they're not getting much respite.