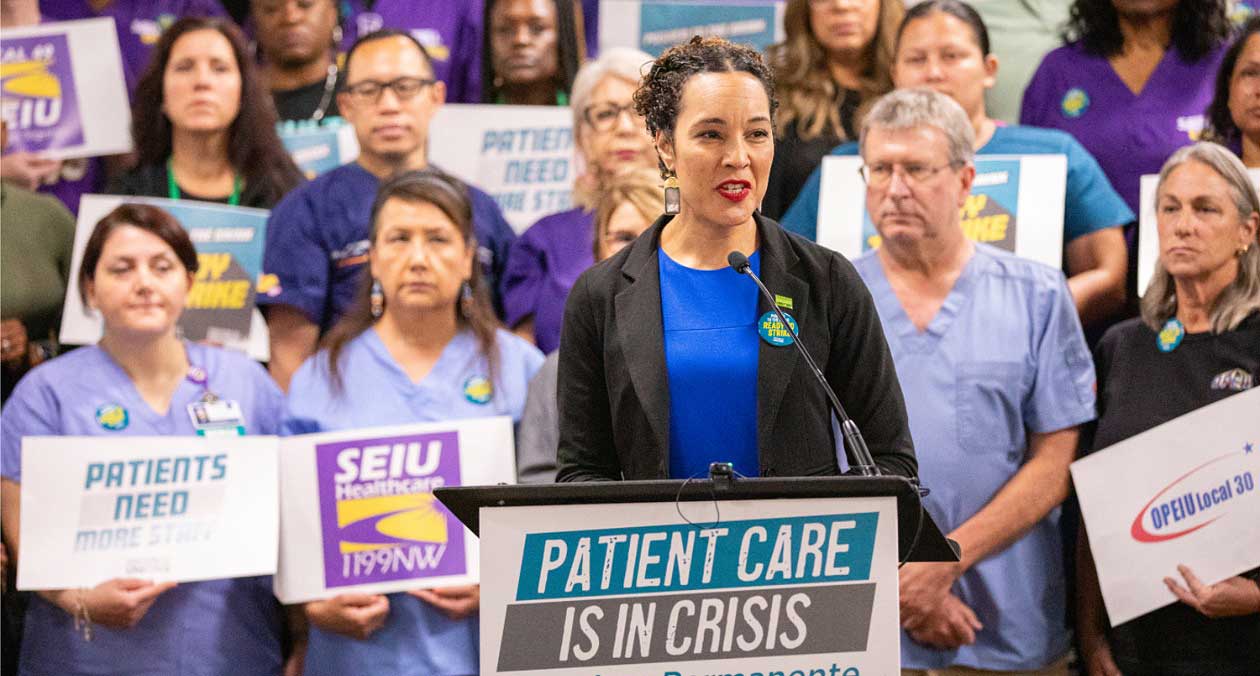 KENSINGTON, Md.—Linda Bridges, president of Office and Professional Employees Local 2, has some of her Kaiser Permanente clinic union members "sleeping in their cars."
That's because even with their jobs at Kaiser clinics in the D.C. suburb of Kensington, Md., plus second jobs after that, they can't afford rent.
"They drive to work. Then they drive to their second jobs. Then they sleep in their cars" and report to their Kaiser posts again, Bridges explains.
As a result of such skimpy pay from the highly profitable hospital-and-clinic chain, most of whose facilities are in high-cost areas—D.C., all of California, Denver, Portland, Ore., Boston, Washington state, even Honolulu—workers in 12 Kaiser locals authorized a strike from Oct. 4-6.
The workers, in the Coalition of Kaiser Permanente Unions (CKPU), gave Kaiser the mandated 10-day notice on September 22 after a final round-the-clock bargaining session produced no pact. The current pact expired September 30.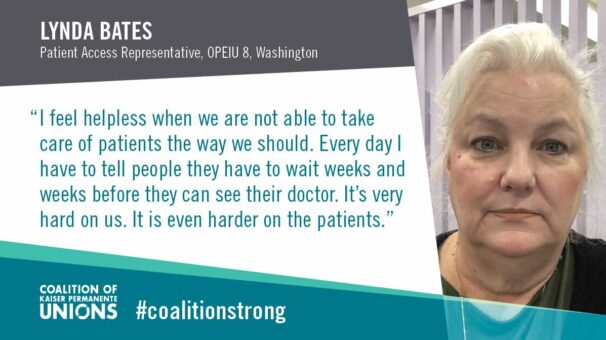 But it's not just short-staffing and low pay that pushed the 75,000-plus Kaiser workers in 12 union locals to act.
It's because Kaiser refused to bargain in good faith. That forced the coalition to file unfair labor practice complaints with the National Labor Relations Board's San Francisco regional office.
"We voted to authorize a strike because not only is Kaiser refusing to negotiate in good faith with frontline caregivers, but they're ignoring the alarming patient care crisis at their facilities," OPEIU member Ebony Hughes, who works at Kaiser's Fremont, Calif., center, told Local 29. The local votes were overwhelming, with Denver leading the way, at 100%.
"Kaiser patients deserve better than the care we're able to give them because of short staffing–and that is heartbreaking to say as a healthcare worker."
They'll have to walk because Kaiser won't pay enough to provide decent patient care.
"We've repeatedly raised our concerns with Kaiser executives about the short-staffing crisis, but they are bargaining in bad faith and refusing to listen to us," Audrey Cardenas Loera, a fees and benefits support specialist in Hillsboro, Ore. "Workers see how Kaiser patients are forced to wait unsafe lengths of time for cancer screenings, room assignments, test results, primary care appointments, x-rays, surgeries, waiting in emergency rooms, and more. We simply want our patients to be safe and get the care that they deserve."
"This is a $3 billion corporation," Bridges said, referring to Kaiser's profits in the first half of 2023. "They gotta do better," Bridges told Peoples World in a phone interview. Especially since Kaiser's CEO took home $16 million in pay and perks last year.
"Instead, they outsource work" to non-union temps "and do low-wage fixes." Even during the last contract, Kaiser outsourced its claims processors. Unless such damage is stopped, "they'll work their way down" to the lowest-level, lowest-paid workers, Bridges says.
Bridges' OPEIU Local 2 includes 3,800 Kaiser support staffers in the Maryland-D.C.-Virginia area—from call center workers and orderlies to pharmacy workers, lab center workers, and Licensed Practical Nurses, but not RNs. The key issues for her workers, as for the other Kaiser workers nationally, are safe staffing, low pay, and especially patient care and safety.
All tied together
They're also all tied together: "If you don't pay people enough to retain them, then they walk out the door" and the chain can't hire and train their successors, either, Bridges says.
Not enough is what Kaiser offered: Raises of 3%, 3%, and 2% over the life of the next contract for the Local 2 members. Kaiser's offers weren't much above that elsewhere, CKPU adds: 4%-4%-3%-3% in Northern California, 3%-3%-3%-2% to SEIU1199NW in Oregon and Washington, the same figures to OPEIU locals in Boston, Denver, and Honolulu, and 3%-3%-2%-2% plus two 2% lump sum payments in the last two years, in Southern California.
"If some of their [Kaiser's] positions stand, they"—Bridges's members—"will vote with their feet."
"This can't go on," added SEIU-United Health Care Workers West, which represents Kaiser's Southern California workers. "Co-worker after co-worker left Kaiser for better-paying, less-stressful jobs. This has been devastating for our working conditions and for our patients. They wait endlessly to see us, and we are too rushed, stressed out, and exhausted to give them the care they deserve." (Their emphasis)
"We keep telling Kaiser's millionaire execs that something has to change. But they're not listening. To deal with the staffing crisis, Kaiser must bargain in good faith and stop committing unfair labor practices."
"None of these proposed raises are acceptable," the union coalition said. "They wouldn't even come close to helping us keep up with the skyrocketing cost of living.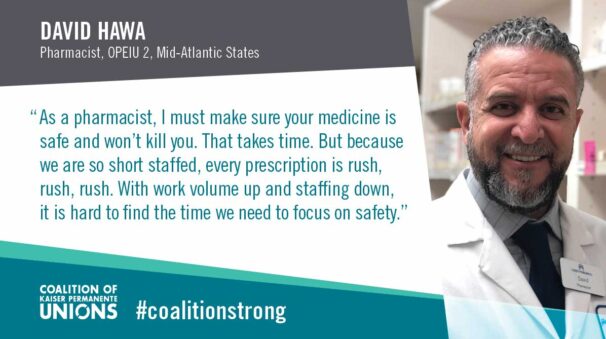 "This is just the beginning of Kaiser's divide-and-conquer strategy. If we let them get away with attacking some members with lower raises now, we will never know who might be on the chopping block next," CKPU added. Bridges made the same points about Kaiser's refusal to even acknowledge inflation's impact. "That's why we're asking for COLAs, too," she said of cost of living increases.
CKPU workers have an extra source of leverage against pinch-penny bosses: The three years of the coronavirus pandemic killed hundreds of healthcare workers and burned out tens of thousands. The nation respected them, and still does, surveys show. Their bosses don't.
And not just at Kaiser. National Nurses United reported its local at St. Louis (Mo.) University Hospital voted 94%-6% on September 2 to authorize a strike. Their contract expired September 30, too.
The St. Louis RNs report "chronic short-staffing of nurses and ancillary staff, high staff turnover, and management's failure to recruit and retain experienced nurses." The vacancy rate is 30%. "Short staffing jeopardizes patient and staff safety and also results in increased workplace violence."
That sounds familiar to OPEIU Local 2's Bridges. "At least one-third of my members are considering leaving," she said. Kaiser's short-staffing, which harms patient safety, tops their reasons.
"Kaiser used to be an industry leader, but now they're failing to work together with frontline healthcare workers to solve a growing staffing crisis. We're all paying for it–our patients, their families, and the workers who provide their care," OPEIU Local 29 President Tamara Rubyn said in a statement. "Kaiser can and must do better."