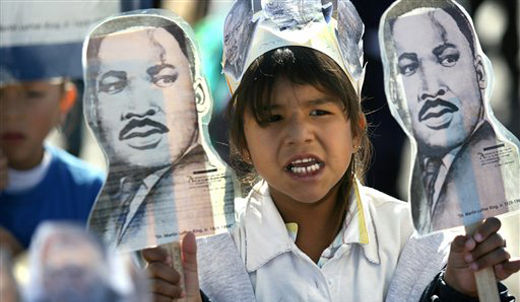 It's been more than 25 years since Martin Luther King Jr. Day was officially recognized as a federal holiday. Today, civil rights groups, labor and religious leaders, students and people of all ethnic backgrounds nationwide are preparing actions and activities to pay tribute to King's birthday and his lasting legacy.
Here is a little bit of history of how far we have come in a county that elected its first African American president in 2008.
It took 15 years to create the federal Martin Luther King Jr. holiday. Marking his Jan. 15th birthday the Martin Luther King Jr. Day is observed on the third Monday of January each year. It is one of four U.S. federal holidays to commemorate an individual.
Legislation to honor King was first introduced by Congressman John Conyers, D-Mich., days after King was assassinated in 1968. The bill was stalled for many years.
It wasn't until 1979 when the bill first came to a vote in the U.S. House. However it fell short by five votes.
Conyers and Rep. Shirley Chisholm, a New York Democrat at the time, resubmitted legislation to commemorate King in each subsequent legislative session.
Public pressure for the holiday mounted during the 1982 and 1983 civil rights marches in Washington initiated by Stevie Wonder and others. Six million signatures, arguably the largest in favor of an issue in U.S. history, were collected and submitted to Congress in support of the bill.
Congress finally passed the measure in 1983, which was then signed into law by President Ronald Reagan. Ironically Reagan was opposed to the holiday and threatened to veto the bill. He eventually recanted after Congress passed it with an overwhelming veto-proof majority (338 to 90 in the House and 78 to 22 in the Senate.) It was first observed on Jan. 20th, 1986.
For several years a number of states resisted celebrating the holiday and some opponents said King did not deserve his own holiday. Some states gave the holiday alternative names and combined it with others. Some southern states even celebrated Confederate Army generals instead.
North Carolina Republican Sen. Jesse Helms opposed the initial holiday and questioned whether King was important enough to receive such an honor. He criticized King's opposition to the Vietnam War and accused him of espousing "action-oriented Marxism."
Due to the failure of the 1990 proposition to honor the holiday in Arizona, the National Football League moved Super Bowl XXVII from Sun Devil Stadium in Tempe, Ariz. to the Rose Bowl in Pasadena, Calif. And after a successful tourist boycott there in 1992, Arizona voters finally approved the holiday.
It wasn't until 1999 that New Hampshire officially recognized the federal holiday. South Carolina was the last state to recognize it as a paid holiday for all state employees.
MLK Day was officially observed in all 50 states for the first time in 2000.
Since then hundreds of cities, suburbs and towns across the country honor King's dream for a more just and peaceful world with breakfasts', luncheons', parades, festivals, unity marches, peace actions and much more. Health fairs and ethnic food fairs as well as all kinds of cultural activities are planned.
Civil rights, workers rights, immigrant rights, curbing poverty and homelessness, ending teen violence, charity work, volunteerism and building multi-racial unity for social justice and equality are some of the many themes celebrated.
Many note the cultural and political response to get involved and stay active in various communities that promote positive alternatives to racism and inequality is only growing stronger and bigger each year.
Labor unions are planning to observe the holiday this weekend in Greensboro, North Carolina. Labor leaders say the observance comes at a significant time in history because this year marks the 50th anniversary of the Greensboro sit-ins to end racial segregation of lunch counters and other public areas. The sit-ins, they add, launched a movement that eventually spread across the south paving the way for one of the greatest civil rights milestones.
In Tulsa, Oklahoma community leaders and students plan to celebrate actions and making King's dream a reality under the theme, "Dream it, Plan it, Do it: Yes We Can!" A rendition of King's "I Have a Dream" speech is planned because organizers say it is still as relevant today as it was then.
In Michigan City, Indiana under the theme, "Wake Up Martin Luther King Jr. – Welcome to the Future," will feature one of the last surviving pilots of the all-black Tuskegee Airmen. The pilots played a key role during World War II in the allied victory over Hitler's fascism. At the time the U.S. Armed Forces were still segregated. The heroism and exemplary record of the airmen are credited with helping lead to the eventual desegregation of the U.S. military in 1948.
Protest demonstrations have also been part of the King holiday weekend, along with days of service, inter-faith breakfasts and diversity, unity and youth celebrations.
Most recently immigrant rights supporters find the King holiday a natural fit to bring attention to racial profiling and discrimination of Latinos as a whole, and immigrants of all backgrounds, both documented and undocumented.
This year at least two major protests will take place, one in Phoenix, Ariz., and the other in Chicago. In Phoenix, farmworker leader Dolores Huerta, and musicians Linda Ronstadt and Zach de la Rocha will join the march for human rights, countering the anti-immigrant enforcement policies of notorious Sheriff Joe Arpaio.
In Chicago, Ill., Reps. Luis Gutierrez, Jan Schakowsky, and Danny Davis will join the Rev. Jesse Jackson and Bishop John Manz during a mid-day rally to honor King's dream and call for comprehensive immigration reform.
King is remembered as one of the main advocates of nonviolent activism during the height of the 1960's civil rights movement. He is described as someone who gave his life for liberty, justice and equality for all people. Many feel he forever changed the thinking of American society.
Photo: Students from Martin Luther King Jr. Elementary School march in the 2007 MLK Parade in Phoenix. (AP Photo/The Arizona Republic, Tom Tingle)